The first dressage event of the show was the World Cup qualifying Grand Prix and it was sure to be a battle of the titans. The Dutch combinations of Edward Gal (Moorlands Totilas) & Adelinde Cornelissen (Parzival) managed to stay well ahead of the other competitiors to take out the top two places. The hometown favourites Carl Hester (Liebling II) & Laura Bechtolsheimer (Andretti H) produced solid tests and were delighted to land themselves in 3rd and 4th place respectively.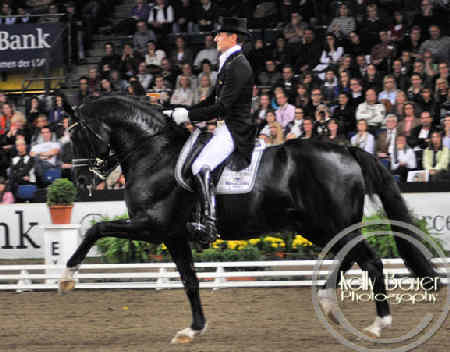 Above: Edward Gal & Moorlands Totilas win the Worlds Cup Qualifying GP.
In what was a very international field of competitiors, the Dutch have once again shown their dominance in the sport. All 14 competitors will partake in the Kur tonight.
The spectators at Olympia not only are able to witness the magic of Moorlands Totilas & Edward Gal in the tests, Edward is also conducting a Masterclass which is sure to be an interesting insight into his training methods and ideas. Both the masterclass and the Kur take place tonight and will be available online at FEI tv for those that are members.
Edward Gal and Totilas 
The Olympia Horse show is an amazing show, full of christmas festivities and also a little bit of everything horsie!! Make sure you check out their website to see some of the interesting video clips to give you a better look at what Olympia is all about!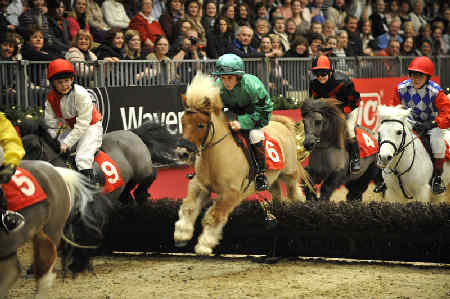 Photo: The colourful Grand National is underway. Olympia/Kit Houghton
To watch the Pony Grand National Video… a very cute and interesting video.