30 year celebration of P.S.I.
... The Best ... isThe Best!

All Photos Courtesy of P.S.I GmbH
Report by Kelly Bauer
"Performance Sales International" (P.S.I.) is considered the "Seal of quality" among horse experts, and customers from all over the world can benefit from their quality standards!" This statement becomes ever clearer as the world of horse breeding and horse sports, in particularly PSI becomes even smaller. Over the last few years we have witnessed more top quality horses from PSI landing in Australia, be it for breeding or sport. More recently, PSI have also become involved in the competition arena, sponsoring the PSI Dressage and Jumping with the Stars events, held at annually at Werribee Park. At these amazing events we get to sit in on Masterclasses with the renowned Dr Ulf Moeller himself (Pic: Berni Saunders) and catch a glimpse of his highly successful training techniques while also seeing some horses that began their careers at the now infamous PSI stables.

Above The PSI Sales ring.

PSI have got right behind Dressage

& Jumping with theStars

at Werribee Park in Victoria, Australia


Above: Always a lot of action,
here the auctioneers are hard at work.

On Sunday the 13th December, 2009 PSI is hosting their annual PSI-Auction, however this year is a landmark occasion ... being their 30th Anniversary. An event certainly worthy of celebration!
PSI runs two auctions annually, the PSI auction that is held in December (just in time for a spot of Christmas shopping) and also their AOS auction which is held in Autumn.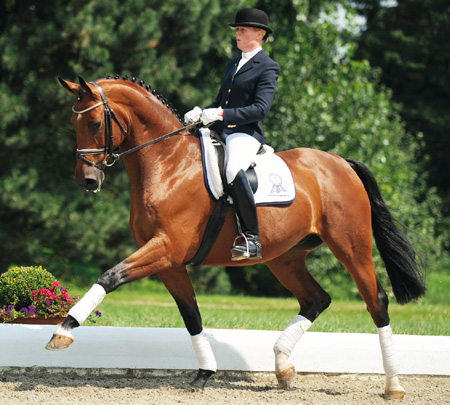 Above: First horse of the auction is Saint Pierre, this 4 year old
Hannoverian gelding is by Stedinger x Bonheur.
PSI pride themselves on their motto that the "customer is King", and as such go above and beyond to ensure the satisfaction and happiness of their clients. From the horse selection process, training and customer care during purchases to ongoing customer satisfaction post purchase, be that with further training, arranging flights, whatever you may need the team at PSI are always there to assist.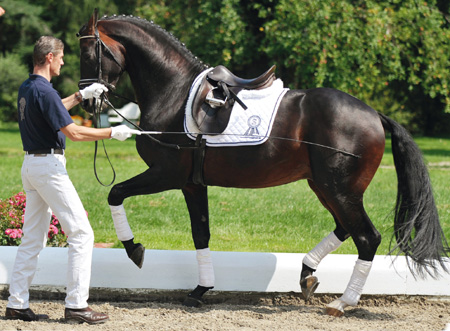 Above: Lot 25 of the Catalogue is Diamonit, this Oldenburg
stallion is a 6 year old Diamond Hit x Santander son.
Quality assurance plays a vital role in the success of PSI, and so all PSI auction horses are checked by both Paul Schockemöhle and Ullrich Kasselmann personally.

The auction horses are either homebred, raised at home elsewhere or are carefully selected. All horses are in training at PSI for the auction and of an utmost quality and standard.

30 years of auctions has seen PSI horses go on to become majorly successful Championship and Grand Prix horses globally.


Above: Lot 20 is Grand Passion, a 4 year old Trakehner
stallion by Oliver Twist x Polarion.
This years auction is sure to be sensational, boasting a top quality catalogue of 52 horses for sale.

PSI will offer 25 dressage horses ranging from 3 to 6 year olds as well as 27 Showjumping horses from 4 year olds to an 8 year old. All oozing quality, talent and are ready to continue their competition careers with new owners.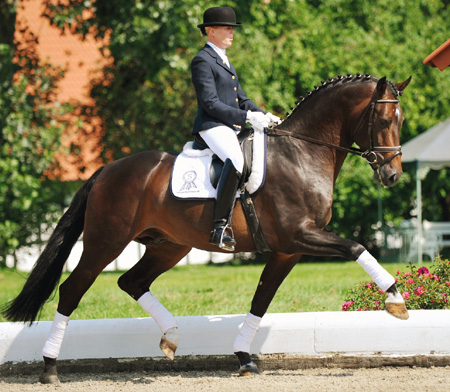 Above: Lot 22 is the impressive For Compliment,
a 5 year old Rheinlander Stallion by Fiedermark x Compliment.
PSI have some special dates you might like to mark on your calendars…

Saturday 5th December at 6pm
You can tune in to the 'live Stream' to see the preview of the Dressage Horses. Sadly, this converts to 4am Sunday 6th December for Melbourne & Sydney.

To watch, simply follow this link www.psi-auktion.de

www.psi-auktion.de

Wednesday 9th December
Presentation of the Dressage horses
starts at 6pm


Presentation of the Dressage horses
starts at 6pm

Saturday 12th December
Presentation of the Dressage horses starts at 5pm.


Presentation of the Dressage horses starts at 5pm.

Sunday 13th December
The last chance for people to test ride horses starts at 9:30am

The Annual PSI auction begins at 3pm.

The link to the PSI auction website
www.psi-auktion.de

Link to the Catalogues
http://www.psi-auktion.de/en/psi-auction/psi-catalogue-2009/




For more PSI News - follow this link: