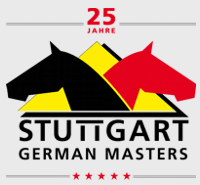 Stuttgart
German Masters

25 Internationales Reitturnier
18-22 November, 2009

Report & Photos
Kelly Bauer
Gal & Totilas make history in Stuttgart…

Edward Gal has made history at the German Masters in Stuttgart, where he and his now infamous black stallion Moorlands Totilas won both the Grand Prix with 79.021% and the Grand Prix Kur with 87.800%

Having first watched this pair on Friday, like many that have not had the chance to see this duo perform live, I was a little sceptical as to whether it is all show with his front legs… however I am now on the bandwagon and utterly in awe. I will struggle my way through and hopefully find words worthy of painting an acurate description of this horse and their performance…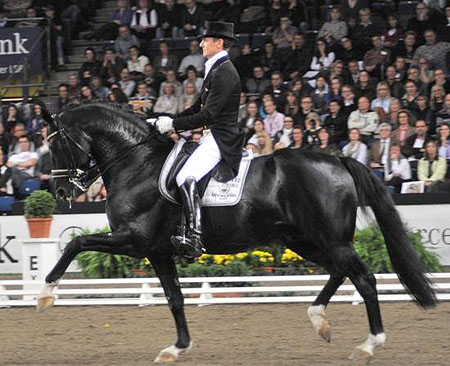 Edward Gal and the amazing stallion Tolilas
As the people rushed into the stadium to catch a glimpse of the dutch duo, they were gliding around the arena with all eyes focused on them. Then with baited breath the music started, and as the rhythm of the drum began so too did the hair raising passage. It is as though Totilas has a metronome for a heart, the rhythm he maintains, without any effort it seems, is magical and entrancing. It also appears as though this horse has springs on his feet instead of shoes. In piaffe he does not move, remaining absoloutely on the spot, legs still drumming out the rhythm. They powerfully yet effortlessly sail through transitions and movements with an abundance of energy that is astounding for such a young horse. Sure there were a few slight hiccups, throwing in a 1 tempi in the 2's and a couple of rushed steps before an extension. But nothing to take away from what was a most sensational display of dressage.

In the press conference after the test, Gal showed how cool, calm and open he is… when talking about Totilas, he smiles and says ' there is still alot more to come, every test is different and there is always something to improve on'. In the world of Dressage, Edward Gal believes it is good that he and Totilas are able to bring so much interest and sensation to the sport. As was evident when show jumpers, valuters and eventers all rushed in to take up the available standing room to witness the Dutch magic.

This rather humble man and his magical black stallion are providing a much needed boost for Dressage internationally.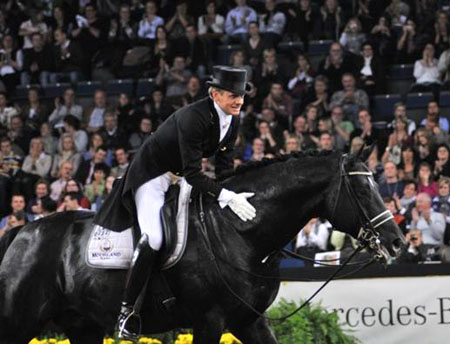 Stuttgart is only Totilas 3rd big show, June 2009 was his first International Grand Prix in Rotterdam where the pair claimed their title and gave the world a glimpse of the next superstar.

Following Windsor Totilas was given a well earned break, then began some condition work and in the 10 days leading up to Stuttgart the pair worked on some excercises from the test. Gal confides that Totilas is not a horse that needs alot of work, it is more important that he has fun. His heart beats for dressage.


At the moment, the beautiful black stallion is unaware that he is a stallion, and Edward Gal has his fingers crossed that it will stay that way a little longer. Although with the success of this amazing horse I doubt they will be able to keep the breeders at bay until this stallion is finished competing.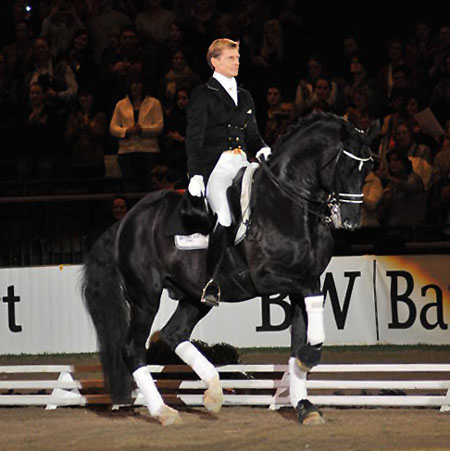 The next big show for this pair will be in England again where they will compete at the prestigious Olympia Horse show. You can keep updated with online commentary live from the show and there is also live television footage on Eurosport and the BBC. Check out the website for more details.
The link to Edward Gals website:
http://www.edwardgal.nl/?p=0&l=EN

The link to the Olympia Horse Show site:
http://www.olympiahorseshow.com/

The Stuttgart German Masters website
http://stuttgart-german-masters.de/aktuell/

For Full Results
http://stuttgart-german-masters.de/aktuell/

To watch the show online and for free!
http://www.cpm24.tv/