Virtual Equestrian
Forums
Dressage
Eventing
Showjumping
Show Ring
Virtual Saleyard
Information
© Cyberhorse 2008
Wiebadener Pfingstturnier 2009 - Pictorial Report - Day 3


International Wiebadener Pfingstturnier 2009
Story and Pictures by Kelly Bauer
Pfingstturnier Wiesbaden 2009 Wrap UP

Sunday saw the second and last phase of the Medien Cup in Wiesbaden.

The three pairs to qualify to compete in the finale in Münster from this leg of the series were Patrik Kittel, Tellwell 2 Anja Plönzke, Le Mont d'Or and Katrin Bettenworth, Django Edwards.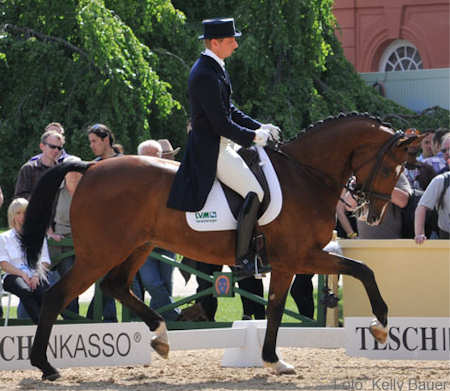 The winners of the Medien Cup Final qualifications test were Patrik Kittel and Tellwell 2. With a score of 71.8% (Photo above)
2nd place went to Ingrid Klimke and the gorgeous little stallion Damon Hill NRW. Together this pair scored 71.750% rounding off what was a super weekend for this rider in both the Dressage and eventing. (Photo Above)


3rd place went to Anja Plönzke and Le Mont d'or with 70.600%. Luckily this weekend the weather held out for them, and there was no need to stop mid test to dry the saddle and get new gloves as was the case in Munich! With their win on Saturday in the first round of the Medien cup and their third in this test, they have secured their spot for Münster and their chance to win a Mini Cooper Cabriolet! (Photo Above)

Peter Weston finished up in 10th Place with Desperado 156 (Photo Right) the 10 year old liver chestnut Hannoverian Gelding by Donnerschwee / Hohenstein. With 61.050% they did not qualify for the final.
 

Preis des Gestüts Tannenhof und ClipMyHorse.de (Video Clips)


Sunday night at 9pm the Grand Prix Kür was underway with 14 starters. Lyndal Oatley and Potifar were 2nd to start and Hayley Beresford and Relampago do Retiro were 5th to start.

This was a great display of International Grand Prix Kür tests in such a spectacular location.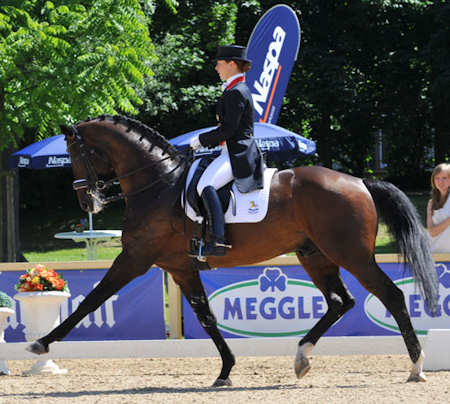 The winners of the Grand Prix Kür were Emma Hindle and Lancet 2 with 73.950%. This was their second win at Wiesbaden and they take home both the Henkell Trocken Prize from Saturday, also the Gestüt Tannenhof / ClipMyHorse prize and €4000 for their Kür. (Photo above)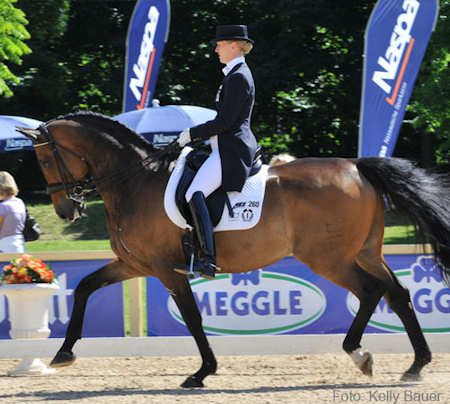 2nd place went to Nathalie Sayn-Wittgenstein and Rigoletto (Photo Above) a 13 year old Rubinstein Gelding with 72.350% They take home €3000 in prize money for this test and second placings in both the Kür and the Grand Prix on Saturday. 

3rd place went to Maria von Essen and Vivo 3 together they scored 70.800%
(Photo Above)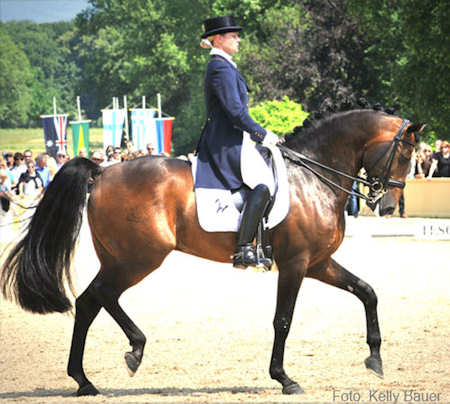 4th place went to Hayley Beresford and Relampago do Retiro (Photo Above) with a score of 70.750%.

They greatly improved on their score of 64% and 11th placing in the grand Prix on Saturday. They received €1500 in prize money.

Aussie Lyndal Oatley and the lovely Jazz gelding Potifar (Photo Right) finished up 12th out of the fourteen starters with 63.600%
Go to Kelly Bauer's Report from
Pferd International 2009 in Munich

© Cyberhorse 2009 Cyberhorse
18 October 2018
Featured Horse

Click on Me
Featured Stallion

Click on Me
Featured Listing

Click on Me
Awards
Correspondents