Virtual Equestrian
Forums
Dressage
Eventing
Showjumping
Show Ring
Virtual Saleyard
Information
© Cyberhorse 2008
Pferd International 2009 - Munich Germany - Day 4

Day 4 Report and Pictures by Kelly Bauer
The last day of Pferd International in Munich dawned very overcast and with a forecast of storms in the afternoon, I was a little anxious about the weather holding out. The forecasted storms for the afternoon disappeared, allowing the many hundreds of spectators to enjoy a beautiful sunny last day of dressage.

Finale der Exquis World Dressage Masters Munich

Grand Prix Kür International CDI *****

The start list for Kür saw the return of some of the big guns from Fridays Grand Prix in this masters competition. It also seemed that as the weather warmed up, so too did the scores.

In a most amazing display of scoring, Isabell Werth and the infamous Satchmo (above and below) were victorious with 84.750%. The judge at E awarding 88%, Judge at H 90%, Judge at C 93%, Judge at M 90% and the judge at B also gave a whopping 92%.

They not only took out the title, but also €20,000 in prizemoney!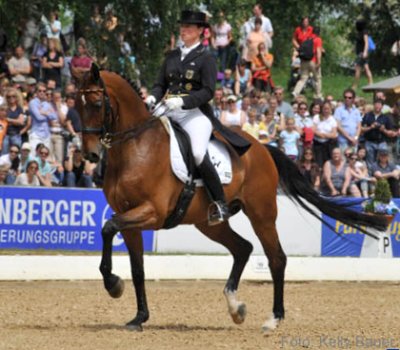 2nd Place in the Kür was a tough battle, however Kyra Kyrklund and Max 2653 managed to edge in. Being awarded 86% by two judges, Kyra and Max scored a fantastic 79.2% and also will be taking home €12,000. ( Photo Below)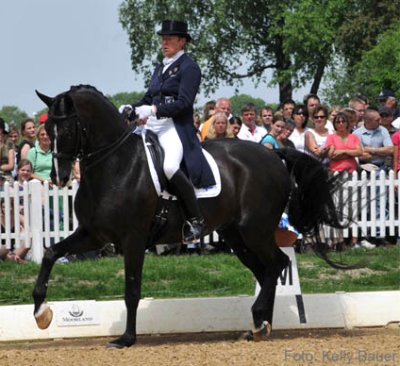 3rd Place went to Ulla Salzgeber and her remarkable gelding Herzruf's Erbe. Also with 2 scores of 86%, they managed a final score of 79.1% and take home €9,400. (Picture below)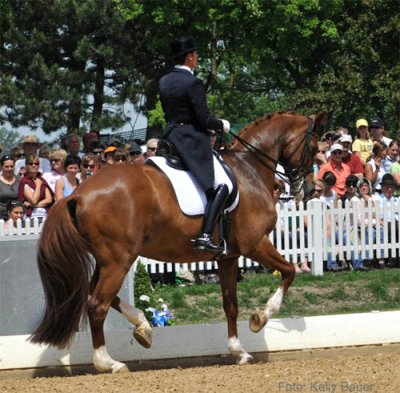 4th Place went to Victoria Max-Theurer and her beautiful Augustin13. With a score of 77.800% and €6,000 in prizemoney.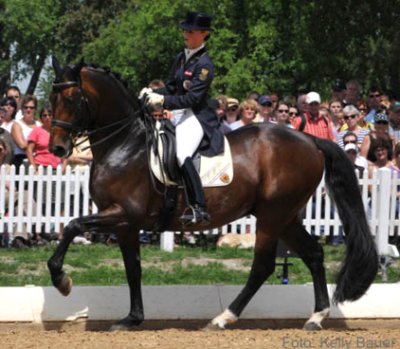 5th Place went to Nathalie Sayn-Wittgenstein and Digby 2 with a score of 75.4% and taking home €6,000 in prizemoney. ( Photo Below)
6th Place went to Hubertus Schmidt and Prego (below) with a score of 75.1% and €4,800 in prizemoney.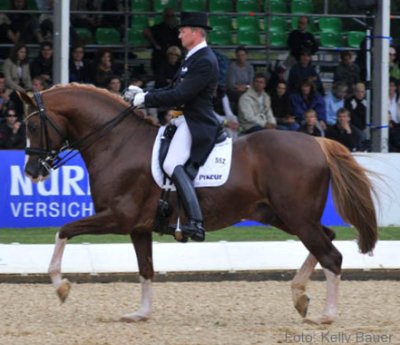 FRB Dressage Derby

Prix St George Dressage competition with change of horses.

The Derby is always a very interesting class to watch. Sort of like a very mini masterclass if you like. For those of you who are unaware of how the derby operates, basically four riders ( in this case Anja Plönzke, pictured below, Victoria Max-Theurer, Kyra Kyrklund and Hubertus Schmidt) must ride donated horses. They have 5 minutes in which to get to know the horse and then they must ride a Prix St George test. It is very interesting to see how the riders each tackle the 5 minutes and also how the horses react to their new riders.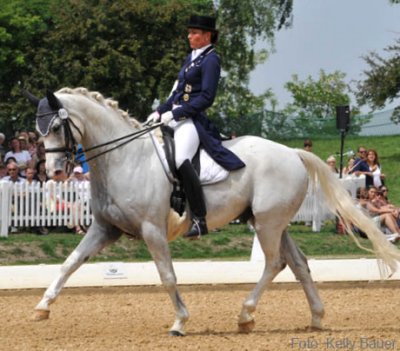 So Anja Plönzke had to ride the 11 year old grey gelding White Pepper 3. Sadly her score of 59.9% meant she was out of the Derby with a runner up prize of €1,000. (Photo above)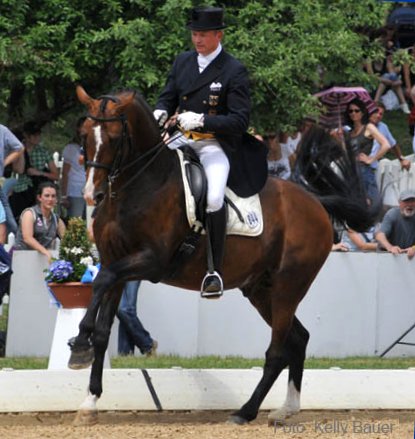 Then Hubertus Schmidt had his ride on the 15 year Old brown stallion Chantree 3. Scoring 67.2% and having lost this round to Kyra, Hubertus was also a runner up in this event with €1,000 prize money. (Photo Above)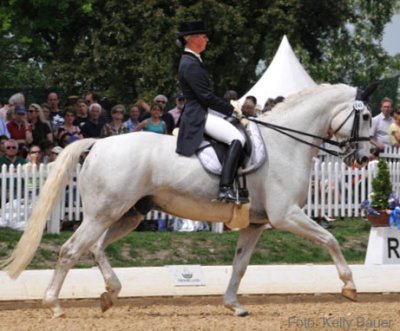 Then it was time for Victoria Max-Theurer to ride White Pepper 3. She did such a good job with this horse that she went through to the next round and on to ride another horse. ( photo above)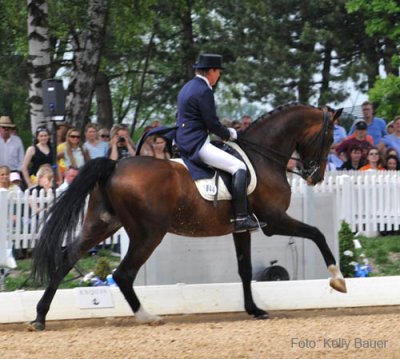 Kyra Kyrklund was the last rider in the first rounds to go, riding Chantree 3 she also was given a better score than Hubertus Schmidt, so she too would have to ride again on another horse. (photo above of Chantree 3)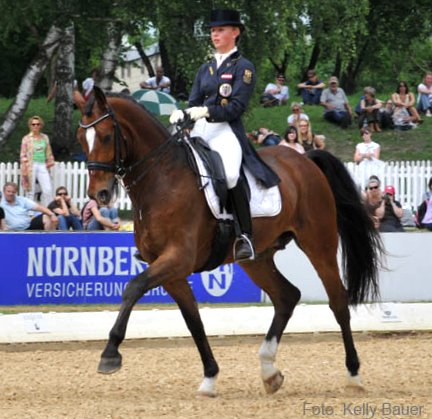 Victoria Max-Theurer was the first to ride the last horse, Rocadero 15a 10 year old brown gelding. She produced a good test and seemed to get along well with this horse. Scoring 70.1% and taking out second prize of €1,500 ( Photo above)

It was however Kyra Kyrklund who won this event. Her ride on Rocadero 13 scored her 71.850% for her Prix St George test and also received €2,500 in prizemoney. ( photo above)
Results from the Grand Prix, and all other classes are available at:

You can also view the tests live on www.clipmyhorse.de


Go to Official Web Site
© Cyberhorse 2009 Cyberhorse
25 September 2018
Featured Horse

Click on Me
Featured Stallion

Click on Me
Featured Listing

Click on Me
Awards
Correspondents