Virtual Equestrian
Forums
Dressage
Eventing
Showjumping
Show Ring
Virtual Saleyard
Information
© Cyberhorse 2008
Wiebadener Pfingstturnier 2009 - Pictorial Report - Day 2


International Wiebadener Pfingstturnier 2009
Story and Pictures by Kelly Bauer
Saturday, Day 2.

Day 2 at Wiesbaden and the dressage started with the Grand Prix.

Both Hayley Beresford and Lyndal Oatley were part of a very international field. Riders from Australia, England, Spain, Sweden, Canada, Denmark, Germany and Switzerland were all competing for the title of the Henkell-Trocken Preis.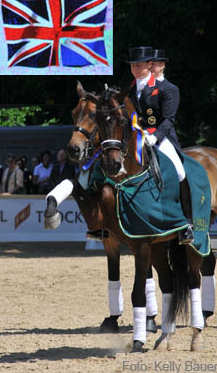 Emma Hindle & Lancet
The winner of the Grand Prix was the British Emma Hindle riding Lancet 2, a brown 16 year old hannoverian stallion from Wenzel I. With a score of 70.894% they claimed the title and €1750.00 prize money. (Photo above of the winners shoeing off Lancet 2's flexibility!)

2nd Place with a score of 70.723% went to Nathalie Sayn-Wittgenstein riding Rigoletto 2, a 13 year old gelding by Rubinstein. (Photo Above)
| | |
| --- | --- |
| Patrik Kittel on Scandic | Hayley Beresford on Relampago do Retiro |
3rd Place went to Patrik Kittel from Sweden riding Scandic, a 13 year Old KWPN stallion by Solos Carex. Together they produced a lovely test and a score of 69.574%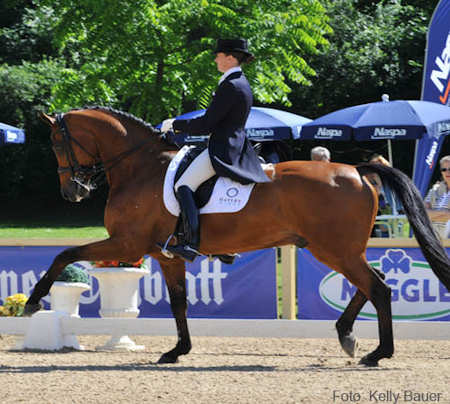 Lyndal Oatley produced a great test on Potifar, a beautiful 10 year old bay gelding by Jazz. Together this combination scored 65.064% for 10th Place and €200.

Hayley Beresford and Relampago do Retiro (above and next to Scandic) scored 64% and were just outside the placings in 11th spot.

Prix St George

Following the Grand Prix on Saturday was the Gabriele-Kippert-Preis International Prix St. Georges. Again with a very international field, and this time Australians Briana Burgess riding daylight and Hayley Beresford riding Coolio 13 were amongst the starters.

This was sure to be a big test with names like Rehbein, Klimke, Werth and Helgstrand bringing their wealth of experience and knowledge into the ring.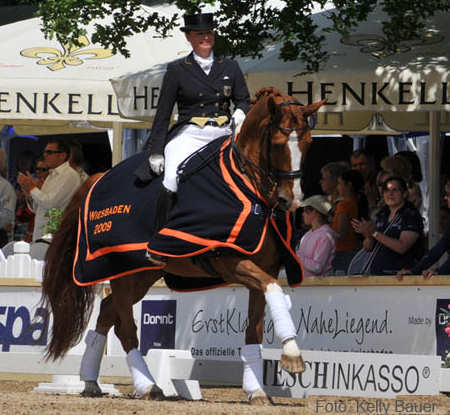 The winners of the Prix St. George were Isabell Werth and the lovely Whisper 156. A 10 year old chestnut hannoverian gelding from Wolkentanz I. Together they scored 72.526% (Photo above)

2nd place with a score of 71.737% went to Falk Rosenbauer and Desperados (pictured above) 11. An 8 year Old hannoverian stallion by De Niro.
3rd place with a score of 71.368% went to Karin Rehbein and Don Pepino 8, an impressive 8 year old Oldenburg gelding by Donnerhall.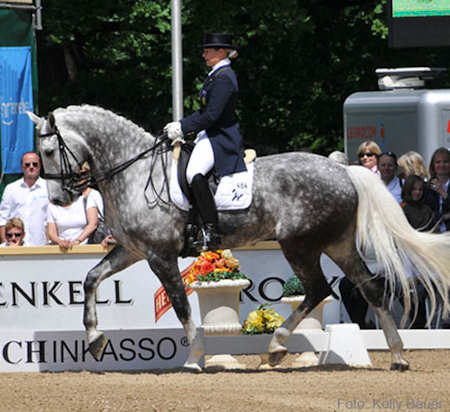 Hayley Beresford and Coolio 13 finished up in 6th place with a score of 67.368% and €125 in prize money. (Photo above)
Briana Burgess and Daylight ended up in 9th spot, just out of the placings with 63.632%. (Photo Right)

Medien Cup

The last class in the dressage on Saturday was the Medien Cup qualification.

14 riders were competing to gain entry into the finale of the Medien Cup 2009 series in Münster in August. There are two finals of the Medien Cup at Wiesbaden.

The winners of this final of the Medien Cup were Anja Plönzke and Le Mont d'or. With a score of 70.70% this pair only just managed to grab the lead. (Photo Below)
| | |
| --- | --- |
| Anja Plönzke and Le Mont d'or | Ingrid Klimke and Damon Hill |
2nd place went to Ingrid Klimke and the super stallion Damon Hill NRW. With a score of 70.650% they were only just missed out on first place. Wiesbaden was a very big show for Ingrid Klimke, she finished 3rd in the eventing and 4th in the Prix St George with her other dressage horse Dante 60! (Photo Above)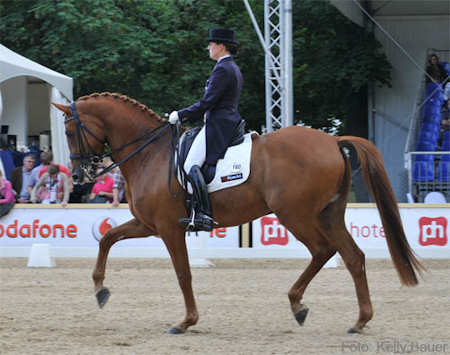 3rd Place went to Carola Koppelmann riding Hinnerk TSF, a 10 year old chestnut Trakehner gelding by Buddenbrock and owned by Holger Schmezer. This pair scored 67.550% (Photo Above).

4th Place went to Patrik Kittel riding the beautiful Tellwell 2 (Pictured Right), a 9 year old gelding by Tip Top.

Together this pair scored 66.800%

Aussie Peter Weston and Desperado 156 placed 8th in this final with 63.55%. Desperado is 10 year old liver chestnut

Hanoverian

gelding by Donnerschwee (Pictured Below)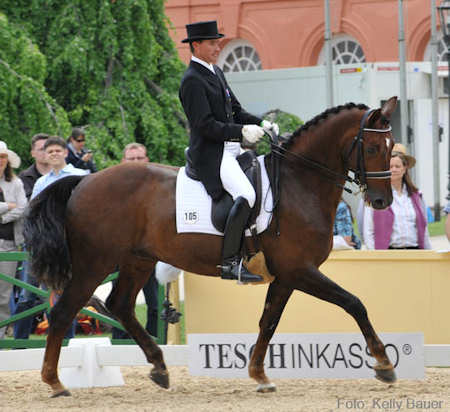 Peter Weston and Desperado
Go to Kelly Bauer's Report from
Pferd International 2009 in Munich

11 December 2018
Featured Horse

Click on Me
Featured Stallion

Click on Me
Featured Listing

Click on Me
Awards
Correspondents