Friday, Day 1.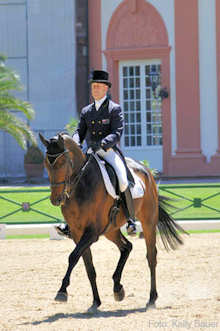 Friday 29th of March was the first day of the International Wiebadener Pfingstturnier 2009.
With superb weather and more good weather forecasted, it was looking like being a fantastic show.
I was very happy to see how many Aussies were out in force in Wiesbaden.
In the eventing we had Andrew Hoy, in the showjumping was Jamie Winning, and in the dressage we had Briana Burgess, Hayley Beresford, Lyndal Oately and Peter Weston.
Andrew Hoy & Grand Joca 2 were placed 19th out of a field of 31 starters.
Grand Joker is a 12 year old Grandkavalier gelding. (photo right)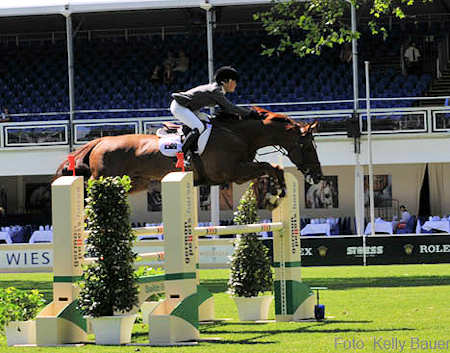 Jamie Winning
Our Aussie showjumping gal Jamie Winning had 2 horses to ride in Wiesbaden, Triomphe and Congo Z. Jamie did a great job getting around the massive courses and placing 4th in three classes. (Photo above)
MEDIEN CUP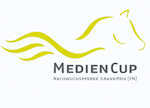 This is a new series that had its debut in 2008.
The Medien Cup is a dressage series designed for 8-10 year old Grand Prix horses. A special test was constructed especially for this series, a S*** mit Piaffe and Passage. This special test incorporates all the elements of a Grand Prix, but in a different sequence that is shorter and with fewer Piaffe steps required.
There are four shows hosting a Medien Cup qualifier event: Horses & Dreams Hagen, Wiesbaden, Mönchengladbach, and Heroldsberg. Then the final will be held in August in Münster at the Final of Champions.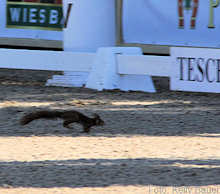 In each leg of the series, the first, second and third placed horse and rider combinations will qualify to go through to the final in Münster. The prize for the winner of each of the four qualifiers is a Vesper Scooter, and the prize for the winner of the series is a Mini Cooper Convertible!
Sadly the Medien Cup was postponed until Saturday. This did mean however that I was able to get some photos of the riders and the showgrounds…. and a friendly little squirrell - not something you see every day back home in Oz….
Waiting in the long line for the trot up on Friday afternoon (below) was not everyone's idea of fun!
| | |
| --- | --- |
| Queue for the trot up | Flags make a grand entrance |
View from the cross country course looking up over the warm up and show arena to Castle Biebrich was magical.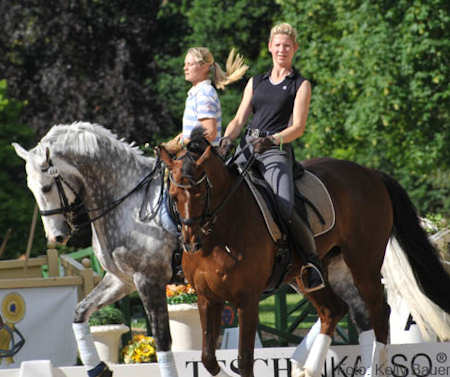 Above - Two Aussies riding on Friday afternoon in the main arena.
Hayley Beresford and Briana Burgess.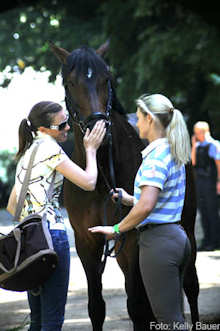 Lyndal Oatley and Hayley Beresford
have a quick catch up before Hayley does her trot up.