Donaueschingen CHI
Report by Kelly Bauer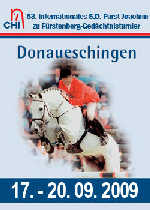 The 53rd international S.D. Fürst Joachim zu Fürstenberg- Memorial Show in Donaueschingen was held this weekend, the 17th- 20th September.
This is a real action packed show, with big jumping classes, the extreme obstacle driving classes and dressage driving classes, young rider dressage classes through to Grand Prix. I was very interested to see that Anky van Grunsven had made the trip down to the South of Germany for this show. Aussie Hayley Beresford was also competing in the Grand Prix on Relampago do Retiro, and Fernhill Derry (a 9 year old Brown gelding by Ricardo Z). Technically Hayley was not the only aussie in the Grand Prix competition, expat Chatham Park Jac (Formerly Rachel Sanna's horse) was also in amidst the starters with his new owner Juliette Ramel from Sweden.
Dressage results are as follows…
Förderin des Dressursports

International Grand Prix

Prizemoney

Total

1.

IPS Painted Black

Grunsven, Anky van

NED

1850 EUR

73.319%

2.

Wakana

Salzgeber, Ulla

GER

1350 EUR

72.596%

3.

Fantomas

Koschel, Christoph

GER

1150 EUR

69.447%

4.

Cosmopolitan CC

Eglinski, Christine

GER

850 EUR

69.191%

5.

Rubin Royal

Lochthowe, Hendrik

GER

450 EUR

68.851%

6.

Weltino

Zierer, Ludwig

GER

350 EUR

68.298%

7.

Meggle's Weltall VA

Laugks, Dieter

GER

68.170%

8.

Relampago do Retiro

Beresford, Hayley

AUS

65.617%

9.

Kaiserkult TSF

Schneider, Dorothee

GER

64.468%

10.

Chatham Park Jac

Ramel, Juliette

SWE

61.362%

Grand Prix International - Große Tour

Qualification for MEGGLE Champions

FEI Grand Prix Special

1.

IPS Painted Black

Anky van Grunsven

NED

2079 Euro

78.792%

2.

Meggle's Weltall VA

Dieter Laugks

GER

1879 Euro

71.083%

3.

Wakana

Ulla Salzgeber

GER

1678 Euro

70.042%

4.

Cosmopolitan CC

Christine Eglinski

GER

1278 Euro

68.417%

5.

Weltino

Ludwig Zierer

GER

878 Euro

67.750%

6.

Kaiserkult TSF

Dorothee Schneider

GER

777 Euro

66.750%

7.

Fantomas

Christoph Koschel

GER

577 Euro

66.625%

8.

Relampago do Retiro

Hayley Beresford

AUS

477 Euro

65.958%

9.

Chatham Park Jac

Juliette Ramel

SWE

377 Euro

64.708%

AlpenChampionship from Hofgut Albführen

Intermediate II

1.

Royal Flash

Sprehe, Kristina

GER

378 EUR

67.526%

2.

Danny De Vito

Timpe, Andrea

GER

297 EUR

67.000%

3.

Ten Points

Ramel, Juliette

SWE

257 EUR

66.368%

4.

Engvangs Cadeau

Schärli, Patricia

SUI

216 EUR

65.263%

5.

Ruby

Weihermüller, Stefanie

GER

186 EUR

62.895%

6.

Grand Augustinus

Michalke, Victoria

GER

166 EUR

62.053%

Qualification for the Nürnberger Burgpokal

Test S3

1.

Birkhof's Haakon

Stankus, Falk

GER

210 EUR

71.100%

2.

Dandelion

Schaudt, Martin

GER

167 EUR

69.150%

3.

Unee

Sanche-Burger, Jasmine

SUI

122 EUR

68.550%

4.

Fernhill Derry

Beresford, Hayley

AUS

95 EUR

68.250%

5.

Lautrec

Block Dr., Tina von

GER

68.200%

KAMPMANN Future Trophy International 2009

Kl. S***

1.

Girasol

Schaudt, Jasmin

GER

600 EUR

67.789%

2.

Stefano

Veeze, Bart

NED

500 EUR

66.947%

3.

CCM - SLK's Rockbarton

Schwanz, Uwe

GER

400 EUR

63.632%

4.

Dr.Doolittle

Gribbe, Markus

GER

330 EUR

62.842%

5.

Donner Hit

Bodenkamp, Ellen

GER

61.737%

6.

Don-Dior

Freund, Frank

GER

60.474%

AlpenChampionship

- FEI Grand Prix U25 -

1.

Danny De Vito

Timpe, Andrea

GER

505 EUR

67.535%

2.

Royal Flash

Sprehe, Kristina

GER

425 EUR

67.488%

3.

Don Androsso

Birkenholz, Katharina

GER

374 EUR

65.302%

4.

Engvangs Cadeau

Schärli, Patricia

SUI

334 EUR

63.860%

5.

Grand Augustinus

Michalke, Victoria

GER

304 EUR

63.442%

6.

Ruby

Weihermüller, Stefanie

GER

284 EUR

63.302%

7.

Ten Points

Ramel, Juliette

SWE

274 EUR

61.488%

Junior - Tour

Nat. Dressurprüfung Kl. M**

1.

Rebell

Funke, Julia

GER

150 EUR

69.099%

2.

Laser III

Müller, Sophie

SUI

90 EUR

68.468%

3.

Little sweat

Binder, Josephine

GER

75 EUR

67.568%

KAMPMANN Future Trophy International 2009

Nat. Dressurprüfung Kl. S***

1.

Girasol

Schaudt, Jasmin

GER

1000 EUR

68.512%

2.

Stefano

Veeze, Bart

NED

800 EUR

65.256%

3.

Donner Hit

Bodenkamp, Ellen

GER

650 EUR

64.744%

4.

Dr.Doolittle

Gribbe, Markus

GER

500 EUR

64.326%

5.

CCM - SLK's Rockbarton

Schwanz, Uwe

GER

400 EUR

61.721%
The Show website (English and German)
http://cms.escon-marketing.de/index.php?option=com_content&view=article&id=714&Itemid=465
The full results from the show can be found at the link below
http://cms.escon-marketing.de/index.php?option=com_wrapper&view=wrapper&Itemid=542