Holly Mason - Aussie girl with a Dream
... and Now She Needs our Help!
Story by Kelly Bauer (Germany)
For me the name Holly instantly brings thoughts of a white Christmas, happy families and joy. I remember once back home in Australia finding a holly plant, rare and robust, not surrounded by any others but surviving all on its own…
Holly Mason is also rare and robust, surviving and fighting her way through an intensive rehabilitation program here in Germany. Although unlike my little lonely holly plant in Australia, Holly Mason is by no means alone. Following an almost fatal accident, the lives of Holly and her Family were turned upside down and Holly's mum Anne is now constantly by her side.
Holly is 24 years old and comes from Samford, Northwest of Brisbane. Growing up two things Holly loved were cooking and horses. Having finished school, Holly decided to pursue a career in the food industry, becoming a qualified chef and pastry chef. On the horse front, dressage was also becoming a more serious interest and Holly jumped at the opportunity to spend some time working for dressage rider Brett Parbery. At home Holly was also furthering her dressage with regular lessons from local instructors. The result of all this work was paying off, with success in young horse championships, as well as both novice and elementary dressage tests with her young horse Pierre.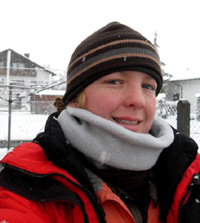 As with so many Aussie's the idea of heading over to Germany to experience all that is Dressage only begins as an idea… then becomes the adventure of a lifetime. For Holly, this journey began in early December 2008 when she boarded a plane to Germany to begin the adventure of her life. (pictured right is Holly soon after she arrived in Germany)
Sadly though it was not the adventure Holly or her family had anticipated. On December 28, 2009, just 20 days after Holly left for Germany, and 2 days after her 24th birthday, the accident that brought her dreams to and end occurred. While visiting a stable in Babenhausen, Southern Germany, Holly was leading a young horse in an arena, the horse got a fright, pulled away and kicked her in the head leaving a huge horseshoe-size part of her skull on one side drastically damaged. Holly sustained massive skull fractures and associated brain injury and as a result slipped into a coma. (below right)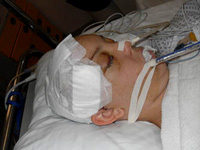 Holly was quickly airlifted to the Ulm Military Hospital and was operated on within an hour. This quick response from the emergency services was important in assuring the best possible recovery for Holly.
The Mason Family were first contacted after Holly had come out of Surgery, when asked when they were contacted Anne Mason said, 'At first we just knew that Holly had a fractured skull and was in intensive care in a coma. We learnt later that they waited to contact us until after the German doctors knew that Holly would live, so it was in the evening Aussie time. It took 24 hours for the seriousness of Holly's condition to sink in. I then made the decision to get over here as quickly as possible in case Holly woke up' (Pictured below right - Holly in intensive care)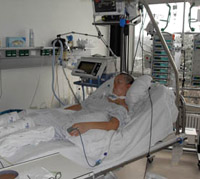 Fortunately, Holly had taken out a German Travel Insurance policy when she arrived in Germany. It was this policy that paid the costs of both Ulm Military Hospital and the following treatment at the world-class 'Therapiezentrum Burgau'.
Kelly: What was recovery like in the first 2 weeks at the hospital?

Anne: Holly was in intensive care for about 19 days, she was unconscious, or seemed to be. Her eyes were closed and a machine breathed for her. Her head was so swollen that you had trouble finding her ears. I would sit with her and try to see movement or any sign that she knew what was going on. Every now and then there would be small movement in, say, her toes or her fingers, it was so exciting to see, then I would contact everyone and let them know about it. After the second week she was carefully weaned away from the breathing machine, it was such a relief to see Holly breathing on her own, even if it was through a tube in her neck.
Kelly: What was the recovery like in the 4 weeks at TZB?

Anne: Holly was at TZB for five weeks. It was recommended by her doctors that she have aggressive early intervention rehabilitation (not available in the hospital in Australia). It was incredible watching how the therapists worked with Holly to wake her and create natural movement for her body. Holly became more aware during this time, her left eye opened, she could answer questions with her elbow and 'yes' and 'no' buttons. She was able to control some movement in her left arm, and movement began in her left leg. The tube in her throat was removed after four and a half weeks of hard work by the therapists. Holly was calm and as comfortable as she could be considering her condition.
After the initial 5 weeks at the Therapiezentrum Burgau, Holly had to return to Australia when the German Travel Insurance company benefits ceased. The last thing the travel insurance policy did for Holly was to organise and fund the trip back to Australia. It was a terrible trip home. Holly was still in a pretty serious condition and had to have a doctor and a nurse with her for the flight. Being strapped into a stretcher for the 28 hour journey meant that extra painkillers and other medications were needed.
Having approached specialist treatment centres in Australia in hope of finding adequate rehabilitation for Holly, the family were unable to find a place for her anywhere. The daunting idea that there are simply too many patients and not enough facilities was slowly becoming a reality. So, after arriving back home in Australia, Holly was admitted to the Princess Alexandra Hospital in Brisbane.
Although the Princess Alexandra Hospital has an Acquired Brain Injury Outreach Service and rehabilitation centre. Holly's progress slowed remarkably and was deemed not as successful as the progress she had made in the 4 weeks spent in rehabilitation in Burgau. The family were disappointed and distressed.
Following brain trauma, experts say that the first six months are critical for early intervention and rehabilitation. It is vital in this time to ensure the best treatment medically and also to continue expanding the rehabilitation process to give a patient the greatest chance of recovering their former lives. The Mason family, aware that the care Holly received in Germany was second to none, decided that the best option for an optimal recovery for Holly was to get her back to Germany.
Anne Mason said that while home in Australia, the family was racing against time to preserve for Holly some semblance of her former life. Without adequate early intervention rehabilitation in the first six months, a patient has less chance of reaching their full potential, and often they end up living in a nursing home or other care facility. The Mason family were on a mission to do their utmost so that Holly will be able to go back to the family home following her treatment in Germany.
Amidst hours, days and weeks spent with Holly at the Princess Alexandra Hospital, the family managed to get word out about Holly's accident. This started the ball rolling with fundraising efforts. The aim was to raise $226,000, enough money to fly Holly back to Germany and back to the Therapiezentrum Burgau to resume her much needed rehabilitation.
To date, with amazing help from both local and broader communities $56,751 has been raised.
This enabled both Holly and her mum to fly to Germany and get Holly back into therapy for 2 months.
Kelly: How on Earth did you find time to start getting word out about Holly and to get the ball rolling for fundraising?  Did other people take over this role for you?
Anne: 'I am so lucky to have the most amazing friends and family and to be living in the Samford Community. Everyone worked tirelessly to help to get Holly out of the Princess Alexandra Hospital and back to Germany, while I was stuck in the hospital doing the best I could for Holly. It took us 3.5 months to raise enough money to pay for therapy at TZB and the airfares for a doctor, myself and Holly.'
In contrast to the trauma of Holly's first flight that had been organised by the German Insurance company, this time Anne was able to organise the most stress free flight possible. Anne, Holly and their Doctor travelled with Emirates. This time, Holly was able to sit comfortably during the long Emirates Flight watching movies or sleeping comfortably. Anne said the service from Emirates was incredible; with all the staff making sure Holly was OK. They received extra help from the airline staff to get through customs and security. For Anne it was the most relaxing time she had had for 3.5 months.
Having heard about Holly, and finding very little information on any horse news sites in Australia, I decided to go and meet Anne and Holly.
It was a little daunting going to meet people for the first time in a therapy centre. Not at all sure what to expect, and taking into account my extreme fear of hospitals I was a little apprehensive. I navigated my way up to Holly's room and met both Holly and Anne. As a horse person who has always worked with young horses, I was a little shocked to see the extent of damage that one accident with a horse can bring to a vibrant 24 year old lady.
I think the hardest idea to grasp is that Holly is absolutely aware of everything going on around her but is stuck in a body that doesn't cooperate. Holly is gradually gaining control over her body again and although this is a long road to recovery, Holly is one very determined person.
On my visit to the Therapiezentrum Burgau, Anne and Holly had just received news that the German Insurance company involved had finally decided to extend Holly's stay for a 12 month period. The joy and relief was written all over Anne's face as she told me.
This extension is a massive boost for Holly, giving her more time to gain control of her body again. It is also a massive boost for the Mason family, knowing that Holly will have every chance to return home to her former life.
Kelly: What improvements has holly made while back in Germany so far?

Anne:
Her chronic cough has stopped
There is no longer pain associated with movement in her body
Holly can now communicate with us using her left foot and a computer, and answers questions in an appropriate manner.
She has regained the muscle tone that she lost in Australia, and now helps with her body when she is moved in and out of her wheelchair.
Her right leg and arm are regaining strength and movement.
Holly is more stable when she is stood
a cast to stabilise the right ankle was on for 3 weeks. This was very successful; Holly can now stand on this without the problem of it rolling to one side.
She is now able to lift and hold her head upright for some time.
Holly can shake her head for 'no' and nod her head for 'yes'
Holly has begun to vocalise again
The movement in her left arm is easier for her to control, she can now scratch her nose and rub her eyes if she wants to
Holly can move her lips and is gaining some expression on her face
Her first good laugh since the accident happened about 3 weeks ago
Often when asked, Holly now says she is happy
Holly is also able to communicate her frustrations to us and is grieving for her past life.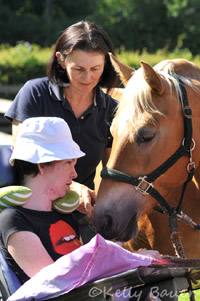 On my trip to Therapiezentrum Burgau, an outing had been organised for Holly. A trip to visit some Halflinger ponies in a little town nearby for an important and much awaited dose of Horse Therapy.
The ponies are specially used as therapy and are amazing, they are so quiet, gentle and it is as if they know to be extra careful with these special visitors.
Holly was so happy to be able to pat, feed and go on a walk with the brilliant little Halflinger. Every time Holly was asked if she wanted to do more, before Anne could even get out the paper with 'Yes' or 'No' for Holly to point to, Holly was already shaking her leg as a big YES!
Everyone was very impressed with how much movement Holly was able to make on this one little excursion. For Holly I think this was really a soul therapy, but I honestly think it was as much therapy for Anne as it was Holly. It was very special to be able to see how much this horse session meant to both of them. I am so glad that I got to meet these amazing people and share this time with them.
As with all massive projects, goals for Holly are constantly being set, monitored, conquered and added to. The initial goal of getting Holly back to the Therapiezentrum Burgau has been a massive achievement of one of the first goals the Mason family implemented. The ultimate goal now for the fundraising is to ensure that there will be funds to help with Holly's transition back to Australia in 2010.
The family are hoping that the initial support will continue to flow with more people becoming aware of Holly's story.
There are two websites that have been set up by the Mason Family, where you can keep updated with Holly's progress, read more about her ... or to make a donation.
www.hollymason.org
The website for the Therapiezentrum Burgau is only in German but can be found at the link below:
http://www.therapiezentrum-burgau.de/

Kelly Bauer's Library of Stories
World Young Horse Championships
Aachen Show - Daily Reports and Aussies in Action
Go to Kelly Bauer's Lingen 2009 Update
Go to Kelly Bauer's Weisbaden 2009 Pictorial Report
Go to Kelly Bauer's Report from Pferd International 2009
Go to Kelly Bauer's Weisbaden 2009 Pictorial Report
Go to Kelly Bauer's Report from Pferd International 2009
Go to Kelly Bauer's Weisbaden 2009 Pictorial Report
Go to Kelly Bauer's Report from Pferd International 2009
Go to Kelly Bauer's Report from Pferd International 2009
Go to Kelly Bauer's Weisbaden 2009 Pictorial Report
Go to Kelly Bauer's Report from Pferd International 2009