Virtual Equestrian
Forums
Dressage
Eventing
Showjumping
Show Ring
Virtual Saleyard
Information
© Cyberhorse 2008
Berlin Tempelhof Airport Tournament - Dressage Day 1

Hauptstadt Tournier Berlin
(Historic Tournament, Historic Date & Historical Venue)
Report by Kelly Bauer
Photos courtesy of Kian Bullock
The first dressage class of the Berlin show was underway on Wednesday 30th September with the first of two Prix St George's class. The winners were Julia Voigtänder and her 8 year old Oldenburg gelding Laetitian R. (By Lord Sinclair I) with a score of 63.842%

The winners of the second PSG class were Falk Rosenbauer riding Famaso, a 7 year old brown stallion by Fürst Heinich with a score of 69.053%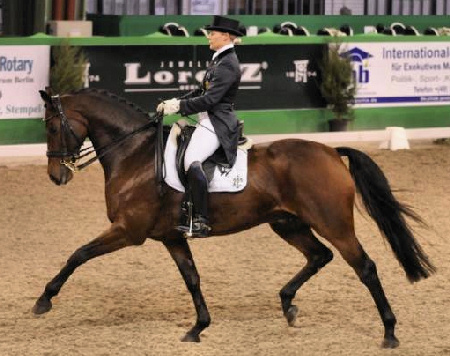 Photos: Hayley Beresford and the very impressive Fernhill Derry.

Aussie Hayley Beresford and Fernhill Derry, a brown 9 year old Irish Sport Horse gelding by Ricardo Z were also amongst the starters in this second PSG class. They produced a superb test, giving the Berlin spectators an insight into the quality of both horse and rider. The judges put this pair in second place with 67.316%

Whilst scanning the startlist, my eyes were immediately drawn to a very Aussie name: Down Under. DownUnder is an 8year old liver chestnut Oldenburg stallion (by Donnerhall/ Rubinstein I) owned by Robert & Rosalind Oatley. In Berlin he was ridden by Karin Rehbein and this pair placed equal 8th with 62.211%

The Short Grand Prix was won by Jörg Ladwig and the 10 year old Brandenburger Stallion Quaterman. This impressive stallion is by Australian Kristy Oatley's Grand Prix stallion Quando Quando who was shortlisted for the Olympics in Athens, and represented Australia at the Olympic Games in Beijing.

The Grand Prix took place on Saturday morning and with such close competition, there ended up being 2 winners. Alexandra Simons-de Ridder and Dieter Laugks both took the title with 69.447% along with €2200 in prize money.

Alexandra Simons-de Ridder was wrapped with Wellington. The 14 year old Hannoverian gelding by Wanderer/ Gibraldi II worked well to improve on their 68.638 % from Munster. Alexandra was part of the Gold medal team at the Olympic Games in Sydney with her horse Chacomo.

Dieter Laugks and Meggle's Weltall also earning themselves a rug and a spot up front for the prize giving ceremony. Meggle's Weltall is a brown 15 year old gelding by Weltmeyer who is known to be quite spooky and can become quickly tense. However the pair showcased their ability this weekend in Berlin. Just before the Special on Sunday Weltall threw a shoe, the brilliant organising committee at Berlin had the farrier there instantly, the shoe was quickly put back on and the pair entered the arena as the last starters… with a very relieved rider!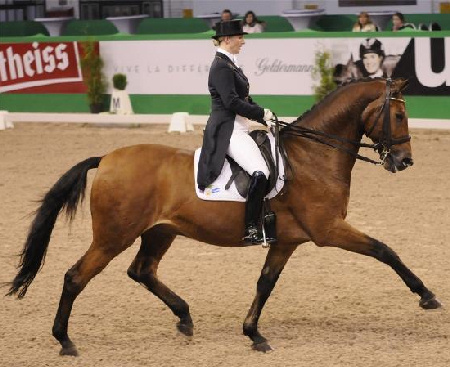 Photo: Kristy Oatley-Nist and Clive.
Aussie Kristy Oatley-Nist was 14th with her 10 year old Holsteiner gelding Clive (Caletto I) with a score of 63.234% Hayley and Relampago do Retiro were hot on their tails, slotting in just behind them in 15th with 62.936% Kristy and Don Bolero, the 15 year old Stallion by Donnerhall retired from their test.

Having heard that Ulla and her mare were set to compete in Berlin I was shocked to hear that the mare had suffered a minor accident in the lead up to the show. Heidi had become cast in her box and as a result the vet diagnosed a slight strain in her back. Both Ulla and Dr Brehms (the Vet) deciding to play it safe and give the mare more time to return to normal, Ulla had to withdraw from Berlin.

The results from the dressage classes are as follows.

Friends of Dressage Sports

Country

Prizemoney

Score

National Prix St Georges.

1.

Laetitian R.

Voigtländer, Julia

GER

210 EUR 

63842%

2.

Rio Negro

Haupt, Alexandra

GER

167 EUR 

63684%

3.

Stelina

Groenke, Daniela

GER

122 EUR 

62368%

Preis der HPL Immobilien GmbH

Nat. Dressurprüfung Kl.S***

Kurz Grand Prix

1.

Quaterman

Ladwig, Jörg

GER

700 EUR 

62341%

2.

Rodin

Vetters, Jochen

GER

525 EUR 

61902%

3.

Sunrise

Groenke, Daniela

GER

375 EUR 

60878%

Preis der Fam. Uhlmann

Nat. Dressurprüfung Kl.L - Kür (Kandare)

Finale Berlin-Young-Stars 2009

1.

Ortega

Uhlmann, Sophie Charlotte

GER

40 EUR 

Score 13.03

2.

Shakira

Riedel, Christin

GER

32 EUR 

Score 13.01

3.

Woodock

Gebhardt, Charlene

GER

26 EUR 

Score12.99

Preis der HPL Immobilien GmbH

Nat. Dressurprüfung Kl.S*

Prix St. Georges

1.

Famaso

Rosenbauer, Falk

GER

300 EUR 

69053%

2.

Fernhill Derry

Beresford, Hayley

AUS

215 EUR 

67316%

3.

Rimini

Lebens, Christina

GER

165 EUR 

64947%

Preis der Nürnberger Versicherung

Nat. Dressurprüfung Kl.S****

Grand Prix de Dressage

1.

Wellington

Simons-de Ridder, Alexandra

GER

2200 EUR 

69447%

1.

Meggle's Weltall VA

Laugks, Dieter

GER

2200 EUR 

69447%

3.

Fantomas

Koschel, Christoph

GER

1400 EUR 

68426%

4.

Diego

Engelen, Marion

GER

1000 EUR 

67787%

5.

Whizzkid

Niemann, Christoph

GER

700 EUR 

67745%

5.

Amüsant

Hilberath, Jonny

GER

700 EUR 

67745%

7.

Baldessarini

Capellmann-Lütkemeier, Gina

GER

66170%

8.

Cadillac

Haddad, Catherine

USA

65404%

9.

Diamond Hit

Hindle, Emma

GBR

65106%

10.

Royal Rubin

Kemmer, Heike

GER

64596%

11.

Lamarc WRT

Becker, Sabine

GER

64043%

12.

Fanano

Vetters, Jochen

GER

63872%

13.

Fürstenreich

Hindle, Emma

GBR

63447%

14.

Clive

Oatley-Nist, Kristy

AUS

 

63234%

15.

Relampago do Retiro

Beresford, Hayley

AUS

 

62936%

16.

Capuccino

Platen-Elmerhaus, Julia

GER

62851%

17.

Winyamaro

Haddad, Catherine

USA

62681%

18.

Sunrise

Groenke, Daniela

GER

61064%

19.

Lawarino

Koschel, Christoph

GER

60255%

20.

Rossini

Albeck, Jacques

FRA

58170%

21.

Collin

Albeck, Jacques

FRA

57915%

22.

Quaterman

Ladwig, Jörg

GER

52511%

23.

Don Bolero

Oatley-Nist, Kristy

AUS

 

Retired

Preis der Fa. Hoyzer

Nat. Dressurprüfung Kl.S**

Intermediaire I

1.

Famaso

Rosenbauer, Falk

GER

575 EUR 

70105%

2.

Fernhill Derry

Beresford, Hayley

AUS

475 EUR 

67895%

3.

Bandor

Wadenspanner, Max

GER

400 EUR 

67211%

7.

Down Under

Rehbein, Karin

GER

100 EUR 

64316%

Pro Ground - Preis von Ecora und Stiller

Grand Prix Kür

1

Fürstenreich

Hindle, Emma

GBR

5500 EUR

72650%

2

Fantomas

Koschel, Christoph

GER

4500 EUR

72150%

3

Winyamaro

Haddad, Catherine

USA

3500 EUR

71400%

4

Royal Rubin

Kemmer, Heike

GER

2500 EUR

71000%

5

Relampago do Retiro

Beresford, Hayley

AUS

1000 EUR

70600%

6

Baldessarini

Capellmann-Lütkemeier, Gina

GER

1000 EUR

70550%

7

Clive

Oatley-Nist, Kristy

AUS

1000 EUR

67600%

8

Capuccino

Platen-Elmerhaus, Julia

GER

1000 EUR

66650%

Preis der Fa. Huth Immobilien

Nat. Dressurprüfung Kl.S****

Grand Prix Special

1.

Meggle's Weltall VA

Laugks, Dieter

GER

5000 EUR 

71792%

2.

Diego

Engelen, Marion

GER

3800 EUR 

70292%

3.

Wellington

Simons-de Ridder, Alexandra

GER

2800 EUR 

70125%

4.

Whizzkid

Niemann, Christoph

GER

2000 EUR 

68208%

5.

Amüsant

Hilberath, Jonny

GER

1600 EUR 

67125%

6.

Lamarc WRT

Becker, Sabine

GER

1200 EUR 

66833%

7.

Cadillac

Haddad, Catherine

USA

1000 EUR 

65750%

8.

Fanano

Vetters, Jochen

GER

800 EUR 

65208%

9.

Lawarino

Koschel, Christoph

GER

600 EUR 

64708%

10.

Sunrise

Groenke, Daniela

GER

400 EUR 

61958%

The Haupstadt Tournier Berlin Webiste
http://www.hauptstadtturnier.de/

Link for full results (Dressage + Showjumping)
http://www.hauptstadtturnier.de/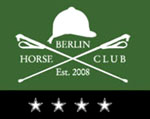 © Cyberhorse 2009 Cyberhorse
20 October 2018
Featured Horse

Click on Me
Featured Stallion

Click on Me
Featured Listing

Click on Me
Awards
Correspondents