Dutch Riders 1, 2 & 3!
It was an action packed evening of dressage with highs, lows, a new Grand Prix Kur World record and some new personal best scores all rolled into the last phase of the European Championships at Windsor.
Not only the Dutch fans, but the whole audience at Windsor, plus the millions of online viewers were able to witness Edward Gal's record breaking Kur, Adeline's sensational
second placed swaree and Anky's fight for 3rd. Windsor has staged a Nehterlands battle in each of the three Grand Prix competitions, seen its home team Great Britain rise to a team Silver medal, and seen the Germans have to battle it out for their team bronze.
There has been an amazing display of what are sure to be amazing new stars in the dressage world, with a number of new young guns showing they have what it takes to take on some of the older more experienced campaigners. What a show it has been!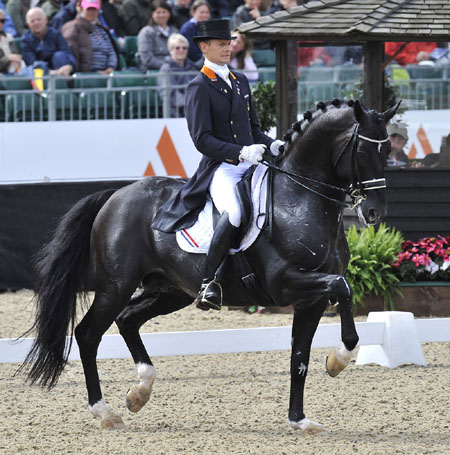 Above Right: Edward Gal & Moorlands Totilas setting a new world record.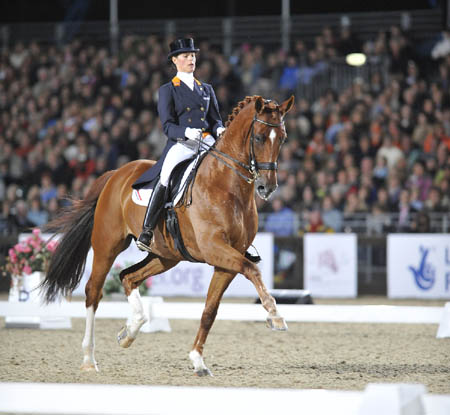 Above left: Adeline Cornelissen & Parzival strutting their stuff for a Silver medal!
Above Photos courtesy of Kit Houghton, FEI.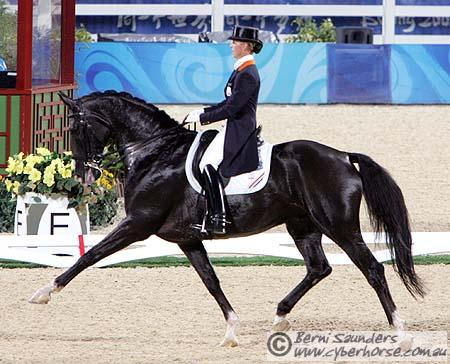 Above - Anky van Grunsven and Salinero
Below - Final Placings of the Grand Prix Kur…
| | | | | |
| --- | --- | --- | --- | --- |
| Horse | Rider | Country | Score | Prizemoney £ |
| Moorlands Totilas | Edward Gal | NED | 90.750% | 7 500 |
| Parzival | Adeline Cornelissen | NED | 87.350% | 6000 |
| Salinero | Anky van Grunsven | NED | 87.250% | 4500 |
| Mistral Hojris | Laura Bechtolsheimer | GBR | 81.750% | 3500 |
| Augustin | Victoria Max-Theurer | AUT | 79.000% | 2750 |
| Sterntaler Unicef | Alexander Matthias Rath | GER | 77.850% | 2250 |
| Max | Kyra Kyrklund | FIN | 76.450% | 2000 |
| Lancet | Emma Hindle | GBR | 76.050% | 1500 |
| Whisper | Monica Theodorescu | GER | 75.950% | 1000 |
| Liebling II | Carl Hester | GBR | 75.900% | 700 |
| Digby | Nathalie zu Sayn Wittgenstein | DEN | 74.300% | 650 |
| Don Charly | Minna Telde | SWE | 73.600% | 650 |
| Watermill Scandic | Patrik Kittel | DEN | 73.350% | 650 |
| Potomac | Susanne Lebek | GER | 72.450% | 650 |
| Favorit | Tinne Vilhelmson-Silfven | SWE | 62.800% | 650 |