Ulla Salzgber is back ... and proving
that her talents have not gone Rusty!
Story and Pictures Kelly Bauer (from Germany)

After a long time spent away from the spotlights of International Dressage, following the retirement of the infamous 'Rusty' Ulla Salzgeber is back.
2009 is proving a very successful year. Ulla and her beautiful chestnut mare Wakana (aka Heidi (after Heidi Klum the super model)) have been hitting the shows alone, while Herzi continues his rehab after sustaining an injury in Aachen.

Following Ulla & Heidi's somewhat nervous and inexperienced test in Aachen, the pair went on to compete at Ascona where they convincingly won both the Grand Prix (72.809%) and the Grand Prix Freestyle (76.200%).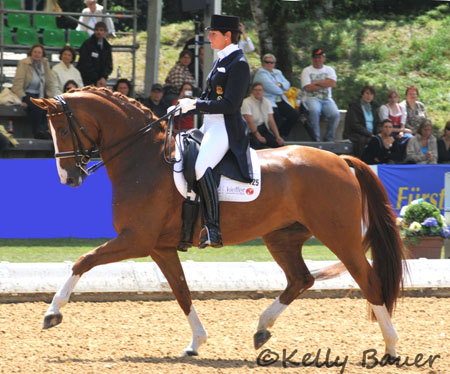 Ulla Salzgeber and her Thüringen mare Wakana.
Just this weekend Ulla & Heidi competed at the Dressage Gala in Heroldsberg where they again had success, this time in the last leg of the Medien Cup series. In the special S *** test with piaffe and passage Ulla and Heidi scored 71.600% Continuing on to win the Medien Cup Grand Prix test with 71.2% they secured themselves a spot in the final of the Medien Cup Series in 2009 to be held at the Competition of the Winners in Münster August 19-23rd. For their success at Heroldsberg, Ulla and Heidi take home a new Vespa scooter and €1600 in prizemoney.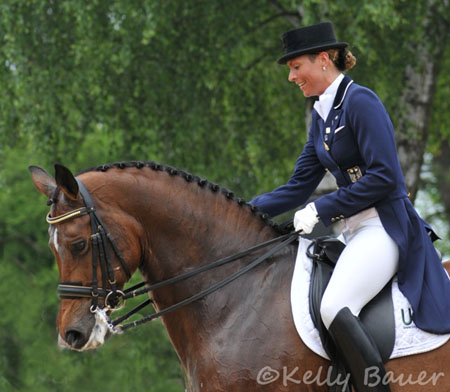 Anja Plönzke and Le Mont d'or take out the hat trick in Heroldsberg.
Anja Plönzke and Le Mont d'or won the Grand Prix with 69.872%, the Grand Prix Kür with 75.450% and the Grand Prix Special with 71.00% taking home €6750 in prize money for their efforts over the weekend.

Dressage Gala Heroldsberg Website (German Only)
www.dressurgala-heroldsberg.de

Results from the Dressage Gala Heroldsberg
http://eventcontent.hippoonline.de/415/415zeitplanDEU.htm

The Competition of the winners website (German Only) www.turnierdersieger.de/

Kelly Bauer's Library of Stories