2009 Alltech European Jumping and
Dressage Championships, Windsor.

Grand Prix Special
Report by Kelly Bauer

The Grand Prix Special was an amazing display of both quality horses and riders in what appears to be a new era of Dressage.
Adeline & Parzival stole the gold medal from fellow Netherlands rider Edward Gal and Totilas with their mistake free test that scored 84.083%

Adeline Cornelissen and Parzival were the last pair to start, and with a big job ahead of them they entered very determined. The amazing power through the extensions, beautiful piaffe and Passage and sheer quality of this combination is spectacular to watch.

Edward Gal and Totilas were strutting their stuff before they even entered the arena.

The pair displaying exceptional expression and cadence right off the bat. The 10's were coming from the judges and rightly so, with so much lift and suspension in the piaffe passage tour. Just a couple of minor glitches that appeared tension related allowed room for Adeline to overtake them. The received a score of 83.042% and left the arena to a standing ovation!

Laura Bechtolsheimer and Mistral Hojris produced a spectacular, mistake free test in what was a tough competition. The British rider was over the moon with their performance and rightly so, with their score of 80.083% they secured themselves an individual bronze medal.

Anky was not going to settle for another ride like her Grand Prix test, and today she was showing her experience, coming back in much better form than yesterday. However Salinero trotted into the first halt and the first halfpass was not of a normal Anky quality although the second was much more on par. The more the test went on, the better it got and they scored 77.958% and were just outside the medals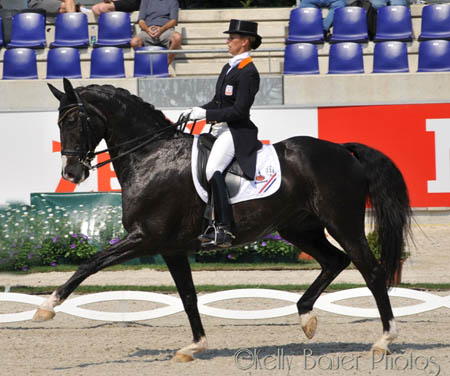 Salinero
Victoria Max-Theurer and Augustin produced another super test today. This horse displays loads of talent through all his movements and is sure to become a real star of Dressage in the future. Today was probably the best test I have seen from this pair so far. They scored75.958%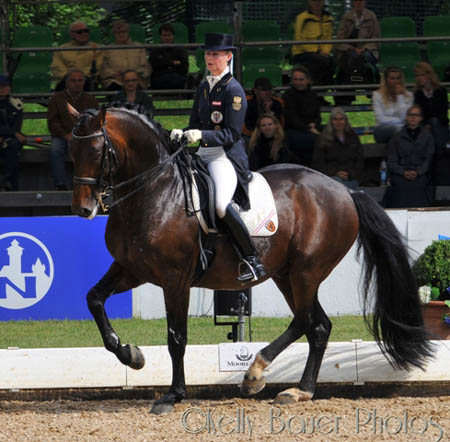 Augustin
The German combination of Alexander Matthias Rath and Sterntalere Unicef produced a solid, mistake free test that earnt them 75.458% and put them in 6th place overall. A great result and gets them through to the freestyle.

Imke Schellekens-Bartels and Hunter Douglas Sunrise produced a lovely test apart from a little error in the 2 tempi changes. The mare looked really light on her feet, producing some lovely exercises. They scored 74.083% although they wont be starting in the Kur as they were not in the top three placed Netherlands pairs today.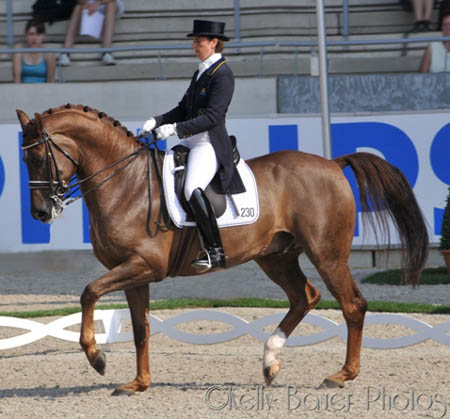 Favorit
Tinne Vilhelmson-Silfven and Favorit, the beautiful Fiedermark gelding scored 72.125% This is a very active, elegant horse, showing a lot of power in the half passes. This was a very well ridden test as Favorit didn't seem to be making it easy for his rider today.

Emma Hindle and Lancet were on a mission for a medal in the Grand Prix Special today. They entered boldly with lots of expression. Just a couple of small errors saw their score drop to 70.750%

Nathalie zu Sayn Wittgenstein and the ever reliable Digby had a mistake when he broke in one of the extensions and also had a loss of rhythm in the second pirouette. This is a nice Grand Prix horse who just lacked a little of the expression of the other horses. They scored 71.417

Kyra Kyrklund and Max (pictured right) painted a beautiful picture today, this horse looked relaxed and happy maintaining a very good frame throughout the test.

Just a little glitch in the tempi changes, but their test today scored 73.917

The results from the Grand Prix Special are below. The top 15 riders will go through to the Kur, however with the limit being only three riders from each country.
| | | | | | |
| --- | --- | --- | --- | --- | --- |
| | Horse | Rider | Country | Points | Score (%) |
| 1. | Parzival | Adelinde Cornelissen | NED | 2017 | 84.042% |
| 2. | Moorlands Totilas | Edward Gal | NED | 1993 | 83.042% |
| 3. | Mistral Hojris | Laura Bechtolsheimer | GBR | 1922 | 80.083% |
| 4. | Salinero | Anky van Grunsven | NED | 1870 | 77.917% |
| 5. | Augustin OLD | Victoria Max-Theurer | AUT | 1823 | 75.958% |
| 6. | Sterntaler-Unicef | Matthias Alexander Rath | GER | 1811 | 75.458% |
| 7. | Hunter Douglas Sunrise | Imke Schellekens-Bartels | NED | 1778 | 74.083% |
| 8. | Watermill Scandic H.B.C. | Patrick Kittel | SWE | 1775 | 73.958% |
| 9. | Max | Kyra Kyrklund | FIN | 1774 | 73.917% |
| 10. | Potomac | Susanne Lebek | GER | 1734 | 72.250% |
| 10. | Liebling II | Carl Hester | GBR | 1734 | 72.250% |
| 12. | Favourit | Tinne Vilhelmson-Silfven | SWE | 1731 | 72.125% |
| 13. | Whisper | Monica Theodorescu | GER | 1722 | 71.750% |
| 14. | Digby | Nathalie zu Sayn-Wittgenstein | DEN | 1714 | 71.417% |
| 15. | Donatha S | Ellen Schulten-Baumer | GER | 1702 | 70.917% |
| 16. | Lancet | Emma Hindle | GBR | 1698 | 70.750% |
| 17. | Don Charly | Minna Telde | SWE | 1679 | 69.958% |
| 18. | Balagur | Alexandra Korelova | RUS | 1659 | 69.125% |
| 19. | Two Sox | Maria Eilberg | GBR | 1652 | 68.833% |
| 19. | Cointreau | Peter Gmoser | AUT | 1652 | 68.833% |
| 21. | Gredstedgards Casmir | Sune Hansen | DEN | 1639 | 68.292% |
| 22. | Corinth | Marcela Krinke Susmelj | SUI | 1622 | 67.583% |
| 23. | Ekwador | Katarzyna Milczarek | POL | 1616 | 67.333% |
| 24. | Fuego XII | Juan Manuel Muñoz Diaz | ESP | 1615 | 67.292% |
| 25. | Coryolano | Anna Merveldt | IRL | 1611 | 67.125% |
| 26. | Exquis Clearwater | Anne van Olst | DEN | 1609 | 67.042% |
| 27. | Prestige | Jordi Domingo Coll | ESP | 1576 | 65.667% |
| 28. | Regent | Christian Pläge | SUI | 1569 | 65.375% |
| 29. | Tannenhof's Carabas | Andreas Helgstrand | DEN | 1562 | 65.083% |
| 30. | Galliano | Maria Eriksson | SWE | 1481 | 61.708% |
The European Championships website can be found at the link below
http://www.alltechfeiwindsoreuropeans.com/index.html

The FEI TV site
http://www.feitv.org/page/AccessDenied?procedence=secureAreaDeny