German Road Trip - Part 3
by Kelly Bauer

Aussie friends Kelly Bauer and Rachelle Wilson have met up in Germany and share their adventures with Cyberhorse readers ...

Having had a tour of the Wittig's Property we were back on the autobahn heading from Rahden to Etteln, a small town near Paderborn and the home town of Hubertus Schmidt.

'Fleyenhof' is located in a pretty valley, spread over two sides of a little road and boasts views to the lake at the bottom of the fields beyond the stables and outside riding areas. Fleyenhof reminded me a lot of Ulla's barn, it might not be a picture postcard, but it is a very functional, working barn, and home to some very nice horses.

Rachelle had worked for Hubertus in 2006 for 6 months and was the groom for Wensuela Suerte ('Winnie') at the World Equestrian Games in Aachen, 2006. As we neared Etteln, Rach started having flashbacks, pointing out landmarks… the Esso petrol station where they would do late night chocolate runs, the romantic tree lined road, the big hill she had to ride the bike up to get to her apartment after work! It was all coming back to her.

She was looking forward to seeing Hubertus & Doris again, and to see if any of the people she knew were still working there.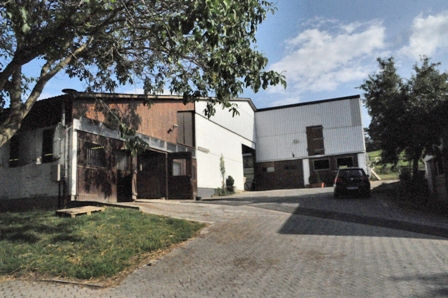 Above: Photo from the road up to the main Stable complex.
We arrived late in the afternoon and as everyone was trying to get finished up we didn't want to get in the way. So after I had a quick chat to Aussie Caitlin James and Rach said hello to Hubertus' head rider 'Hubertus' (aka Hubsy) we were headed into Paderborn for some dinner and then to the hotel for a good nights rest.

After a breakfast big enough to feed a small army, we were headed back to Fleyenhof. It was nice to see Hubertus teaching one of his American pupils in the indoor when we arrived. After a double take through a window of the arena into the viewing area, Hubertus summoned Rachelle to the window for a big Hello.

After watching one lesson we then met up with Doris. Sitting outside with a cuppa,

Doris and Rach had time to catch up on all that has happened in the three years which in the horse world is almost a lifetime!

Pictured right - Rachelle gives the young horses a pat!
Then it was time for a tour of the stables and to visit some of the horses.

First we headed over to the young horses, some of which were only just foals when Rach had seen them last.

Right -The sweet chestnut gelding Donnelly has a room with a view so to speak! Formerly the home of Wensuela Suerte.

Doris was very keen to introduce their newest star 'Donnelly'. Donnelly is an 8 year old chestnut Westfalen gelding by Donnerruf. Hubertus says he has never had a horse that is so easy, uncomplicated and so willing. He has big hopes for this horse, believing he has what it takes to be a serious competitor in the future.

Munich 2009 - Donnelly and Hubertus Schmidt.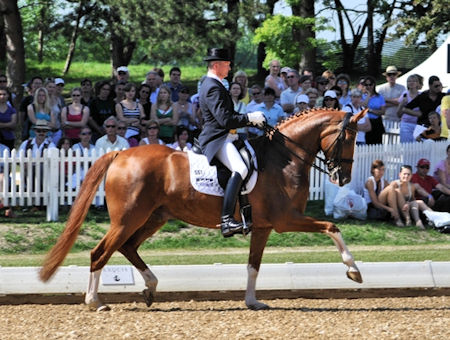 Above photos from the prize giving ceremony at Munich Pferd International 2009,

Donnelly is only 8 years old and is already having a fantastic competition season in 2009. At Pferd International Munich, the pair ended up third in the Grand Prix, then went on to win the Special with a score of 71.625%.

In Balve for the German Championships, Donnelly held his own in a competition dominated by much older and much more experienced Grand Prix horses with a 10th and 12th placing.

Then while composing this report, Hubertus & Donnelly were competing at the CDI Falsterbo in Sweden. In the Grand Prix they were placed 4th and in the Special they were 2nd.

Above - Caitlin James with her Mare Santina (bay) and one of the young horses, a 4 year old by Fiara (Fiedermark) called Louie (Chestnut).

It was nice to have to chance to get to say hello to another Aussie.

It's amazing how many Aussies are over here in Germany working their butts off to learn as much as possible, improve their riding and also to experience all that is dressage in Germany. It is a great thing. When all these aussies can take a little bit of knowledge and experience back home and share it with others, then dressage in Australia can only improve.

Caitlin James is a fellow Melbourne-ian! She came to Germany to work at Hof Kasselmann in Hagen. While working at Kasselmann's Caitlin bought a nice Sandro Hit x Rubenstein mare, Santina. Caitlin then made the move from Hagen to Paderborn to work for yet another big name in Dressage, Hubertus Schmidt. At Fleyenhof Caitlin is riding a few horses a day under the watchful eye of Hubertus, learning and improving all the time. Caitlin has been at Fleyenhof for almost a year now, and has also had the chance to go with him to shows… like Munich Pferd International. Right -Caitlin riding Fiara

After Hubertus had finished riding and teaching for the day, we were invited up to the house for a drink. It was nice to sit and hear both Doris and Hubertus talking about their horses. In particular how happy they are that Winnie has found such a perfect new owner and retirement. It was also nice to see hear how amazed and happy the pair were when their son decided just 2 years ago that he wanted to start riding. The proud parents were so happy that he is having fun doing some jumping and dressage.

Right - The garden setting at Fleyenhof makes for a lovely snapshot of Rachelle with Hubertus and Doris Schmidt.

Of course a trip back to Paderborn would not have been complete for Rach without a little trip to Reitsport Bremer. Sadly they did not have the right size top boots in stock, but we were still able to find a few little things to take home!! Note to all heading over to Germany and near Paderborn. Reitsport Bremer has an outlet store!! But you must check the opening times as it is only open at certain times. Rachelle pictured with the Reitsport Bremer horse, and a little shopping bag!! 

Link to Hubertus Schmidt's website (German only)
http://www.hubertus-schmidt.com/

Link to the Kasselmann website (English Site)
http://www.hof-kasselmann.de/en/