Vale Gigolo - The Passing of a Star!
By Kelly Bauer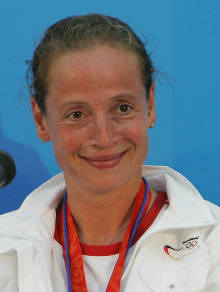 The most successful dressage horse in the world, Gigolo (by Graditz) was put to rest on the 23rd September 2009, following a rapid decline in his health, after he sustained an injury. The 26 year old struggled to recover and the hard decision was made to end his pain and not let him suffer.
Gigolo rose to stardome in 1991 when together with Isabell Werth (right) he won both team Gold and an Individual Gold medal in Donaueschingen. Backing up this miraculous double gold at the European Championships in Lipica (1993), Mondorf (1995) and Verden (1997), WEG at Den Haag (1994) and WEG in Rome 1998. Also winning four Olympic Gold medals and two Olympic Silver medals.
Having performed remarkably throughout his career, Gigolo was retired from competition at the Stuttgart German Masters on 24th October 2000. After his retirement the chestnut gelding by Graditz out of a Busoni xx mare, remained briefly with his owner Dr Uwe Schulten-Baumer before it was decided that Gigolo would spend his retirement with Isabell. Gigolo lived out his retirement grazing in the fields with some of Isabell's other oldies.
On her website Isabell wrote: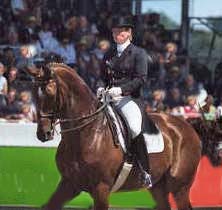 'I am so sad. Yesterday we had to put Gigolo down. His health situation declined so badly after he had sustained an injury so the vet had to put him out of his misery. Gigolo became 26 years old and he accompanied me 20 years long. To me he was a friend, a teacher and a sport partner. His reliability and his commitment were most outstanding. 26 is a blessed age and I am glad that he could spend the autumn of his life here at our place were he had a good time with his friend Fabienne on the pasture. Once in a while he might have thought of the all our victories we had celebrated in ten years as a sports couple: Four times we won Olympic Gold, two times Olympic Silver, we also won four World-, eight European and four German Championships. Thereby Gigolo was the most successful sport horse ever. Beyond the sport Gigolo had shaped my life and I remember our years with gratefulness. I am sure: Gigolo FRH will stay not only in my memory.'
Gigolo was really a star of the dressage arena, and many were lucky enough to witness his performances in Sydney.
The youtube link to one of their Kur in Sydney.