Historic Tournament, Historic Date & Historical Venue.
Report by Kelly Bauer
After a six-year break the oldest indoor horse show in the world has finally been resurrected. 30 September to 4 October the Berlin Tempelhof Airport Tournament is once again taking place.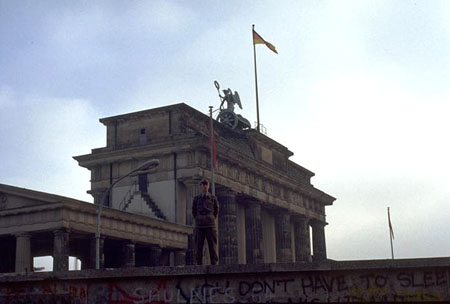 Photos: Berlin Wall courtesy F. Ramm.
I can't begin to tell you about the show at Tempelhof without a little background into the history of this show location…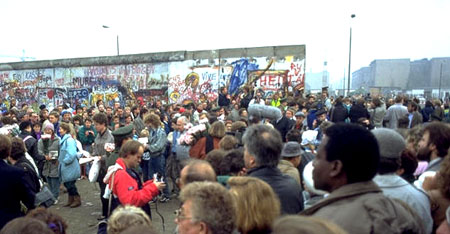 Let me start with why this weekend is such an important date for the show.
3rd October is German Unity Day (Tag der Deutschen Einheit) which marks the anniversary of the nation's unification. It remembers when the Federal Republic of Germany and the Democratic Republic of Germany united to create one single, federal Germany on October 3, 1990. In 2009 Germany is also celebrating the 20th anniversary of the fall of the Berlin Wall. Two monumental occasions in the construction of modern day Germany. 

Photo Above: On October 3, 1948, "Lt. Gail Halvorsen Day" at Tempelhof, Halvorsen throws candy to children from aboard his plane, the "Island of Christmas." Courtesy of Halvorsen private collection.

Photo Left: Waiting at Tempelhof for the lollies!
Now a little about why the location is so impressive…
Berlins Tempelhof Airport is centrally located in the German capital and was in operation from 1923- 30th October 2008.
The airport played a vital role in 1948, when The Soviet Union cut off all access to West Berlin, preparing to starve one of the largest cities in the world into submission. The Americans had other ideas thou, and in the course of a single year, undertook the most successful humanitarian action of all time. American aircrafts broke the Soviet grip on Berlin and brought in enough food and humanitarian supplies to take care of the Germans in the city until the Soviets finally gave up. During that operation, GIs aboard the aircraft also dropped bundles of candy, chewing gum and other goodies to young German kids waiting along the final approach into Berlin's Templehof Airport. So earning themselves the name "The Candy Bombers".
Some of the original airport Hangars have been transformed into dressage and jumping arenas for the show. In the dressage, Emma Hindle (GBR) Catherine Haddad (USA), Ulla Salzgeber, Heike Kemmer, Hayley Beresford and Kristy Oatley-Nist were just some of the big names set to go into battle in Berlin.
Now you know why this historical show is such an impressive event to find its way back onto the dressage calendar in 2009. I will put together a show report shortly…

Photo Above : The Candy Bombers unloading their goods at Tempelhof Airport.
Photo Right: Young fliers at Rhein-Main—from Houston, Salt Lake City, and Yonkers—celebrate the victory of the Airlift. Courtesy of Halvorsen private collection