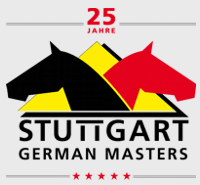 Stuttgart
German Masters

25 Internationales Reitturnier
18-22 November, 2009

Report & Photos
Kelly Bauer
Piaffe Föderpreis Finale (Young Riders)

They are the future of Dressage in Germany, they are all under 25 years old, and on their way to making it amidst the big guns. The Piaffe Förderpreis is a competition aimed to help these aspiring young riders to bridge their transition into Grand Prix in the big league. By taking part in this competition, riders are given an equal playing field amidst other like minded young riders to develop and gain the experience needed to help in their transition. The competition is made up of a series of four rounds to qualify for the final which is held each year in Stuttgart.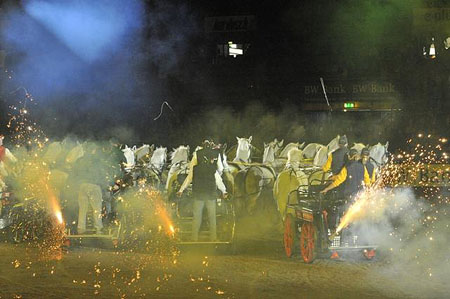 The Germans do it in great style with a fantastic fireworks display!
The Piaffe Förderpreis was founded in 2000 and since then Ellen Schulten Baumer has won the title 3 times, and also well known Matthias Alexander Rath has also shared the spotlight. Both of these riders showing how invaluable the series is in the development of future dressage stars as they now battle it out amidst the big guns regularly.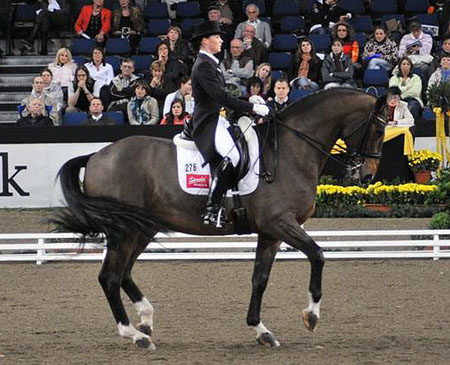 Above and Below Right - The winners: Kristina Sprehe and Royal Flash.

In 2009 another well known name took out this prestige award, Kristina Sprehe and the 13 year old gelding 'Royal Flash'. The pair have been training with Jürgen Koschel and it looks like the hard work has paid off. They scored 67.191%

Following the dressage on Friday, there was a 25th Birthday celebration of a horsie kind… The South German Licencing association had organised a stallion display. Some of the future supersires of Dressage from Gestüt Birkhof/ Family Casper and Gestüt Marbach were on display, as well a couple of their already successful stallions….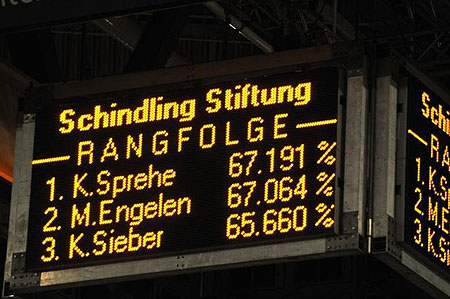 It is always amazing to watch as these babies (some 4 year olds) enter a big, dark and scarey arena like professionals. It is a credit to the riders and handlers that these young horses are so well adjusted. My standout favourites of the 'boys' were Sirtaki and Don Diamond, both will definately be horses to keep an eye on in the futre!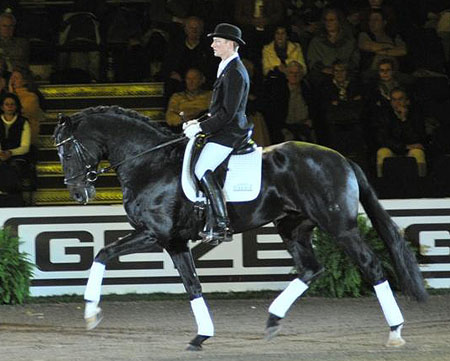 Above: Sirtaki, a black/brown 4 year old Sir Donnerhall son who recently gained himself the Premium Stallion' title at his licencing in Munich.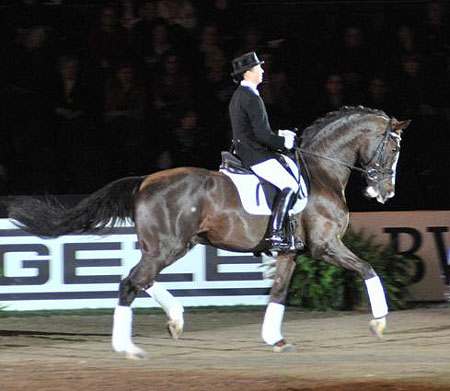 Above: Don Diamond, a 5 year old liver chestnut Diamond Hit son. This young gun was crowned SiegerHengst at the licencing in Munich, January 2007.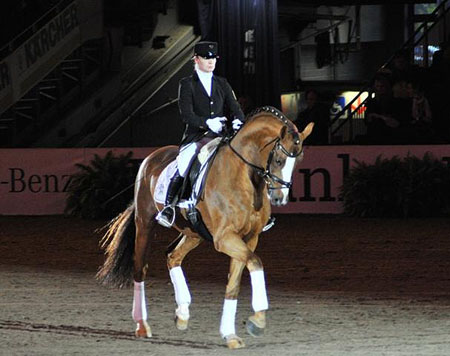 Above: Sir Nymphenburg, a chestnut Sir Donnerhall son from Gestüt Marbach.

Following the amazing stallion display, was another breathtaking bout of entertainment. 24 grey horses entered the arena, 6 horses per team, and four teams. They performed a quadrille with crazy flat out gallop crosses and moments where I had to hold my breath for fear of horses getting completely tangled up! But alas, as always all went according to plan and the audience were thrilled to bits!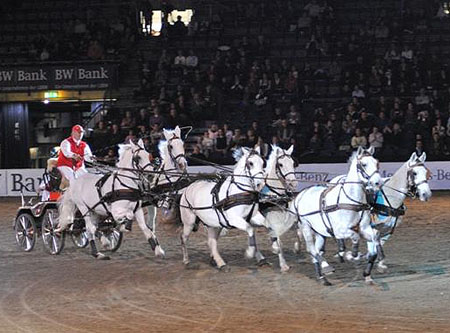 Above: Crazy German cart drivers!!

The Stuttgart German Masters website
http://stuttgart-german-masters.de/aktuell/

For Full Results
http://stuttgart-german-masters.de/aktuell/

To watch the show online and for free!
http://www.cpm24.tv/