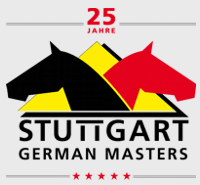 Stuttgart
German Masters

25 Internationales Reitturnier
18-22 November, 2009

Report & Photos
Kelly Bauer
Laura wins GP…
I was devastated to arrive at the Press centre Saturday morning at 7am, only to find that it was closed… what should a girl do without coffee? Deciding to act the profi, I went to the warm up arena via all known sources of coffee, but alas arrived to watch the warm up coffee less! It seems that what is such a tremendous press facility, with all you could possibly desire was only going to have catering (and coffee) from 9am!! Luckily though my caffeine withdrawls only lasted until I spotted the first open cafe an hour later!!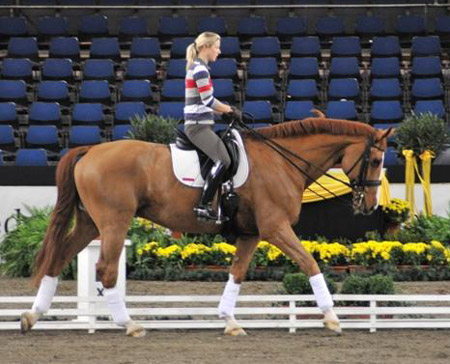 Laura and Mistral Hojris take a stroll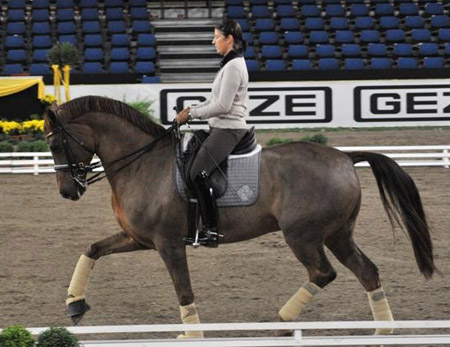 One of my Favourites… Tinne & Favourit
Armed with coffee I found a spot and settled in for the second round of Grand Prix competition in the Porsche arena in Stuttgart. Today was the Grand Prix as qualification for Sunday mornings Special. There were plenty of big names out in force, Gal, Balkenhol, Koschel, Haddad, Theodorescue and Wittgenstein. It was however to be a win for the Brits…
Laura & Mistral take the lead… and a proud dad watching his daughter! (Picture right)
Laura Bechtolsheimer and her big Chestnut Gelding Mistral Hojris were the last starters in the class. Having watched their warm up this morning, I was impressed with how relaxed and happy this horse was. Right from the start it was a brilliant test, and not once did this big guy get carried away. He stayed focused, relaxed and happy all the way to the end. The pair scoring themselves a unanimous 1st place with 77.191% and 2500 Euros prizemoney.
2nd place went to multiple team Olympic and World Champion Monica Theordorescu and the infamous Whisper (pictured right) This pair had some glitches today, Whisper wanting to canter out of the first halt instead of trot, also an error in the 1 tempis showed that Whisper was not 100% focused on winning today, however there were as always, moments of beauty from this well campaigned pair. They scored 71.957% and take home 2000 Euros in Prizemoney.

3rd went to a horse who amazed me today. I have not seen this combination pull off such a great test… Christoph Koschel and Donnperignon (a 10 year old Donnerhall gelding) danced their way through what was a poweful and expressive test. They scored 71.319% and take home 1500 euros prizemoney.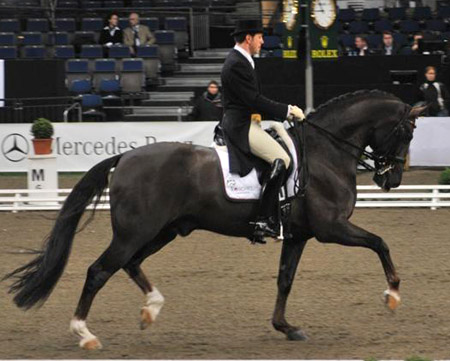 Christoph Koschel & Donnperignon.
4th were another combination that I was excited to see, although having been clipped she is not such a spectacular liver chestnut at the moment! Tinne Vilhelmson-Silfven and the 10 year old Fidermark mare Favourit. This hot mare looked very content in the big arena today and showed that she is likely to be a big contender in the future 70.468%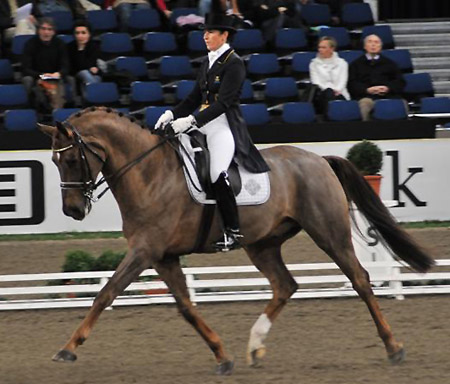 Tinne Vilhelmson-Silfven and the Fidermark mare Favourit.
5th Anabel Balkenhol and Dablino produced a solid test, just a little flawed in parts by tension. Being the youngest horse in the class he showed serious potential, needing just a little more time, courage and experience. 69.745%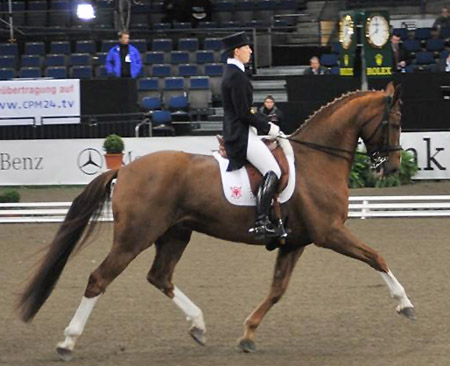 Anabel Balkenhol and Dablino
6th Carola Koppelmann and Le Bo. This imposing 16 year old Lauries Crusader gelding looked not so settled today, grinding his teeth most of the way through. Tactfully ridden and they are through to the Special tomorrow morning.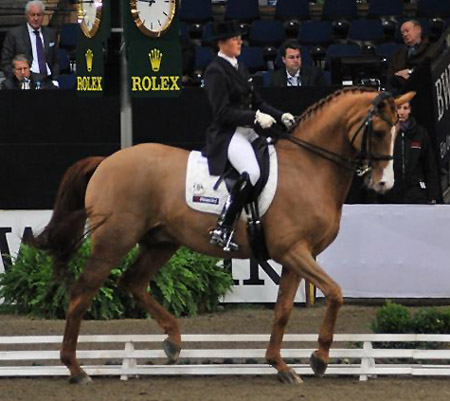 Carola Koppelmann and Le Bo
7th Nathalie zu Sayn-Wittgenstein and Digby also had a few challenges to overcome. Digby had his mouth open and was chomping on the bits, they cantered in the trot half pass, and had a backward step in the piaffe. They secured the second last place for the special with a score of 68.468%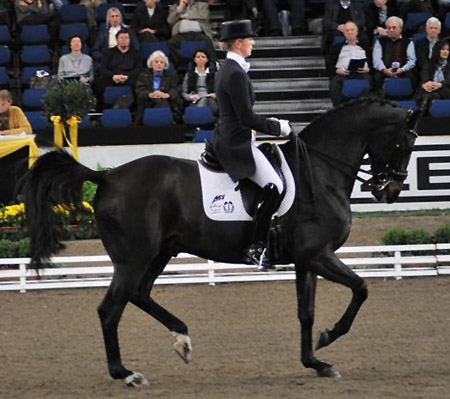 Princess Nathalie zu Sayn-Wittgenstein and Digby
8th were Sabine Becker and Lamarc WRT. This pair produced a solid mistake free test which scored them 68.213%

Sabine Becker and Lamarc WRT.
The Stuttgart German Masters website
http://stuttgart-german-masters.de/aktuell/

For Full Results
http://stuttgart-german-masters.de/aktuell/

To watch the show online and for free!
http://www.cpm24.tv/