Dressage Page 1
Saturday Dressage - Sponsored by Stocks by Cynthia and
Nutririce

The 2005 AWHA NSW Branch Gala Weekend represented many months of planning and organisation by a keen and dedicated group who realise that this event is an important aspect of the booming Warmblood/performance horse scene in Australia.
| | |
| --- | --- |
| Nutririce | Cynthia's beautiful stocks. |
"In Europe, breed and progeny shows are very well supported by breeders who are keen to use the occasion to showcase their horses and attract future interest in youngstock and stallions at stud ... and for those in the market for a quality performance horse, the breed show enables a very useful comparison of horses from foals up to ridden performance horses." Claire Lynch, the National President of the AWHA explained to me.

Claire and her Committee are keen to develop the Gala Weekend and have gone all out to ensure that the event is held at the best venue.

"At this point, it is not really financially viable to conduct our show at SIEC (the Sydney International Equestrian Centre) but we recognise the enormous benefit that a first class facility offers.

The SIEC has a great atmosphere and encourages all enthusiasts to come along and be part of the action.

Map of the centre (right)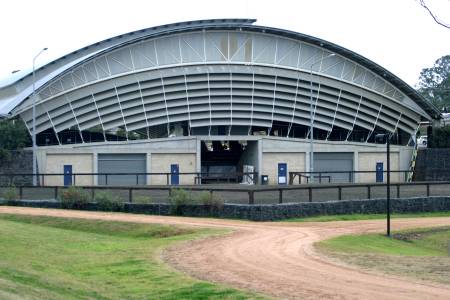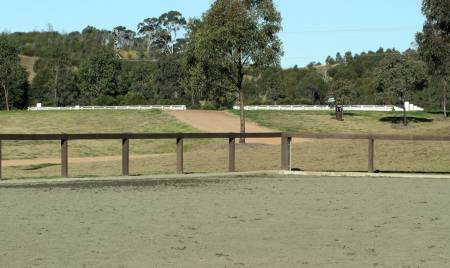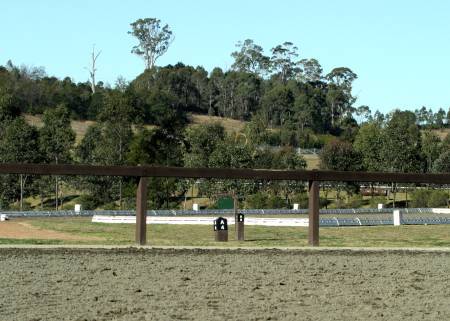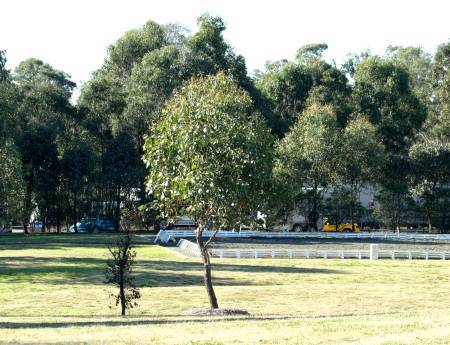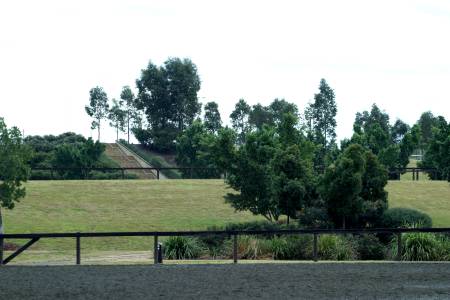 Above are some views from around the beautifully maintained grounds of SIEC.
"We were delighted to see entry numbers creeping up, but would love to see double the horses next year. Some breeders have realised that this show could be an important part of their on-going promotion, and not just a ribbon opportunity. This is the ideal place to do some 'warmblood networking' and meet people who may become their clients of the future." Claire said. "This is how it is done by the most successful breeders, all over the world"!

Bev Edwards made the 13 hour trip from Queensland and the Jaybee team had a wonderful 2005 show. Bev and husband John operate the very successful Jaybee Stud and have made it a policy to show horses at the top competitions all over the country. The AWHA Gala weekend in NSW is a must, ... also the Australian Young Dressage Horse Championships at Dressage with the Stars in Melbourne at the end each year. Bev has been a regular at these events, and her preparedness to make long trips has helped her to become the must successful Warmblood breeders in Australia today. The International Dressage star Isabell Werth loved her December 2000 ride on the 4-year-old Jaybee Accomplice (Aachimedes x Nice Balance) and he won the 3/4 YO class.


Bev Edwards and Tor van Den Berge had a very good Gala Weekend.

The 2005 Gala Weekend got started with Dressage events on Saturday. The spacious venue gave Warmblood owners a fantastic opportunity to take out young and less experienced horses and have their training assessed by expert Dressage judges.

AWHA Committee person Bronwyn Doong who is the Manager of the Silver Hills Farm (where Belcam Graphic and Monopol stand ... Phone 4659 6231) , worked tirelessly to ensure that the Dressage competition was first class event. Nothing was left to chance, all jobs were carefully scheduled into the full days program. The AWHA NSW Branch, acknowledged the huge contribution of all their generous sponsors, "without them we could not have a show" Bronwyn said.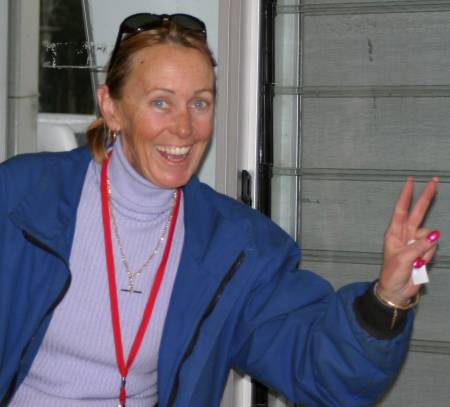 Bronwyn Doong - Dressage co-ordinator,
Sponsors products, signage and information made colourful decorations which added atmosphere and character to the 'mess' room at the SIEC, which was converted into a secretary's office and presentation area. It was a great team effort and Bronwyn had arranged for fellow committee people, family and friends to come along and help to make the day a success.


View from the competition arenas to the 'Mess' room.


Barb Vial (left) and her penciller Sheree Weaver travelled many hours to be part of the day ... Barb is a very experienced judge and her expertise was appreciated by all. She loved many of the Warmbloods that were entered.

Rachael Hunter judged and
Silvia Ahamer assisted as her penciller.

Julane is new to the Gala Day but
'pitched in' like an old hand at the job.


Beau Doong and Robert Bartley gathered tests and ferried people
about all day - they worked very hard and were appreciated greatly.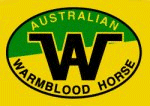 © Cyberhorse 2005 Berni Saunders