SPECIAL THANKS
TO BUY OR NOT TO BUY ?

SPECIAL FEATURES AND DESIGN CONSIDERATIONS

TYRES

LIGHTS

BRAKES

DIVIDERS

SPECIAL NEEDS

ROADWORTHINESS CERTIFICATE

SECOND-HAND FLOATS

CHOOSING A NEW FLOAT

HIRING OR BORROWING
CHOOSING A SUITABLE TOW VEHICLE

VEHICLE MASS OR WEIGHT

ENGINE CAPACITY

MIRRORS

SECOND HAND VEHICLES
THE TOW BAR

THE BALLMOUNT

THE TOWBALL

THE COUPLING OR HITCH

SAFETY CHAINS

LOAD DISTRIBUTION BARS

SWAY CONTROL
SOME HELPFUL DRIVING HINTS

CHANGING GEAR

CORNERING

RIGHT TURNS

ROUNDABOUTS

FREEWAYS AND DUAL CARRIAGEWAYS

REVERSING

FISH TAILING, SWAY AND SNAKING
JOURNEY CHECK LIST

CHECK SAFETY FEATURES

ALWAYS PACK…..
BREAKDOWNS AND ROADSIDE EMERGENCIES
WHAT TO DO ABOUT BREAKDOWNS

FIXING A FLAT TYRE
COMMON (HORSE) SENSE

IDEAS ON LOADING
HORSE 'CLOTHES' FOR TRAVELLING

TAIL GUARDS

TYING THE HORSE IN A FLOAT

FEEDING

FIRST AID KIT

WATER

SPARE HEADSTALL AND LEAD

CALCULATING YOUR HORSE'S WEIGHT
FLOATING THE HORSE - BOTH INITIAL TRAINING AND RE-TRAINING - By Andrew McLean
LEGAL CONSIDERATIONS

WEIGHT CONSIDERATIONS

SPEED RESTRICTIONS

INSURANCE
CLEANLINESS MATTERS !!

SERVICING YOUR HORSE FLOAT

MAINTENANCE CHECK LIST

SECURITY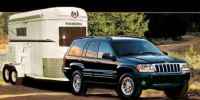 Jeep, Hayman Reese & JR Easy Traveller
- the perfect towing combination.