If you have a mobile phone, make sure you always take it with you - with fully charged batteries and a spare, or a car charger. A mobile phone will give you invaluable peace of mind.

If you have not done so already, join your state motorists' association. This will entitle you to call them for help if you breakdown … anywhere. You can pay extra for a membership which entitles you to all kinds of extra benefits which could be useful if you often travel in remote country areas.

Australian Automobile Association

National Roads and Motorists Association (NRMA)

Royal Automobile Club of Queensland

Royal Automobile Club of Tasmania

Royal Automobile Club of South Australia

Royal Automobile Club of Victoria

Royal Automobile Club of Western Australia

If you do suffer a break down NEVER unload horses on the side of the road. It is EXTREMELY dangerous.

If your vehicle does breakdown or you encounter other problems such as a flat tyre, pull over, as far off the road as you safely can, and immediately switch on your vehicle's hazard lights. If you have followed our suggestions and included the warning triangle and witch's hats, place them so as to divert traffic, giving clear berth to your stricken vehicle. Put the triangle approximately 50-60 meters behind your float, Take into account any curve in the road or blind spots. Use the witch's hats to signify continued need for alertness on the part of other drivers. Assess your location and some identifying landmark.

Call your breakdown service, then open the other side door of your float and reassure your horse while you await the arrival of the breakdown service. With luck they will be able to fix the problem on the spot. If not, they should be able to offer some suggestions and get you in touch with the service station.

It is a good idea to call home, or a close friend, to advise them of your predicament. You might need extra back up and help, such as a second float to come and take your horse, if your vehicle us unable to be moved.

When the roadside assistance driver arrives, if he is unable to get you going straight away, ask him to write Down what he believes is wrong, and what he recommends you to do. Obtain from him the telephone numbers of the people that you need to call for further help. Unnecessary calls to the operator will run down your phone battery.

If your vehicle has a serious problem, it may be necessary to remove your horse from your float and arrange for another to take him/them home for you. Before you try to unload horses on a roadway, call the Police and ask for their assistance. They have the authority to divert or hold up traffic which could otherwise cause problems and jeopardise safety. They will know where you can take your horses in this emergency. They may know of a professional racehorse transport company, not too far away, so it may be possible to have your horses taken home ahead of you.

Having taken care of your own and your horse's immediate safety and wellbeing, you will not feel so stressed and it will be easier to make the necessary arrangements to get your vehicle back on the road.

FIXING A FLAT TYRE

Make a point of changing a tyre on your float at home some time so you know exactly how it is done, and where all the critical pieces of equipment are. In fact, check that they are where they should be, and are in working order. That way, if you ever do get a flat tyre on the road, you will have the confidence born of knowing that you have done it all before!

If it happens to you, the most important thing is to get your vehicle off the road and into a safe place. It is extremely dangerous to change a tyre on the roadside if you are not well away from the traffic. (JR Floats have taken this safety aspect into consideration and mounted the spare wheel on the front of the float, where it can be accessed safely from either side)

Many freeway fatalities are caused as a result of a breakdown, with pedestrians in places where motorists do not expect them to be. Try to pull over as far off the road as possible, taking care not to get your vehicle and float stuck in soft ground.

If you have no alternative, you can drive a fair distance on a flat tyre, if you take it very slowly, even if it starts to make distressing sounds. You can still change the tyre after, if it is shredded, you are better off sacrificing the tyre than jeopardising your safety. However, this is a last resort. In general, do not try to keep driving on a flat tyre as it will rapidly damage beyond repair, and the vehicle and/or float stability will be adversely affected.

As soon as you are stationary switch on your hazard lights and put out your warning triangle and witch's hats to give following motorists the best possible notice to avoid you, your float and vehicle.

If the puncture is on the towing vehicle on a front wheel, having the float attached should make little difference to the way you change the wheel. However, if the rear wheel is affected, you may have to unhitch the float ( be sure to leave the safety chains attached) in order to allow the vehicle to be lifted off the ground by the jack. Make sure that the float's brakes are applied.

As most floats have tandem wheels, you should be able to change a float tyre without unloading your horses. This is preferable, as it is extremely dangerous to unload horses on the side of the road. It is possible to buy a device which you drive the float onto, thereby lifting the offending wheel off the ground. A stout lump of wood such as two feel of sleeper with a chamfered edge could do the trick just as well, if you were strong enough to lift it!

If you are using a standard jack, it should be positioned under a suitably structural part of the chassis or axle and not under a side wall or similar, which has not been designed to bear weight. You need to check this out before you leave home.

When your problems have been rectified, rejoin the traffic by gathering speed along the side of the roadway (if there is a sufficiently wide shoulder), give plenty of warning with your indicator, and join the traffic when it is safe to do so.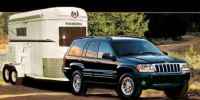 Jeep, Hayman Reese & JR Easy Traveller
- the perfect towing combination.