The first step to safe towing is to ensure that the vehicle and load are well suited. While modern vehicles are light and comfortable and have good handling characteristics for normal motoring, they often do not have the features for towing a large heavy load, such as a fully loaded, double horse float. Your JEEP dealer understands what you will be looking for in a tow vehicle. Look up the JEEP web site and find out where to find your nearest dealer.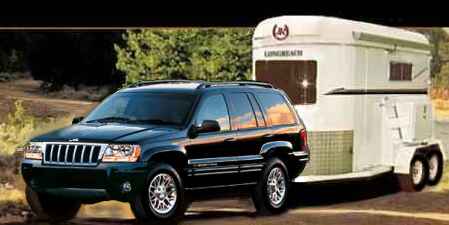 Jeep, Hayman Reese & JR Easy Traveller - the perfect towing combination.

You may decide that your present vehicle is simply not suited as a tow vehicle, or you may be looking to upgrade the family car to a suitable 'dual purpose' vehicle which will provide comfort and economical motoring along with the power, sturdy construction and appropriate weight ration to tow your horse float.

When it comes to making a decision about your ideal tow vehicle, you cannot do too much homework, good commonsense and time spent reading the manufacturer's technical specifications or talking to experts in the area of specialist towing vehicles (such as your local Jeep dealer) will be of great value in making the right choice.

The most critical requirement is that the vehicle is legally able to tow the weight that you have in mind. Before you can decide on your vehicle requirements, you will need to know the weight of your laden float, this will include the horses, saddlery, gear, full water container and other items that you are planning to take with you - this will usually be about 2 tonnes, if you plan to take two horses.

National regulations on towing in Australia which came into effect in December 1998 accept the vehicle manufacturer's recommendations as to the weight the vehicle can pull. However, if there is no recommendation, the rule is that a vehicle can tow a laden trailer up to one and a halt (1 ˝) times the unladen weight of the vehicle.

The second critical consideration is the power of the vehicle. In this instance, size does matter! Engines under 2000ccs will have a very hard time towing weights above 750 Kg. Go for an engine with 3000ccs or more if you plan to tow a horse float.

Having established the type of vehicle and the power that is needed , you can then work from you 'wish list' for vehicle features that will add to your comfort and convenience. There are some specialist features available which make a trip away very easy and certainly minimise the potential hassles.

You will want to be sure that the vehicle you purchase has Australia wide dealer network with service support and available at short notice.

Be sure to discuss your requirements with the vehicle experts, they will be able to advise whether your requirements would be better suited by the choice of a manual or automatic transmission. In some circumstances the benefit of an automatic transmission will be much smoother gear changes, and they can make slow manoeuvring much easier. A manual transmission vehicle is usually about 15 percent more efficient to run and can give the driver advantages in gearing control, which can be helpful in hilly terrain and wet slippery going, such as a muddy parking spot at a competition ground or racetrack.

Towing the heavy load involved with t horse float can cause overheating in the automatic transmission fluid, so you should check the vehicle'' specifications to see whether it is worth fitting an additional or substitute fluid cooler to your vehicle.

Your very best choice will be a robust, specialist tow vehicle with the manufacturer's tow pack fitted (which guarantees the weight capacity of the tow hitch) or call to your local Hayman Reese www.haymanreese.com.au agent in order that they assess the suitability and strength of an already fitted tow hitch.

A specialist tow vehicle would have improved transmission oil cooling, upgraded suspension components, and any chassis reinforcement needed to ensure that the mount points for the tow bar are not overloaded.

Modern vehicles, suited to the task of towing are mostly fitted with anti-lock brakes (ABS) and, as they reduce the distance needed to stop safely, they are a valuable feature. This system should only be used (when towing) in emergencies, as braking hard enough to activate the ABS system would seriously unbalance your horse.

VEHICLE MASS OR WEIGHT

Be sure that YOU

know the weight of your vehicle (or that of a vehicle that you are about to purchase). Read the handbook, or contact the vehicle's manufacturer. You need to know this weight in order to calculate the weight that you can legally tow.

ENGINE CAPACITY

Unless you are planning to be driving your float and horse through muddy paddocks, you will not necessarily need to buy a four wheel drive vehicle.

The engine of your chosen vehicle needs to be at least 3 litres or more. This means a minimum of six cylinders. Do not imagine that you can get away with pulling a double horse float - even with only one horse aboard - with a four cylinder vehicle. Eventually you will ruin the engine by severely overloading it, or worse your poor little 4 cylinder car just may not be able to pull the load under certain circumstances, and you may put yourself, your horse and others at quite severe risk.

The major advantage of a larger four wheel drive or specialist tow vehicle, is that they are heavier, stronger and more powerful than 'family' cars. The gearing is designed for the job, and this vehicle will stand up to the strains of towing with less likelihood of mechanical failure.

MIRRORS

Ensure that the vehicle is fitted with wing mirrors on both sides which are wide enough to see well past the float to the road behind. If your vehicle does not have mirrors set wide enough, it is possible to buy a set of special purpose towing mirrors from a car parts store or specialist. Always adjust your mirrors before you set off so that you can see the back corner of the float, on either side.

A little driving tip from a very experienced truckie who said, if you cannot see MY mirror, I cannot see YOU!!

SECOND HAND VEHICLES

If you chose a second hand vehicle which is already fitted with a tow bar, be sure to have an expert such as Hayman Reese www.haymanreese.com.au examine the 'tow pack' to be sure that it is a heavy duty model and has a weight recommendation in keeping with your towing requirements. He will also ensure that the tow bar is safe and correctly fitted. The fitting will normally be bolted and the adjustment should be checked along with any signs of wear and tear. A casual approach to this important aspect could see the tow hitch tear away from the vehicle with very frightening and dangerous consequences.

It is essential to fit an additional or substitute transmission fluid cooler if you buy an automatic transmission. These are available for all types of cars, either specifically for your make of vehicle or general purpose models - ask your JEEP dealer or your regular service centre for advise.

If the two wheel drive vehicle that you already own is heavy and powerful enough to do the job satisfactorily, but you would like some of the benefits that a four wheel drive can give because you often tackle rough terrain, you could have a limited slip differential fitted to your vehicle. It is not quite the same as having a robust specialist tow vehicle or four wheel drive, but it will allow you to reverse in the mud, slippery grass, snow and ice in a much more sure footed manner.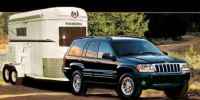 Jeep, Hayman Reese & JR Easy Traveller
- the perfect towing combination.