I
A Guide to Safe Towing is proudly sponsored by a number of suppliers
who are acknowledged experts in their field.


JR Easy Traveller Floats, based in Queensland but offering an Australia wide service. The 'JR team' were an obvious choice of supplier to be involved in the creation of this important information resource for all horse lovers and those concerned to fully understand the many issues involved to undertake the task safely and legally. The JR Easy Traveller design has many patented features which ensure a safe and relaxed journey for both the horse and the driver.
(www.jr-easytraveller.com)
When you think of buying a new float or need some expert advice, please give
JR Easy Traveller a call (07) 3299 4000
or send them an e-mail - sales@jr-easytraveller.com

TO BUY OR NOT TO BUY?
If you are planning to become a regular competitor or are involved in a regular activity that necessitates transporting your horse/s you will probably have come to the conclusion that you need a float of your own. If you have been hiring a float on a regular basis, say about once a month - your own float will be considered a good investment. You will also save a considerable amount of time, as you will not have to do a full safety check every time you hire a float, and of course you will not need to go and collect the float and return it when you have finished. Hiring floats can sometimes mean that you will need to leave an activity at a time that will fit in with your hirers' conditions, rather than when it would suit you.
SPECIAL FEATURES AND DESIGN CONSIDERATIONS
To most horse owners, the purchase of a horse float is a major investment and therefore a very big decision, so before you make your purchase, ensure that you understand exactly what your 'buying criteria' should be. For a start, make sure that you fully understand the towing capacity of your vehicle. Will it place any restrictions on the Aggregate Trailer Mass (ATM) Hayman Reese distributors are experts in this area and can advise re towing specifications for your vehicle. ( www.haymanreese.com.au )
If you tow an overweight float, you may be breaking the law and putting your vehicle warranty at risk - not to mention the risk to safety. Manufacturers usually specify or recommend towing weight capacities in the users' booklet or owners' guide

Another important weight that you must bear in mind is the float 'nose' or ball weight, which is the downward pressure the fully loaded horse float exerts onto the vehicle's tow ball and tow bar. Go to Couplings for more information about ballweight. JR Easy Traveller are experts and are happy to help you to make the right decision (www.jr-easytraveller.com)

You should find out the manufacturer's estimate of the laden weight, and the proportion of that weight on the towball. If this weight is excessive, the car's suspension could be affected and the front of the vehicle be raised, making steering light with poor vehicle stability. As a guide, the weight on the vehicle tow bar should be between ten and fifteen percent (10% - 15%) of the loaded float weight.

Before you make any decisions about floats, you will need to know your horse's weight. It is possible to check this weight on a float with horses aboard by going to a weighbridge (you will need to know the unladen weight of your float to make a correct assessment). Or you can calculate the horse's weight, as per the calculation method in our section on The Horse

It is important that the float is designed to carry the load slightly forward of the centre of the axle assemblies in order to help make it ride more stably, and to prevent problems such as "fishtailing" or sway. Go to Couplings for more information.

Be aware that if you add features such as storage cupboards, or if your load the float with anything other than horses, you will, in all likelihood, change the weight distribution.

TYRES

Make sure that the tyres are legal with sufficient tread, and that they are the correct variety - that is, radial or cross ply - for your float. Light truck tyres on heavy duty wheels are recommended for floats, as light car wheels are not really strong enough to carry loads in excess of 1000 kilos.

It is important that your tyre pressures are correct. The best way to check this is to inflate your tyres to the manufacturer's recommendations, then drive for about 20 kilometers, then check your tyre pressure again immediately after stopping. There should be a difference of 28 Kpa (4psi) above the initial, cold reading.

Inflating tyres above that, raises the risk of tyre damage and reduces the tyres surface contact with the road, it also gives a rougher ride. Under inflation can cause serious damage to the tyre very quickly.

LIGHTS

Check that the lights on the float work in conjunction with the corresponding lights on your vehicle. Besides the right and left turn indicators, the float should be equipped with tail lights, brake lights, a numberplate light, side markers and reflectors.

BRAKES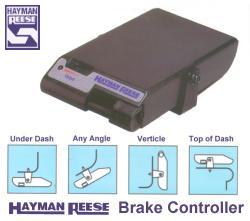 Brakes should preferably operate on all four wheels of the float, and the float is required to be fitted with a parking brake which will hold a laden float or trailer on an incline.
Floats with a loaded weight of over 2000Kg MUST have a breakaway brake system fitted, that will activate automatically if the float becomes detached from the towing vehicle. This breakaway system works from it's own battery power (which is wired so as to charge as you drive) and it must be able to hold the float for 15 minutes.
Floats that are fitted with electric brakes must be towed by a vehicle which is equipped with a compatible control system.
For all information and advise regarding your float's braking system contact www.haymanreese.com.au
DIVIDERS & LEG ROOM

If you buy a double float, it will come equipped with a divider to separate the two horses. Make sure that the divider does not go all the way to the floor. Horses need to spread their feet during travel, particularly when you change direction, and a full length divider will prevent them from doing this. This is a sure way to make a horse into a difficult traveller who scrambles when going around corners. To take this advise a little further, JR Easy Traveller Floats have actually patented their own design which incorporates flared side walls to provide extra space to spread legs. This wider base float has proven benefits for horse comfort as well as road handling.
SPECIAL NEEDS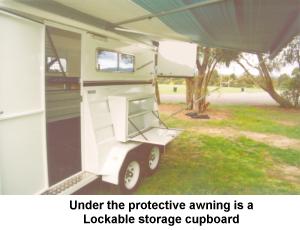 Be sure to consider your particular needs. For instance if you have a 17.2 hand Warmblood performance horse, you will most certainly need a float with extra height and length to allow your horse to travel in comfort, and arrive fit and stress free for the competition or event.
If possible, take your horse for a 'test drive' in the float, before you purchase it - just to make sure that it is as suitable as it seems !
Your passion may in fact be breed classes for Shetland or miniature ponies, in which case your float will need to have chest bars lowered, and tie up rings placed at a suitable height. Many requirements will need to be met by having a float custom built. Another of the JR Easy Traveller patented features (www.jr-easytraveller.com)
Design features is a fully adjustable height and length for each horse compartment in the float. This gives a huge amount of adjustment and would satisfy the needs of most horse owners.
Your budget will probably determine whether you choose a fairly basic model float or go for the deluxe model with many features designed to make floating easy and convenient.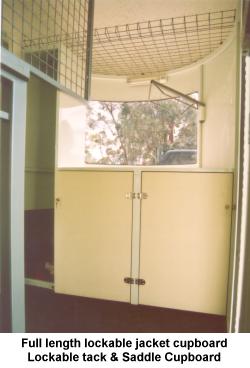 Options may include a lock up tack box (very convenient and secure for your expensive gear) coat cupboard, rug rack, hay rack, stallion dividers, water container, saddle rack, air vents to ensure good ventilation into the float, a storm cover or barn doors to enable you to complete close in the rear of the float. Some floats even have gas cooking facilities and a kitchen sink. Fancy paint jobs and a colour co-ordinated theme to blend in with the tow vehicle, is on many a horse float 'wish list'.
But … no matter what sort of horse float that you choose, safety,
your own, your horse's, and other
people's - must always come first
UNCONDITIONALLY !!!
SECOND HAND FLOATS.
When you buy a second-hand horse float from a licensed second hand dealer, you have more legal protection than buying privately, and the dealer may offer some warranty. Even so, you should still carefully examine the float and hitching mechanism for signs of wear and malfunction. You would be wise to seek professional or expert assistance when making this assessment.
Try to find out who built the float and how old it is. It may be possible to make contact with the manufacturer. If so, try to assess any information you may glean of the particular float in question, or the model. This could influence your decision.
Be particularly careful to inspect the floor from inside the float and under the matting, and be prepared to get dirty - check from underneath the float for any signs of rot. Use a sharp metal object like a screw driver on any suspect areas, and go over all of the floor, lifting the matting that would otherwise hide problems. Get underneath the float with your trusty screwdriver and a torch, and give the whole floor area the same test. Be thorough in your inspection as quite often double doors or lined float walls can become moisture traps and disguise or cover up serious rust problems.
Hitch up the float and check that all the lights work.. Go armed with a cable converter so you can carry out this test even if the float's wiring arrangement is different from that of your vehicle.
If possible take a mechanical expert with you on the test drive - someone who can identify brake and/or bearing problems that may otherwise go unnoticed.
Be very wary of any horse float that has the manufacturers' chassis plates missing or where there are signs of the identification markings having been removed from the chassis. In some states, older floats will have a serial number stamped into the metal of the draw bar. Check to see that these numbers have not been ground off, and do not buy a float from anyone who has 'lost' the papers
Most of the more professional builders and specialist horse float companies keep details of all of the floats that they have manufactured. They may be able to assist you in establishing whether the float is genuine or not.
If you have any doubts, do not buy the float, as it may not be the property of the person who is selling it. When you go to register it in you name, the police may wish to return it to its rightful owner, and you will be left with no horse float and no money.

Before making your final decision, carefully examine the float, taking into account your own special requirements.

If you will be doing much of your floating alone, is the ramp easy to manage on your own?

Does it have electric, vacuum or override brakes? If it is registered, you may be forced to install independent brakes to re-register it.

Is there an electrically operated breakaway brake, which will stop and hold the float for 15 minutes in the event that it breaks away from the car?

Is the back high enough to prevent a horse from trying to jump out in the event that it gets loose and turns around in the float?

Will you be able to load your horse and secure it, safely, on your own?

How wide and steep are the ramps?

Does the float have an access ("jockey") door up front, to allow you to attend your horse without having to open the tailgate?

Does the float have a tack cupboard?

Are there secure mounts such as rings on the exterior to allow for tying up horses and haynets?

Are the secure mounts inside the front of the float to allow for tying up horses and haynets?

Does the float have any sharp or dangerous objects that need to be removed or replaced by something more suitable?

Is it free of rust? Check side panels thoroughly, particularly if lined. Also check steelwork under floors for damage caused by water and urine - this is a major rust trouble spot, and is often overlooked!

Has the float been well maintained?

Do the tyres have a reasonable tread and walls, free from perishing?

Are all tyres and wheels the same?

Are the wheels of suitable heavy construction to deal with the weight of the laden float?

Does the float come with a spare tyre, and if so, is it in good repair and matching the wheels already on the float.

Has the float ever been in an accident?

Is it registered?

Is it insured?
CHOOSING A NEW FLOAT

In Australia there are a number of professional builders of horse floats. You can buy an "off the shelf" model, with no modifications or special features, or you can have one built which will cater for your every wish and whim, but before you make a decision take a look at a number of floats and compare the safety features and travelling comfort for your horse. New floats look similar from the outside, but it is surprising how different they can be when your look closely at the features and finish.

Some of the things that you may want to have as added extras include: extra height, extra length, double flooring (consider the weight involved) special latches on dividers and ramps. Tack boxes or cupboards, saddle racks, extra interior lighting. Some floats are ordered fitted with every feature including gas stove, sink and fold down beds.

J R Easy Traveller are committed to safety, quality and easy travelling. Their unique and thoughtful design significantly improves on the features that have not been improved for over 40 years. The JR 'features' have a proven benefit with difficult travellers, and reduce the risk of stress and travel sickness. Go to their web sire for details about the World Patented design. (www.jr-easytraveller.com)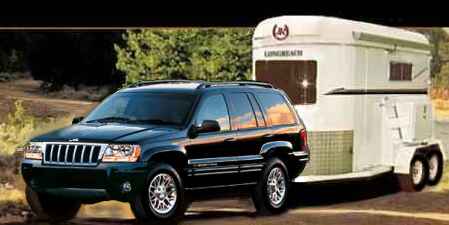 Jeep, Hayman Reese & JR Easy Traveller - the perfect towing combination.

JR Easy Traveller have included many very unique design features
that will really make a difference: Hand laid recycled rubber floor over hardwood armour ply. The rubber continues up the walls preventing moisture or urine from damaging the timber floor or steel under floor supports. This process gives the float floor a complete seal and prevents rust and corrosion, which will in time weaken the floor and make the float unsafe. Flared side walls give more floor area so that horses can spread their legs far beyond the allowance in a normal double horse float. This has been a significant factor in helping difficult horses to settle and float with more confidence. Adjustable rump bars replace chains or breeching doors which are usually used to secure the horse in the float. This thoughtfully designed innovation allows horses to 'sit' on the bar which is adjusted to the height perfect for your horse. The horse is able to balance himself against the bar which significantly improves his stability and confidence, particularly when cornering. The rump bars are set back from the tail gate by about 20 cm so horses will not rub tails and cause this added discomfort. On the JR Easy Traveller float the ramp is wider at the top (hinged edge), which is in keeping with the width of the flared walls. This makes the float more invlting for horses and people have less problems loading reluctant horses onto their JR. To our knowledge, the JR Easy Traveller Float is the only tandem horse float which is built on a one piece chassis rail. It is usual for the chassis structure to have the draw bar welded to the chassis, and this greatly reduced the strength and durability. JR engineering enables the manufacturer to reduce the amount of steel used in the top section of the float and therefore lower the overall weight for that particular size of float. JR Easy Traveller Floats recommend two entrance (or jockey) doors at the front of the float to allow access in a panic or accident situation and for ventilation when the float is stopped - with our without the horses still on the float.

Go to the web site for more information:
www.jr-easytraveller.com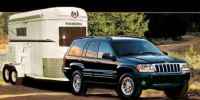 Jeep, Hayman Reese & JR Easy Traveller
- the perfect towing combination.