JR Easy Traveller Floats, based in Queensland but offering an Australia wide service. The 'JR team' were an obvious choice of supplier to be involved in the creation of this important information resource for all horse lovers and those concerned to fully understand the many issues involved to undertake the task safely and legally. The JR Easy Traveller design has many patented features which ensure a safe and relaxed journey for both the horse and the driver. (www.jr-easytraveller.com)
When you think of buying a new float or need some expert advise, please give
JR Easy Traveller a call (07) 3299 4000
or send them an e-mail - sales@jr-easytraveller.com

MAINTENANCE
Cleanliness matters!
Before you put your horse float away, make sure that you clean it out thoroughly every time that it is used. Manure and urine left in the float will eventually cause the floor to rot out, putting your horse's suture safety at risk!
Dirty floats harbour germs and mouldy straw and feed is a known cause of many quite serious respiratory problems in horses.
If possible, park your float under cover, and on a concrete floor. A dry floor helps to prevent rust and rot as it inhibits dampness. If you must leave your float outdoors, try to park in a dry sheltered spot. A tarpaulin placed over the float will also provide protection from the elements. You could also try a haystack cover, which are quite inexpensive and do a similar job.
It is advisable to place a large plastic bag, secured by hay twine, around the float coupling to keep this fitting as dry and clean as possible.
Just like the family car, you should give your float a 'spring clean' at regular intervals. This will not only improve its appearance, and help to prevent rust and floor rot, but it will also give you the opportunity to examine the structure carefully, for signs of wear and tear.
A liberal application of anti-rust compound such as fish oil will help keep the float in good order, but make sure that you undertake this maintenance when you will not be using the float for several days. Some compounds are offensive smelling and the vapours are bad for your horse.
Pay special attention with your rust prevention to the front of the float where the horses' heads normally are. If you regularly float only one horse, you will notice that the interior of the float on that side is much more prone to rust. This is caused by the moist air created by the horse's breath.

SERVICING YOUR FLOAT
Horse floats have a moderate number of moving parts and components that wear. Brakes, wheel bearings, lights, wiring and various fittings are all in need of regular maintenance to ensure that they work correctly.
A horse float, caravan or trailer specialist will be able to carry out any repairs and checks, but it pays to make friends with your local mechanic - someone whom you can trust to keep your float safe and functional.
It is very unwise to borrow a float that has been sitting idle for sometime and most likely in need of repairs and maintenance. You could be putting yourself, your horse and other road users at risk.
Maintenance check list
Tyres - treads, pressure, general condition. Don't forget the spare tyre too.

Wheels - all nuts done up tight, check for cracks, dents to the rims or other damage.

Brakes - check adjustment and operation of braking unit, and brake linings.

Wheel bearings - repack if required.

Lights - all lights operating, and a spare set of globes in the glove compartment of your vehicle.

Suspension - check the suspension components and lubricate if necessary.

Ball and Coupling - grease lightly.

Chassis - examine for cracks in high stress areas.

Float body - check for rust, rot in flooring and smooth operation of all doors and fasteners.

SECURITY
The theft of horse floats is quite common, and you are at particular risk if you keep your float at a public agistment centre, or leave it unattended at showgrounds or racecourses. If circumstances necessitate that you leave your float parked for some time at a public venue, you could consider chaining it to a solid permanent fixture so that thieves will then target something easier! You should also notify other attendees parked near you at events that you will be gone for a specified time and that no one has permission to move your float or take anything from it.
Thieves will try to avoid very distinctive floats that can be identified from a distance. Stolen floats are sure to change their appearance very quickly, but personalised signage will make your float less appealing for thieves. One way of identifying your float is to paint large numbers on the roof.
Motor accessory stores have a number of gadgets that will deter a theft that has been made very easy, by trusting souls who have taken no security precautions. A wheel clamp is a very effective deterrent, and a good investment.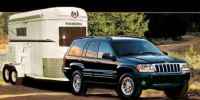 Jeep, Hayman Reese & JR Easy Traveller
- the perfect towing combination.