LEGAL CONSIDERATIONS
Anyone planning to tow a float should obtain a copy of their state Road Rules or go to the web sites as detailed below, to understand the rules regarding towing trailers, caravans and horse floats.
As of December 1998, a number of towing regulations relating to issues such as maximum trailer mass and speed limits standardised across Australia. However, it is wise to be sure you know the law before you take to the roads with your float and horse!.
In Australia, all vehicles must comply with all relevant Standards for Registration and must be roadworthy at all times they are used on public roads.
Australian Transport Safety Bureau
Commonwealth Department of Transport & Regional Services
Department of Infrastructure - Victoria
Department of Transport - Tasmania
Department of Transport and Works - Northern Territory
Department of Transport - Western Australia
Department of Urban Services - ACT
Queensland Department of Main Roads
Roads and Traffic Authority NSW
Transport SA - Registration & Licensing
There are penalties for not meeting these requirements.
Standards for Registration are notified in the Australian Government Gazette, and are generally the Australian Design Rules for Motor Vehicles and Trailers (ADR's)
Roadworthiness requirements are issued by the relevant Authority in each State of Territory of Australia.
It is illegal to allow a person to travel in a horse float on a road or highway.
All horse floats must be fitted with a rear numberplate and registration label must be affixed and in clear view.
Tow bars and couplings must not obscure the towing vehicle's numberplate when the trailer is not connected.
The ballmount should not protrude beyond the body of the tow vehicle when the float or trailer is not attached.
Towing more than one trailer is prohibited.
Be sure of the laws in your OWN STATE AND THAT OF YOUR DESTINATION - go to your local police or better still go to the web site and read up on the important legal issues. Ignorance is not accepted as an excuse for breaking the law!

WEIGHT CONSIDERATIONS
In all states and territories of Australia, a vehicle can tow a trailer whose mass is the least of:
the tow vehicle's towbar rating: or

The tow vehicle manufacturer's recommended maximum trailer mass.
If the manufacturer has not specified a recommended mass, the vehicle can
tow a float (or trailer) up to the unladen mass of the tow vehicle, provided the trailer has brakes. If the laden float is up to 2000 Kg, overrun brakes will suffice. If the laden float is over 2000 Kg, the brakes must be independently operated - that is, electric or vacuum.

All trailers exceeding 750 Kg MUST have brakes fitted, which means that it would be illegal to tow a horse float that did not have brakes.

SPEED RESTRICTIONS
Since December 1998, all floats can be posted at whatever speed is posted for that particular road. However, some vehicle manufacturers have placed restrictions on the maximum recommended speed for their vehicle when towing heavy loads. You need to know if such a recommendation exists, as you could be refused insurance if an accident happens as a result of exceeding the recommended speed, or you could be charged by the police for dangerous driving.
Even if you are legally entitled to travel faster, you need to remember that your horse will probably fare much better if you keep around 80 Km/h.
Learner drivers are not permitted to drive a vehicle while it is towing a trailer or float.

INSURANCE
Compulsory Third Party Insurance for trailers and horse floats is normally provided by the insurance covering the tow vehicle. If your horse float is being towed by a vehicle registered in another state, you should contact your insurer to obtain additional cover to protect you in the event of damage caused by your horse float.
A horse float may not be covered by comprehensive insurance if:-
It does not comply with the laws that apply in the State where it is being used;

its Aggregate Trailer Mass (total loaded weight) exceeds the vehicle's towing capacity;

it is not roadworthy.
Be sure to read the 'fine print' of any insurance policy and understand the scope of your cover.
If you have any doubts write to the insurance company and ask for clarification.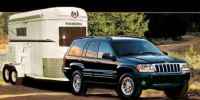 Jeep, Hayman Reese & JR Easy Traveller
- the perfect towing combination.