AEA Dressage with the Stars presented for the first time in Australia 'Dressage Symphony'.

An exciting performance of a 30 piece symphony orchestra combining live classical music with the beauty and grace of dressage.

The production crew did an excellent job in converting a riding arena into an Opera House, the Audio Director, Bill Busbridge along with the Lighting Director, Steven George rose to the occasion for a faultless show. They were very ably assisted by their stage hands Martin Schmidt and Greg Edge.

Special guests include opera star Deborah Humble, direct from London and she sang pieces from Bizet's famous opera Carmen and 'Softly awakes my heart' from Samson and Delilah by Saint-Saens and on a lighter note 'I could have danced all night' from My Fair Lady by Lerner and Lowe. Deborah has a truly magnificent voice and she was able to 'fill' the entire huge indoor arena at Werribee Park.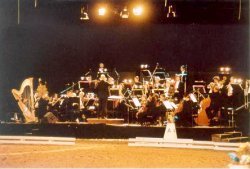 The Chamber Orchestra of Geelong were outstanding under the baton of conductor Steven Roth. Steven holds a Graduate Diploma in Music (Conducting) from the Victorian College of the Arts - Melbourne University, where he studied under the eminent conductor and teacher Robert Rosen. Steven has conducted many of Australia's leading instrumental soloists including Dene Olding and British trumpet virtuoso Grahan Ashton. He has also conducted many of Australia's finest opera singers including Joan Carden, Suzanne Johnston, David Hobson, Michael Lewis, Jason Barry-Smith Ghillian Sullivan and Natalie Jones. In 1997 Steven was invited to America where he conducted the Naples Florida Philharmonic Orchestra, this gave him the opportunity to study concert presentation with the conductor of the Baltimore Symphony Orchestra, David Zinman and with the conductor of the Orchestra of St. Lukes, Robert Spano. Whilst overseas Steven gained much experience working with many of world's leading conductors.
The program and performance was absolutely outstanding, the Chamber Orchestra of Geelong were vibrant and well rounded.
The first act, a Pas de Deux to selections from Carmen was choreographed by Victoria's own dressage star Marie Gahan, her interesting routine was wonderfully executed by the Victorian dressage duo Kylie Janetski on her lovely mare Northern Contessa and Karen Davis on the evergreen Mighty Heights. I wonder if event rider Robyn Brown ever imagined that her outstanding 3DE partner would turn to cabaret and dressage? It was a lovely performance.

Above and right - Pas de Deux
Kylie Janetski and Karen Davis
on Northern Contessa and
Mighty Heights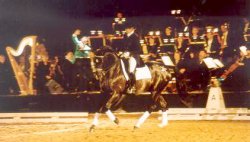 Next came Emmanuel Baldaccino who was in fine baritone form when he 'belted' out New York, New York, with the two beautiful 'dancing' stallions. Mary Hanna rode Dr. Barbara Burrows imported stallion Prince Noir and Emma Youngman rode her beautiful import Rasputin. Hearing Emmanuel (Manny to his friends) was truly a highlight for me, as Manny is the very capable 'in hand' handler of my horse Hollybrook Boston. Manny's sense of theatre flows through to his horse handling and he has taken Boston to 5 consecutive wins at the Royal Melbourne Summer Royal. They will be appearing in January 2000. The stallions complimented the music just as the music compliment the stallions.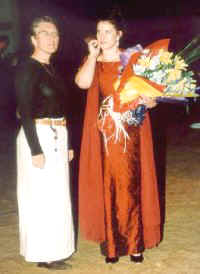 Welsh born mezzo-soprano Deborah Humble, and she followed the Bachelor of Music with a post-graduate diploma of Music from the Victorian College of the Arts in 1992. In 1996 Deborah returned to Britain to commence a freelance career, she has sung the roles of Lola in 'Cavalleria Rusticana', Flora in 'La Traviata' and a mezzo role with the internationally acclaimed 'Mozart Players' in Handel's 'Messiah' Last year Deborah was awarded a scholarship to study at the Metropolitan Opera in New York. I'm sure that Deborah will never forget singing with horses, as .. just as she was about to begin, there was a voice over microphone saying "You had better check your horses in the stables as there are FIREworks, and the horses may be afraid. As you can imagine hardly any of the horse owners in the audience heard the works end of the word and mini panic at the thought of a stable fire, was the result. It took about fifteen minutes to get things back on track, and then ... on with the show. (it seems that a Christmas party at the Mansion also had a fireworks display and did not tell anyone)
Although Deborah is presently based in Paris, Australian will get the chance to see her as in 2000 she has engagements with Opera Australia.
The youngest performer at Dressage with the Stars - Dressage Symphony was the very tiny and very cute Anastasia Archipova from the Bolshoi Ballet. The World's youngest prima ballerina, Anastasia performed the 'Christmas Toy' and other selections from 'The Nutcracker Suite' with Victorian dressage rider, Kate Scollay on Kohu Kohu.
Jose Mendez is always a crown pleaser and the Dressage Symphony would not have been the same without him and his beautiful Andalusian stallions. Jose was born in the Spanish town of Jerez De La Frontera, and his love of horse began at an early age. At the age of 12 he joined the famous Royal School of Equestrian Art in southern Spain (formerly the famous Riding School of Domecq)
Jose's Andalusians are fully trained in the principles of dressage. Jose's performances highlight the beauty and grace of these wonderful horses. The Spanish government has now taken over the Royal School of Equestrian Art, where Jose started his training. He will be travelling back to Spain annually to assist at the School, along side his old friend, Spanish Olympic rider Ignacio Rambla.
Jose performed his exciting long reining routine to a guitar concerto and the Pas de Trois was lifted by the stirring sounds of the Espana Waltz Opus 236 by Walteufel.
| | | |
| --- | --- | --- |
| | Always a favourite with a crowd of horse lovers... Jose Mendez and his beautiful Andalusian Stallions | |
Program
Performer


Pas de Deux

Karen Davis & Kylie Janetski
Choreographer - Marie Gahan


Mary Hanna & Emma Youngman
Emmanuel Baldaccino - Vocals

Jose Mendez

Interval

Kate Scollay &
Anastasia Archipova


Deborah Humble


Jose Mendez - Pas de Trois


Deborah Humble

Grand Finale

Music

Selections from 'Carmen' by Bizet
Prelude to Act 1
Les Tor'eadors
Intermezzo (Prelude to Act 111)
Aragonaise (Prelude to Act 1V)
Chanson du Tor'eador

New York New York.


Guitar Concerto

Interval

Selections from 'The Nutcracker'
by Tchaikovsky

Habanera from 'Carmen' by Bizet
Mon coeur s'ouvre a ta voix
(softly awakes my heart)
from Samson & Delilah by Saint-Saens

Espana Waltz - Opus 236 by Waldteufel

I could have danced all night
From 'My Fair Lady' - Learner & Loewe

Radetzky March - Johann Strauss Sn.