Victorian State Dressage Squad
Clinic 6 with State Coach, Mary Hanna

Hidden Valley, Wallan.
August 28, 29 &30th 2009


Story & Pics Berni Saunders - Page 1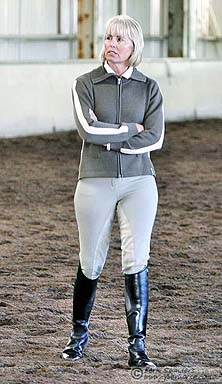 I was delighted to be given the chance to spend an afternoon with some of the riders in the Victorian State Dressage Squad at their 6th Clinic with State Coach Mary Hanna (pictured right), at Hidden Valley on Friday the 28th August 2009.
Hidden Valley is one of my favourite places and the picturesque setting was breathtakingly green. The contrast of warm terra cotta shades in the Tuscan styled village was "beautifully European" and offers everything to those who seek to combine elegant living with horses and golf.
Hidden Valley is a lifestyle concept with small acreage properties down to regular homes and town houses which are all set on the 2500 acres of rolling hills, manicured gardens and ornamental lake which were originally Robert Holmes a'Court's magnificently appointed Heytesbury Stud.
I have been a fan for over ten years and it is inspiring to see how nicely the estate has developed to make a perfect lifestyle for those who like all mod cons yet want the country life.
Maree Tomkinson operates the Hidden Valley Equestrian Centre (Click here to e-mail her) and the facilities are world class. A recent upgrade sees the addition of a well appointed and very comfortable recreation room and separate staff quarters. Everyone appreciated working on a good surface in the light and airy indoor arena which has views over the estate.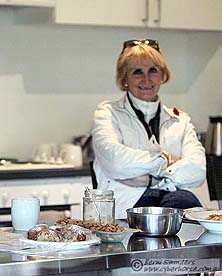 Spectators appreciated the warm, glass fronted room and enjoyed the action in comfort. Right - Maree's wonderful mum Kathy who bought in the coffee and nibbles.
Victorian Squad Clinics are all about the serious business of developing riders, improving horses and creating positive support to help the sport of dressage at state level. There is a great feeling of camaraderie and goodwill, proving that training and learning is also fun!
I think it is a great pity that this atmosphere and learning environment is not be made available to the wider community of competitive riders as everyone was inspired and encouraged by the team spirit.
Full marks to the EA Victoria and Victorian Dressage Sub-Committee ... and thanks of course Mary for sharing her knowledge with our best dressage prospects.
Hidden Valley
Ten Victorian A & Development Squad riders attended this clinic, some were able to take lessons on all three days, beginning Friday afternoon and others just came on the weekend. As I was there for the Friday session, I was not able to get pictures of all horses. The mild weather was perfect for riding and I could see a marked improvement in every rider as they came to the end of their session with Mary.
Maree Tomkinson rode her fabulous 9 YO Rotspon stallion Rodrigo II (Ringo - 4 pictures below). Maree showed that correct basics, hard work and a realistic (perhaps she is a little hard on herself) assessment of the lessons, then striving to address weaknesses - is the way to lift percentages and give the best chances for successful progression up the grades. I spoke to Mary about each horse and she said she was very pleased with Ringo. "He is gradually developing more strength in trot work and shows a very nice piaffe with good engagement and rhythm. Today we worked to improve transitions - this is the key to good performances at all levels! Ringo's pirouettes show a good sitting quality with power and strength. The horse is coming along well and showing talent in all the Grand Prix movements"
| | |
| --- | --- |
| Rodrigo 11 - just 9 Years Old. | Mary help with Ringo's engagement |
| | |
Charlotte Pedersen rode her impressive Danish import, Come To Me (Tomsy - pictured below) Charlotte owns the horse with her friend Susannah Clarke and they share some fun times with their loose moving bay gelding. Charlotte took Tomsy 'home' to Denmark last year to gain some European competition and training experience at Grand Prix. The horse has matured greatly and is showing Australian judges that he is a force to be reckoned with. Charlotte is a Gisborne based professional - she told me that feeding her GP horse requires a delicate balance of the right nutrients. She is pleased that Tomsy has gained strength since she started him on Ranvet's "Power Formula" an additive which combines additional protein with minerals and vitamins. His stamina and muscle tone have improved along with the percentages!"

Mary said, "Charlotte was keen to make this clinic a practice in test riding before departing for the NSW Dressage Championships at Tamworth in early September, so we worked on transitions and accuracy as these relate to the Grand Prix movements."
Caroline Wagner- WS Nevada (Nev - pictured below) Caroline has been out of action for the past couple of months recovering from a ruptured cruciate ligament. I asked if she had fallen off of a horse and was surprised to learn that in fact she sustained the injury on the dance floor at Dressage with the Stars! Follow this link if you want to learn more ... ouch!
(http://www.sportsinjuryclinic.net/cybertherapist/front/knee/anteriorcruciate.htm)
Caro was riding her 13 YO Chestnut WS Nevada who had a holiday with Mary Hanna while Caro was out of action and is now well established in the "small tour" tests and training towards Grand Prix. Mary said "Good to see her back in the saddle. Nev showed some very nice cadenced trot work and is making good progress with the Grand Prix requirements. He now has a better understanding of the passage/piaffe sequences and all-important transitions - which carry such a high value in the overall marks at GP. Training to perfect obedient and light transitions is the key to maintaining balance and rhythm and at this level. The individual movements of the test will never be of good quality unless the horse is through, soft in the back and accepting the bit - so this is my main focus with all of the riders!"
| | |
| --- | --- |
| | Caro and WS Nevada |
Rebecca Woff- with APH Showman were on quite late on Friday afternoon so I did not get their picture - I have included some competition shots. Bec is a popular member of the Victorian dressage fraternity and puts in the hours and energy to improve. Her elegant brown partner is really working well and a highlight of their career was making it to the top 3 in the prestigious Aachen Challenge competition.
Mary told me that she concentrated on helping Bec to get a more relaxed warm-up by using stretching and counter flexion exercises. "The end result was a much more engagement of the hindquarters and the horse came into a better frame for his collected work, swinging over the back, just how it should be!"
Clare Porz and Candi Ka were also on late and so no pictures at the clinic. Claire has had a meterotic rise to stardom with her imported mare - it is clear that this combination have a very trusting relationship - Claire sits so nicely and her partner shows the talent to get to the top.
Mary said, "It was back to basics when looking for improvements in the flying changes ... quality of canter, straightness, suppleness and a correct sharp response to the aids. Clair worked hard to take the lessons on board, resulting in a big improvement on the second day - her horse was much looser and straight - very pleasing!"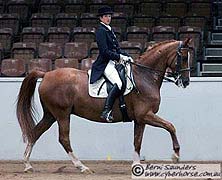 Fiona McNaught who recently played host to a successful competition at the family's Boneo Park property on the Mornington Peninsula, also took part in this clinic. Fiona rode the attractive imported mare - Sachenkonig and was not at Hidden Valley on Friday to have a clinic pic taken. Here they are at Werribee Park (right)
Mary added, "Fiona is also off to Tamworth for the FEI classes at the NSW State Dressage Championships. This combination's passage/piaffe and the transitions have improved and Fiona was more relaxed and in harmony with her horse. Even through this talented mare knows it all from her training in Europe, it is Fiona's first experience with much of the higher level work ... and it all takes time. I am very pleased with their progress."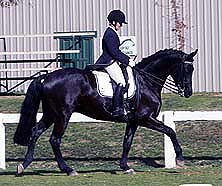 Monica Bird rode her lovely coal black son of Dutch superstar - Olympic Ferro ... Flowervale Ferro 2. Mary summed up by saying, "We worked on improving the expression in the trot paying particular attention to the connection and steadiness of the contact. Monica understands the exercises that are needed to achieve forwardness into the connection. Ferro is a talented horse and showed polished canter movements with straight forward flying changes and good balance in his canter pirouettes!"
Go to Page 2/.