Victorian State Dressage Squad
Clinic 6 with State Coach, Mary Hanna

Hidden Valley, Wallan.
August 28, 29 & 30th 2009


Story & Pics Berni Saunders - Page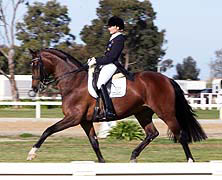 With more and more "dressage watchers" agreeing that the quality of horses in Australia has really improved ... but it is their training and the education of riders that needs our urgent attention.
It is interesting to see how capable and polished Maree Tomkinson (just to use her as an example) has become since her few years in Germany with a systematic training program behind the sport. Maree acknowledges that this is the "school of hard knocks" ... but you ride and ride ... and this teaches you that success is not about accepting near enough! She said "I ride for 8 or 9 - it is not always easy for the horse, but they must learn to balance and cope with training that is aimed at producing their best. If a horse is only asked for 6 level work and then makes a mistake there is no chance to be good - it is all about discipline and setting high goals!" Maree is pictured on the 8 YO mare Diamantina who is proudly owned by Maree and Lyn Sultana. Diamantina recently scored 75% for her PSG test at Werribee Park - a new era for the sport - well done Maree!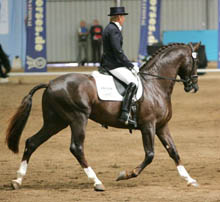 Cheryl Fort riding her handsome stallion Rendezvous (pictured right at DWTS in 2006 with Mary Hanna on board)
I was very disappointed to miss this lovely horse's lesson with Mary as I noticed him walking back to the stables at a recent event and he is striking with a real "look at me" presence.
'Mary commented, "Rendezvous showed nice cadence in his trot work and Cheryl rode the changes with good expression. Horse and rider are learning passage/piaffe exercises with great spring and expression in the piaffe."
Debra Court - Sandro Star is an attractive imported gelding by the Rubenstein stallion Sandro Hit. This combination are having success ay Medium level and Mary said, "Deb tries really hard, listens well and her riding has improved greatly. Her 7YO he shows good potential to do everything and has a very trainable nature."
| | |
| --- | --- |
| Sandro Star | |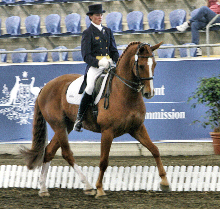 Unfortunately, Judy Peel could not bring Playwright (pictured right in Sydney) he was a late scratching, but Judy joined in with her 5 YO young horse. Mary was pleased with their progress over the two days, the horse improved in suppleness and cadence. By using counter flexion exercises to help Judy establish self carriage and better carrying with the hind legs, all aspects of the work showed improvement."
Mary said, "Our training clinics are really super, everyone comes long in the right frame of mind and we all feel as though we are making steady progress. Outside the competition environment we have some fun, create friendships and use a team spirit to help lift everyone to do their best. I am really enjoying my role as Victoria's State Coach and the NSW riders will have some challenges ahead of them in the not too distant future!"
Mary asked me to again acknowledge the generosity of Maree Tomkinson and the help of her staff. "Having our Clinics at Hidden Valley is the icing on the cake, it is a beautiful facility and everything here is perfect."
Note - The Pre - Nationals Victorian State Dressage Squad - Clinic 7 - will again be at Hidden Valley on Sat/Sun 17 & 18th October,2009. For information contact
Victorian Selector Merrilyn Hamilton-Smith <merrihs@satlink.com.au>
Below are some pictures of Hidden Valley coming into Spring.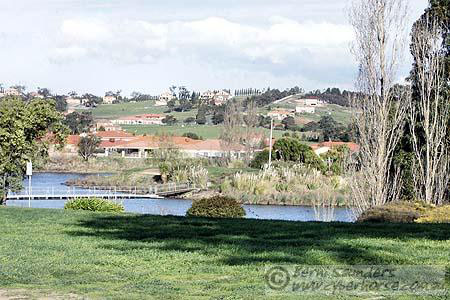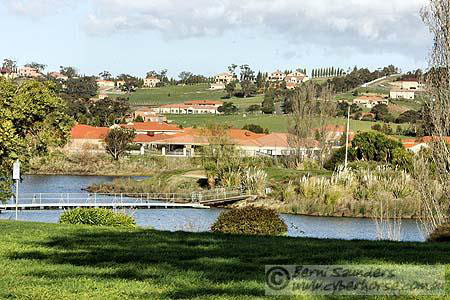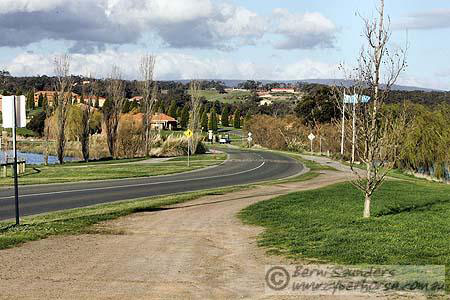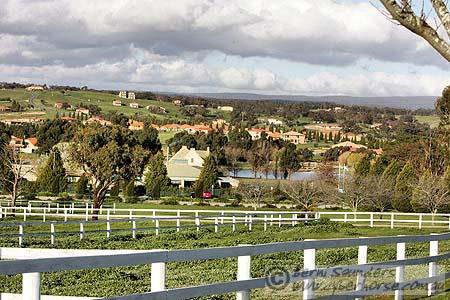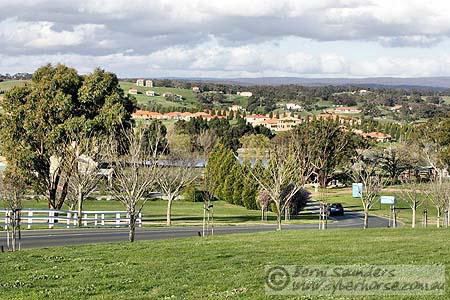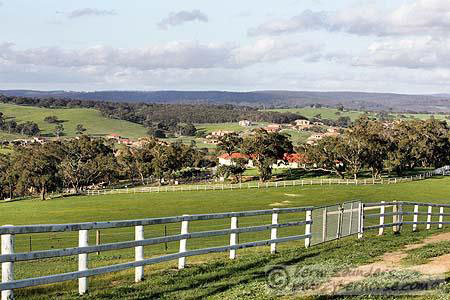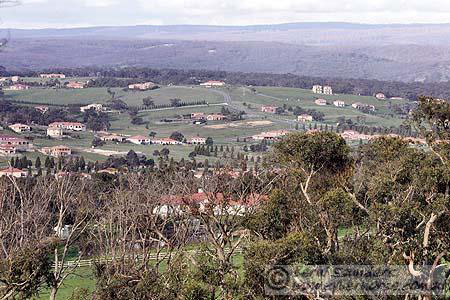 If you wish to buy property at Hidden Valley contact
Bruce Falk Property - Melbourne
0400 939 081 or bruce@bfp.net.au