John and Bev Edwards (right) have spent a life time with horses in the pursuit of excellence at their Jaybee Farm in the picturesque Laidley Valley, 1 hour north of Brisbane. Bev explained, "We have spent a lot of time studying bloodlines and experimenting with the 'nicks and crosses' that work best for Australian riders and our unique conditions.
We are very sad to be selling our best brood mares as they are the backbone of our operation and represent a great deal of hard work and a huge investment to improve our future gene pool. Quite frankly Berni, many of these mares would hold their own in the best international breeding barns and for us it is sad that they will be sold for a fraction of the price of imported mares. This means that discerning Australian breeders will have the opportunity to short cut the years of trial and error that we have had to go through to get to this point and will take home a mare with a proven stud record and winning offspring to her credit.
Our forthcoming auction is a genuine reduction sale as John and I no longer feel that we can put in the hours and commitment to a large scale stud. We are looking forward to scaling down and having more free time which will give us the chance to see some of the special horses that we have bred step out in the competition arena - at the end of the day, this is what it is all about!"
Here are some details about some of the outstanding brood mares on offer at the Jaybee Farm Auction, to be conducted at the stud at Mt Berryman Road, Laidley Queensland. Viewing will be on Friday the 5th June and the sale will be conducted on Saturday the 6th. The timetable is as follows:
All horses will be available for inspection, trialling and vet checks from Monday 1st June, 2009, by appointment.
All broodmares will be pregnancy tested on Thursday 4th June and certificates of pregnancy will be available for viewing on Friday 5th June or sale day. the 6th June. All ridden horses will be ridden in lot order on Friday 5th June, 2009 and may also obe trialled by prospective buyers. Free jumping is available by request.
SALE DAY Saturday 6th June 2009
10.30 Gates Open
11.00 Parade of stock, in hand.
12.00 Lunch (Catering available)
1.00 SALE COMMENCES

This report covers just a few horses that will be auctioned on the 6th ... for the full list many with pictures, please follow the links on the bottom of the page.

JAYBEE WENDY: Wendy (below left) is a beautiful silver white mare by the immortal Weltmeyer (Ger) out of Jaybee Silver Sky, who was by Diamond B Challenger (Skyhigh imp) and out of an Anglo mare by Delos. She is a reliable breeder, her first foal Jaybee Clousseau) now a 4yo and pictured just back from the breaker as a 3 YO. Wendy has a really super 2yo filly in the catalogue, by Jaybee Alabaster. This filly was bred her to be a brood mare, but she was a very successful show horse and really moves. She was broken in and it was never expected that she would be for sale, so did not go on with her saddle career.
| | |
| --- | --- |
| Jaybee Wendy | Jaybee Clousseau with Tracy Mayhew |
JAYBEE LOUELLA: Louella had an extensive career under saddle. Bev rode her to Advanced Level Dressage and she is graded Medium. She won her class at Sydney Royal for 6 years in a row, from 2yo. She was Supreme Champion twice and Reserve, to the Stallion, 4 times. She also won Warmblood under saddle. Her biggest win was the Novice Futurity, run at Sydney Royal the last year the Show was run at Moore Park. There were 80 entries and a big cash prize so great joy to all concerned.
Louella was also Supreme Champion Warmblood at Brisbane Royal twice and also won the ridden Warmblood class. She came into the Jaybee breeding herd late in life and has produced 4 foals the best of which is probably Jaybee Leilani (below right) by Jaybee Leuwin. She is back in foal to Leuwin for a late October foal. Bev said, "I rode Louella for 5 years and she never gave me a moment's concern - this easy temperament has made her one of our best brood mares."
| | |
| --- | --- |
| Jaybee Louella | Jaybee Leilani with Lindal Binch |
JAYBEE CULTURED: Cultured (right) was bred from semen won when Jaybee Alabaster won the 5yo Championship at Dressage With the Stars. Bev said, "We were lucky to get a foal, as the semen isn't available in Australia now ... so this is a rare chance to buy as good as it gets for jumping lines."
Cardento 933 represented Sweden and won medals at Olympic Games and World Championships (WEG) He is by Capitol 1 and his mother is by Lord. World Champion Breeding!
Cultured was broken in and ridden for a few weeks before putting her in foal at 3yo - to mature her - as is the practice in Europe. She was free jumped her before going to stud and was very impressive in her style and aptitude. She is carrying a very interesting line bred foal by Carbine (imp).
JAYBEE ADELAIDE: Bev commented about this mare saying, "We were lucky enough to buy and old Imperial Seal mare at a thoroughbred sale. She was a very good mare, having won in the city 9 times and had produced a foal that also had 9 wins. She has proven that ... a good mare is a good mare!
The interest in this mare was generated Bev's son, Chris Chugg's two Imperial Seal showjumpers – Mr. Currency, a World Cup Representative who was sold to Spain for the Barcelona Olympics where he was 12th individually... and Navy Seal, a World Cup Showjumper and also winner of Adelaide 2 star National 3DE. Also, David Robertson's Secret Seal, a World Cup and top Grand Prix Competitor. Imperial Seal had proven his ability so this mare has been a mainstay of the Jaybee jumping line.
Jaybee Adelaide out of this outstanding TB mare by Aachimedes and although she was broke her in, she was always intended to become a brood mare.
She is presented in foal to dual Australian Showjumping Champion Vivant (Imp).
Jaybee Stud have retained her 2008 filly foal by Vivant.

Above Jaybee Adelaide
Right - Chris Chugg on Vivant
at Equitana Asia Pacific 2008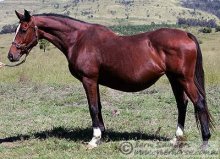 JAYBEE ADORA: One of the stud's very good producers. By Aachimedes, Adora (right) has foaled every year since she went to stud. She has produced Jaybee Callista who was the top priced lot at our 2004 auction. Callista produced two foals and is now in Dressage Competition in Victoria, where she has won at Medium level.
Another of Adora's progeny is Jaybee Jazzbo who has scored very well in Young Dressage Horse Classes in Queensland and qualified for Dressage with the Stars.
Another of her progeny is Jaybee Jubilee by Jet Set D, lot 9 in this catalogue. Adora breeds well to frozen or chilled AI, or live service. She has no vices and is very easy to handle.
JAYBEE VEGAS: Top Class Modern Showjumping breeding. Vegas is by the dual Australian Showjumping Champion and Australian Elite Squad Member Vivant (imp).
Her dams side is also very impressive. She is out of Jaybee Allez by the German Athletico, bred by frozen AI. Athletico is by Athlet Z by Alme Z, World Champion Showjumping Stallion, out of Trenda Skye by World Cup Representative and Australian Showjumping Champion Skyhigh (imp). Trenda Skye has also produced the very good 6yo One Star Eventer, Jaybee Calypso - pictured below as a younger horse.
Vegas is in foal for her first foal by Carbine (imp), adding to the mix the great showjumping progenitor Calypso 11

Jaybee Vegas (Above_
Jaybee Calypso (Right)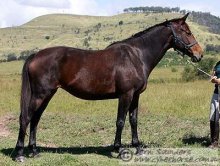 JAYBEE ALLEZ: Another very modern showjumping pedigree. Allez (right) is a great type and by the German Athletico, by frozen semen AI conception. She is out of Trenda Skye, by Australian Showjumping Champion and World Cup representative Skyhigh (imp)
Allez is a lovely young mare with a solid gold showjumping pedigree. She is offered in foal to Carbine (imp) giving the foal a cross of super progenitor Calypso 11. Jaybee have a very beautiful 3yo filly out of Allez, which will be retained.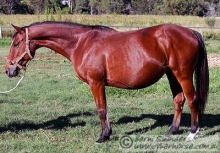 JAYBEE ALMAZ: (pictured right) Again by the fantastic German sire Athletico, so a Skyhigh (imp) cross mare. Her mother Skippy has had a great career as a showjumping breeder. She is the mother of Ja Ja Binks, B grader who won the Australian Junior Showjumping Championship. She also left Jaybee Grafsky got by frozen AI by Graf Grannus (Ger). Skippy is also the mother of the very beautiful black dressage horse Jaybee Cardiff, competing in Melbourne.
Almaz's first foal is the 4yo Jaybee Aquarius by Aachimedes, now competing in Dressage in Queensland.
JAYBEE ALICIA: One of our very best producing Aachimedes mares. Alicia has produced an AWHA Licensed Stallion Jaybee Leuwis. Also the very successful show horses Jaybee Carmen, and Jaybee Calliope. Jaybee Alerich by Jaybee Alabaster is going very well in Victoria.
In foal to Carbine (imp) for a full sibling to Carmen, Calliope, and Carlotta, she produces Height and substance with great quality.
Her yearling gelding son by Jaybee Leuwin, a full brother to Leuwis is lot 20 in the sale catalogue.

Above - Jaybee Alicia
Right -

Jaybee Alerich as a foal
These are just a few of the outstanding lots to be sold and August the 6th represents the chance to buy European bloodlines, right here in Australia. Go to the Catalogue for further details or contact Bev Edwards for further information.
Here are some pictures of the stallions ....