Jaybee Farm, Sale Preview
Jaybee Farm at
Dressage with the Stars
10 years of History ...

Story and Pictures by Berni Saunders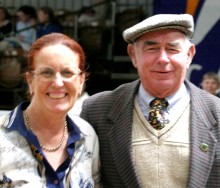 June 6th 2009 has been set aside for a sale at Jaybee Farm that will see many of the foundation mares and their young stock sold. Bev and John Edwards have been successfully breeding some of the best horses in Australia for many years and the bloodlines have proven their worth at all levels of competition over several decades.
Bev said, "I thought that I would never part with many of these mares as they represent a carefully planned breeding program, but time marches on ... and it is difficult to do everything! We are getting older and I would like to have the time to follow the careers of some of the horses we have bred. This sale will see some great horses find new homes and give other people the chance to take advantage of the many years of experience that stands behind their pedigrees."
You can see by the trophies, Jaybee Farm have a glorious show and competition history having won classes just about everywhere, up and down the East coast of Australia. Bev said, "We are very proud of the Jaybee horses that have set the standard at so many events."

Above and right - just some of the
dozens of trophies in the lounge room
Bev explained. "We have travelled overseas on many occasions and watched the best horses in action. My first love was the Showjumpers and with my son Chris (Chugg) we have followed the top producing horses and sought to improve the genetic quality of Australian horses. Chris has really gone on with his career and nothing comes close to his wonderful stallion Vivant. Dressage is MY thing, and so John and I took an interest in the pre-potent bloodlines that were reliably producing the qualities that we needed to introduce, in order to improve Australian Dressage.
I remember when I first set eyes on Carbine (pictured below) ... he was breathtaking and I had to have him, he is the 'original black stallion'. As you can see Berni, even today, when we see him in his paddock, there is something special and he always shows off his presence and personality - he has been a highlight in the history of the stud."
I asked Bev to give me a run down of the stud's achievements at Dressage With the Stars and she gave me this information.

We first went to DWTS in 2000 when Isabel Werth (pictured left) was guest rider. We were very pleased to have won the 4yo class with Jaybee Accomplice, by Aachimedes and were 3rd in the 5yo's with Carbine (imp) - then a young stallion and making his mark.
| | |
| --- | --- |
| Jaybee Accomplice | Carbine |
In 2001, we were 3rd in the 5yo class with Jaybee Accomplice, this time ridden by my daughter-in-law, Helen Chugg. We were proud to see the way Accomplice had progressed in his work and stepped up to the more demanding movements in the 5 YO test.
2002 was a busy year and we placed 2nd in 4yo event with Jaybee April, 2nd in 5yo with Jaybee Amanda and 3rd in 6yo with Jaybee A'Seduction - a stallion who has gone on to FEI and proven himself at Stud.

Jaybee Amanda with
Reiner Kramer on board.

A'seduction in 2007
demonstrating his FEI skills

In 2003 Jaybee won the 4yo class with our beautiful feminine mare, Jaybee Amelia. The 5yo class was a thrill with Jaybee Alabaster really working well. 2nd in 6yo with Jaybee Alfredo was the icing on the cake - it does not get much better than this!
Jaybee Alabaster won his class and went on to become the Champion of Champions. This qualified him to represent Australia at the World Young Horse Championships in Europe the following year and he performed very well. The experience has stood him in good stead for his future competition career and his recent wins and good placings at Grand Prix, see him a likely prospect for the 2010 World Equestrian Games in Kentucky, partnered by Australian Olympian Rachael Sanna. Jaybee Alabaster was recently promoted to the Australian Elite Dressage Squad, so all connections are very proud of him. Right - 2003 Riding Judge - Arjen Teeuwissen

Above Jaybee Alabaster

Left Jaybee Amelia


Jaybee Alfredo with visiting Dutch
Riding Judge - Arjen Teeuwissen

Jaybee Alabaster and
Tor Van den Berg - Proud victors!

Bev and John Edwards are congratulated by Eva de Richebourg
from 4 Aces who sponsored the class for 5 YO Dressage horses.
In 2004, Jaybee had another two top 3 finishes with Jaybee Colleen 6th in the 4 YO class and Jaybee Amelia putting in a very good performance for 2nd in the strong 5 YO section.
Jaybee Colleen again acquitted the stud well in 2005 and a year later our Don Schufro mare Jaybee Desiree made her Melbourne Debut. Although she was quite immature, Desiree put in a good performance but lacked the experience of many horses that had qualified through the Sydney and Melbourne competitions - but she is beautiful and kept the Jaybee name in the limelight.
"Dressage and Jumping with the Stars has become a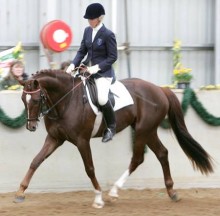 world class event ... and just to qualify is really something. We are based North of Brisbane and this means that we can sometimes be at a disadvantage. Horses who travel more often and therefore settle well, will perform more consistently. I am delighted that Desiree stepped out so well. She is not for sale as she was the result of a specially planned mating and has the bloodlines we want to go on with.
I must also mention Jaybee Grandee (right) who is now in Victoria with Caroline Coleby. He has done very well in breed classes and has appeared at DWTS - I forget which year it was! He is out of our imported mare Gloria (dam of Alabaster) and Caroline with her friends have had lots of fun with him."
| | |
| --- | --- |
| Jaybee Colleen | Jaybee Desiree - wonderful pedigree & a broodmare prospect for the future! |
With EI interrupting most horse sports in Australia for the 2007 season, Jaybee Farm concentrated on breeding for the future and getting some young ones going.
Most recently at Dressage with the Stars ... in 2009, Jaybee horses made their presence felt in the 4 YO class and Bev Edwards said, "It is fantastic to see how this competition has improved the quality of horses in Australia, along with the knowledge to train and present them well. The young horses were beautifully prepared and had a good level of basic education. It came down to little things on the day, but I was pleased with the Jaybee horses even though the only one I still own is Jaffa.
She is a very nice mare by the well respected Dutch stallion Jazz and will be offered for sale in June 2009."

Jaybee Carlos in the 4 YO Material
class at D&JWTS 2009 with Tor

Jaybee Cardinal a beautiful fluent
mover and great temperament.

Above - Robyn Todd with her
exciting son of the imported mare Gloria - Jaybee Cardinal, by Carbine.

Jaybee Jaffa ridden by Anita Scampton

Jaybee Jaffa by Jazz - a perfect riding
horse and future brood mare
natural or ET
Very few breeders could boast the consistent success that Bev and John's Jaybee Farm horses have achieved at this - the most prestigious event in the country.
Bev said, "We are looking forward to auction and have been very busy with the preparation of the riding horses. I am offering mares that I thought would never be for sale, but I have to face reality and the practicalities of doing the best for us and the horses. It is better to cut back and concentrate on keeping up the quality with a smaller number. We have been very pleased by the response to the news of our sale and I have had calls from many people that have been clients of the stud for a long time."
"All of the horses are of good quality and there are taller ones as well as some smaller more compact types. Some of the mares have the best 'international' bloodlines and would be very difficult to acquire without going overseas and then adding the costs of getting them back to Australia. There are good horses on offer and I am sure ... quite a few bargains!" commented Bev.
The Jaybee Sale will be held at the stud at Mt Berryman Road, Laidley Queensland.
Viewing will be on Friday the 5th June and the sale will be conducted on Saturday the 6th.
For more information e-mail Bev making sure that you leave your name, phone details and specific questions.
Here are some pictures of the stallions ....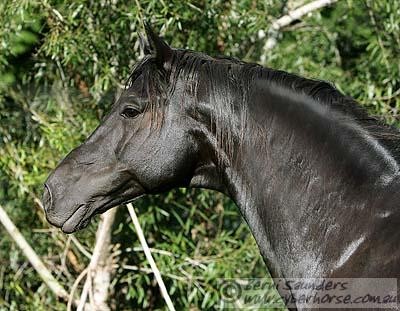 Jaybee Carbine - elegant beauty that he passes on to his foals.
Carbine is fully imported and carries the best performance bloodlines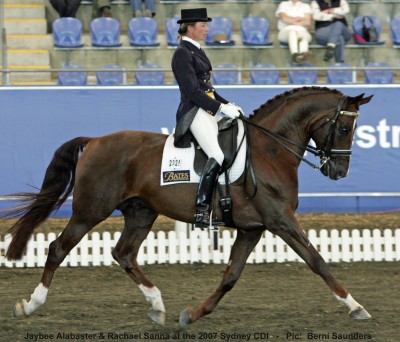 Jaybee Alabaster enjoying success in GP ranks and
one to watch for selection at WEG Kentucky 2010
Jaybee Leuwin is one of Bev Edward's personal favourites as a riding
horse. She says, "He is such fun and always a gentleman. He has
partnered a few riders during his time with me and everyone loves him.
He has now gone to live with Kirsty Ewens who had been very keen to have him since she got to know him some years ago. His foals are pretty, colourful, intelligent and have their dad's great temperament.
Go to the Jaybee Auction Catalogue

or to the Web Site for more information