Virtual Equestrian
Forums
Dressage
Eventing
Showjumping
Show Ring
Virtual Saleyard
Information
© Cyberhorse 2008
FEI WORLD CUPô DRESSAGE 2009/2010 - ROUND 3, STOCKHOLM

NEWS FROM THE FEI WORLD CUPTM DRESSAGE

Stockholm (SWE), 29 November 2009

CORNELISSEN AND PARZIVAL ARE IN A CLASS OF THEIR OWN

Double European gold medallists, Adelinde Cornelissen and Parzival, swept the opposition aside with a convincing victory in the third leg of the 2009/2010 FEI Dressage World CupTM series in Stockholm, Sweden this afternoon. Pipping runners-up Matthias Alexander Rath and Triviant from Germany by more than a nine-point margin, the crowd-pleasing Dutch partnership firmly declared their intention to make their mark on this indoor season with a performance that put them in a class of their own. It was a triumph over the first-day nerves that gripped the 12 year chestnut horse in yesterday's Grand Prix. "Parzival was terrified by the hundreds of flashlights that went off during his test and he didn't do himself justice yesterday" commented Ground Jury president Gustaf Svalling afterwards. "It's a big problem for the very popular horses, but today he was way ahead on marks, they did a great job" he added.

Third place went to the home side's Minna Telde and Don Charly who, like the winners, were also making their World Cup seasonal debut while The Netherlands Aat Van Essen rode Premier into fourth ahead of Germany's Hubertus Schmidt and Hinnerk in fifth.

WITHDRAWALS
Just 13 of the 15 qualified horses competed in today's competition following the withdrawal of Tinne Wilhelmson Silfven's great old campaigner Solox Carex who became lame during the warm-up while Holland's Christa Laarakkers and Ovation, third in the Grand Prix yesterday, also suffered an injury. Sweden's Emma Karlsson and Feradera set the early standard today when earning a mark of 69.20% from judges Kjell Myhre, Peter Holler, Isabelle Judet, Gustaf Svalling and Bo Ahman but it was 50 year old Olympic, World and European team gold medallist Hubertus Schmidt who held the lead at the halfway stage with a score of 72.30%.

That left the German out in front until Minna Telde and Don Charly raised the bar when putting a mark of 73.60% on the board. The softness of Don Charly's movements were complimented by his rider's subtle aids but Minna admitted to some mistakes afterwards. In fact she had to think quickly when a change of plan was suddenly required. "After the extended i should have done the two-tempis but I forgot, so I quickly decided to do the half-pass instead - I was hoping nobody noticed!" she explained. She intended to bring out the 12 year old horse which she has been riding for the last seven years for the opening leg of the FEI World CupTM Dressage season at Odense in October but Don Charly wasn't ready - "so today I consider that we did a really good job because he's not at top level at the moment and he was much better today than he was yesterday when we finished fifth" pointed out the rider who will celebrate her 35th birthday in three weeks time.

DISMISSED
Her leading score was immediately dismissed however by a sparkling performance from Cornelissen and Parzival. The partnership who followed their team gold medal winning result at this summer's Alltech FEI European Championships at Windsor with a new world record in the Grand Prix Special and then individual silver in the Freestyle re-set the parameters with a test that earned first place from all five judges for a score of 83.50%. "After Windsor Parzival had a good rest - he deserved it - and since then I've just been building him up slowly again. He's getting more and more supple all the time, even more than he was at Windsor, and last week was the first time we did any proper exercises - they are just peanuts to him, he finds them so easy!" said the delighted rider. She admitted her powerful chestnut had been tense during yesterday's Grand Prix "he was strong and spooky, he finds it much more difficult indoors when the spectators are so close" but he settled well today "and we've only just started back indoors so I'm very happy" Adelinde said.

There seemed little chance that any of the remaining three would come anywhere near that target score but Holland's Aat van Essen and Premier, who were second in the Grand Prix yesterday, scored 73.05% and that was good enough for fourth place today while Rath and Triviant snatched runner-up position with a mark of 74.35%. Rath was well-pleased with his result. "Yesterday I was very disappointed with myself - I was a bit passive and didn't get everything out of my horse but today was a lot better" said the 25 year old. Gustav Svalling backed up those comments - "there was a huge difference between yesterday and today for Matthias, he was too laid back yesterday and much more forward today - that's the difference between fourth yesterday and second today" he explained.

Having shot up to second in the 2009/2010 FEI World CupTM Dressage rankings behind leader Anky Van Grunsven, Rath now heads for the German leg of the series in his home town of Frankfurt next month while today's victors, Cornelissen and Parzival, join a star-studded cast for the fourth leg of the series at London's Olympia in just under three weeks time.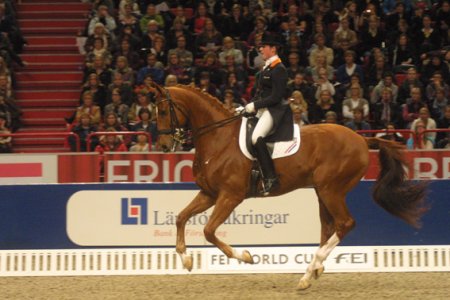 The Netherlands' Adelinde Cornelissen and Parzival, winners of the third leg of the FEI World CupTM Dressage series in Stockholm (Swe) today. Photo: Annica Feltendal/Stockholm International Horse Show 2009.
RESULT: 1, Parzival (Adelinde Cornelissen) Ned 83.85%; 2, Triviant (Mathias Alexander Rath) Ger 74.35%; 3, Don Charly (Minna Telde) Swe 73.60%; 4, Premier (Aat Van Esssen) Ned 73.05%; 5, Hinnerk TSF (Hubertus Schmidt) Ger 72.40?; 6, Lydianus (Charlotte Haid-Bondergaard) Swe 70.70%; 7, Faradera (Emma Karlsson) Swe 69.20%; 8, Le Beau (Philippe Jorissen) Bel 68.70%; 9, Normandie JB (Anette Christensson) Swe 68.65%; 10, Leo of Magnushoj (Nina Hoffmann) Swe 68.05%; 11, Ajaz 11 (Nina Bengtsson) Swe 66.95%; 12, Orlando (Cathrine Rasmussen) Nor 65.45%; 13, Nasty Boy (Esther Scholte Albers-Fleury) Ned 62.90%.

FEI WORLD CUPTM DRESSAGE 2009/2010 - STANDINGS AFTER THIRD LEG AT STOCKHOLM: (Provisional)
1. Anky Van Grunsven - 34
2. Matthias Alexander Rath - 27
3. Jeanette Haazen, Monica Theodorescu - 24
5. Hubertus Schmidt - 23
6. Adelinde Cornelissen, Tinne Vilhelmson Silfven, Peter Gmoser - 20
9. Hans Peter Minderhoud - 19
10. Pierluigi Sangiorgi, Edward Gal - 17

FACTS AND FIGURES:

Only 13 of the 15 qualified riders started in today's FEI Grand Prix Freestyle
Two horses were withdrawn, Sweden's Tinne vilhelmson Silfven and Solos Carex did not compete and Holland's Christa Laarakkers and Ovation also withdrew
Riders from five nations competed - 6 from Sweden, 3 from The Netherlands, 2 from Germany, and 1 from both Belgium and Norway.
There was an emotional retirement ceremony during the show for former Swedish team dressage horse Briar, who was ridden to great success by Jan Brink.
Stockholm International Horse Show rose to fame as the biggest indoor equestrian event in the world when, in 2003, it attracted 77,000 spectators over three days,

QUOTES:
Adelinde Cornelissen "Now I go to London, Mechelen and of course Amsterdam - I'm looking forward to the final in Den Bosch!"
Matthias Alexander Rath "This is a great result for Triviant, he is only 9 years old and did his first World Cup qualifier in Odense".
Minna Telde "I'm hoping to go to Frankfurt but I have a very busy time over the next few weeks because we just bought a farm and we are renovating it. We have moved into the house but the horses are not there yet - I hope we will have them moved in by Christmas. The farm is 20 minutes from Lund and 30 minutes from Malmo - in the south of Sweden".

WEBSITE: www.stockholmhorseshow.com

Western European League Calendar 2009/2010:
1 Odense (DEN), 17 - 18 October
2 Lyon (FRA), 29 - 30 October
3 Stockholm (SWE), 28-29 November
4 London Olympia (GBR), 15-16 December
5 Frankfurt (GER), 19-20 December
6 Mechelen (BEL), 26-27 December
7 Amsterdam (NED), 22-23 January
8 Neumünster (GER), 20-21 February
9 Göteborg (SWE), 26-27 February
FINAL 's-Hertogenbosch (NED), 25-27 March

FEI World CupTM Dressage, the only worldwide series in this discipline, has entered its 25th season. The series, created in 1985, comprises four leagues: Western European, Central European, North American (including Canada) and Pacific (Australia, New Zealand, Asia). Each FEI World CupTM Dressage qualifier consists of a Grand Prix test, which in turn is a qualification for the Freestyle to music competition, where league points are accumulated towards places in the Final. Judged on both technical and artistic merit, the FEI World CupTM Dressage combines art, sport and partnership between horse and rider at the highest level and consistently proves a winning formula with audiences all over the world.

Technical Note: The FEI World Cup DressageTM Champion does not earn points in his/her starts but is automatically qualified to the next Final with two FEI World CupTM Dressage qualifiers completed. Riders not belonging to the Western European League (WEL) or Central European League (CEL) cannot earn points in the WEL unless they have declared to compete in the WEL 2009/2010. These riders may however transfer the results from a maximum of three (3) WEL qualifiers to their own League. Points earned by CEL riders will be transferred to the CEL standings.

THE COMPLETE RULES CAN BE DOWNLOADED FROM www.feiworldcup.org

The Federation Equestre Internationale (FEI), founded in 1921, is the international body governing equestrian sport recognised by the International Olympic Committee (IOC) and includes 133 National Federations. Equestrian sport has been on the Olympic programme since 1912 with three disciplines - Jumping, Dressage and Eventing. It is one of the very few sports in which men and women compete on equal terms. It is also the only sport which involves two athletes - horse and rider. The FEI has relentlessly concerned itself with the welfare of the horse, which is paramount and must never be subordinated to competitive or commercial influences.
© Cyberhorse 2009 FEI
11 December 2018
Featured Horse

Click on Me
Featured Stallion

Click on Me
Featured Listing

Click on Me
Awards
Correspondents