Behind every success story, there is often another tale of trials and tribulations that make a significant achievement all the more rewarding ... for Victorian FEI rider and State Dressage Coach Mary Hanna, such is the tale of winning the Advanced Championship with her fantastic stallion Shiraz Black.

I caught up with Mary after the competition and she shared this amazing story with me. She said, "Well Berni, sometimes things are just meant to be and I look back now and think that without the hand of fate having been involved, I would never have had Shiraz in my stables and this would have been not only a pity for me, but a great shame for the Australian performance breeding industry as he has grown into a very special stallion and has rewarded us at Statene Park with a great feeling of satisfaction."

BS: Perhaps you can tell me how you came by the horse?

MH: Well, that is another part of the fate element. I had a client place an order for a black stallion and a black mare. The horses had to be top international quality with the intention of training them on and later having them in a breeding program with Australian performances on their CV.
I paid Ulf Möller from PSI in Germany a visit, and told him that I was after a top quality mare and stallion ... must be black and he showed me a young Sandro Hit colt from a Donnerhall mare, 2 years old and just broken in. The colt was approved under the stringent German criteria as a breeding stallion (which made him eligible to become fully Licensed at a later stage) and I felt that he represented great bloodlines for an Australian breeding program. Ulf also showed me a fully registered Hanoverian mare, Lady De Luxe by Londonderry, a well respected Hanoverian sire. So, with the best bloodlines on offer, I felt that the two would make a perfect mating and I was very pleased to have been able to fulfil my clients order so promptly and well. However, after the deal was done, my client had a change of heart and did not want the horses. By this time it was too late to have a change of heart with PSI and so I decided to see where this adventure would take me. Oh yes Berni, don't forget to mention that PSI will be having their annual performance horse sale in Decembe, I am sure the details are on their web site.

BS: Did you bring the horses to Statene Park?

MH: The mare was sent to Melbourne, but as I was spending a lot of time overseas training and not at home when the horses were due to arrive so Shiraz went up to NSW to Brett Parbery who would do some early work with him until I returned. It seemed that I was doomed as the horse was away at the time EI (Equine Influenza) hit and he was not able to be moved to Victoria. Brett Parbery continued to work the young stallion and so I decided to leave him there for Brett to do some competitions with him. Brett and Shiraz (pictured below at the Toowoomba Showgrounds) had a fantastic showing at the Brisbane CDI and Toowoomba Dressage Championships where they won the Novice Championship and placed in the 4 YO Young Horse class.
| | |
| --- | --- |
| | |
When we got the "all clear" to bring him back to Victoria, I was away and so my daughter Gitte began to ride him. When I returned to Australia I was having a great deal of trouble with my back - a horse with such big movement does not need a rider with a sore back - and as Gitte was doing such a great job with him, we decided that she should prepare him and ride at the qualifying competitions leading up to his first Dressage with the Stars in 2008. Well Berni, you know how that went, the riding judge Christof Kochel just loved the horse and was particularly complimentary about his world class canter. He was the 5 YO winner and went on to be Champion of Champions.

BS: That must have been a thrill, were you aware that his canter was that good.

MH: Yes it was a fantastic win - particularly as he was an unknown quantity with a lot to prove when he arrived at Statene Park. I think if I had been riding him I would have felt his talent, more so than watching him. Gitte took him nice and slowly and he was not pushed to show us anything other than the good quality basics you would hope to see in a 5 YO.

BS: Did you start to ask more as he approached his 6 YO season?

MH: Yes I guess we did ... but it seemed like we just allowed him to give rather than having to ask! He is a little different to some of the stallions I have ridden, he thrives on the work and is always eager to please, we have to be careful not to allow him to give too much. At this point, he was perfectly at ease with shoulder in, simple changes and some collection and extended work in both trot and canter. He had no difficulty maintaining his frame - it was all too easy really!

BS: At this point, did you consider riding him yourself?

MH: Yes, I did consider it and would loved to be the one in the saddle as every day Gitte was all smiles and I knew the horse was special to ride. Unfortunately my back became so bad that the doctors told me that the only way that I would get relief was to undergo surgery. Pretty scary and I postponed the day until there were no options left. Gitte and Shiraz were getting on so well that we decided that she should keep riding him through the qualifying period and at Dressage with the Stars in his 6 YO year. I guess the story is now history, as Shiraz won the 6 YO class and went on to be back to back, Champion of Champions ... and again it seemed to be his fantastic canter that really impressed.
| | |
| --- | --- |
| | |
BS: When did you take over the ride on Shiraz.

MH: My back operation in early 2009 went very well and after the healing period I found that I was able to sit to Shiraz' big paces with relative ease. Gitte did a really wonderful job with him and now he was well educated in his basic training, minus the rough patches that you can expect with a green horse. It was always part of the plan that I ride him after DWTS. In May 2009 I began to ride Shiraz Black and I got this funny but nice feeling that fate was looking after me and he was a horse that I was meant to have - you know the feeling, it is difficult to explain!

I started to play with the piaffe and the tempi changes and have marvelled at the horse's ability to collect. It is well known that horse with a big canter can find it hard to collect - he has an amazing ability to 'sit' ... and has a very good technique in the piaffe and passage. The trot has really developed - which is typical of Donnerhall horses. The best thing is that Shiraz enjoys his work and has become sharper and more responsive as he progresses. Some stallions can be dead to ride and do not try, but Shiraz never stops trying and always gives his best.

Medium & Advanced Champion at the
VDC Teams Championships Sept 2009

Elementary Horse
of the Year 2008-2009
BS: Perhaps you can tell us a little about Shiraz' Horse of the Year award in September 2009

MH: Oh yes, that was a real thrill as on the weekend of the awards, the Victorian Dressage Club held their Teams Championship Competition and Shiraz was the Medium Champion on Saturday ... and the Advanced Champion on the Sunday. At the awards ceremony he was named the Victorian Elementary Horse of the Year for the 2008-2009 year which makes a fantastic record of achievement for such a young stallion.

BS: WOW - It has been a big jump up from Novice/Elementary a year ago to Advanced Champion at the Nationals. Was there anything special that you had to consider in his preparation.

Shiraz in action at Werribee Park - September, 2009
MH: Steady and regular work to ensure that the horse is fit is vital in a busy competition season and it must be remembered that Shiraz is a breeding stallion. Good feeding is vital and I have been working with a Victorian feed company - James and Son from Ballarat looking for the right feed to help him to meet these demands. James and Son's Alan Quick recommended their feed called "Conditioner" and felt that it was well suited to a horse doing a lot of work. Shiraz loves the mix and is eating well - this is important as a fussy eater will never have the strength and stamina to work in the conditions that Shiraz faced at the Nationals. I am very happy with this feed for Shiraz and am working with Alan on the right mix for the other horses at Statene Park.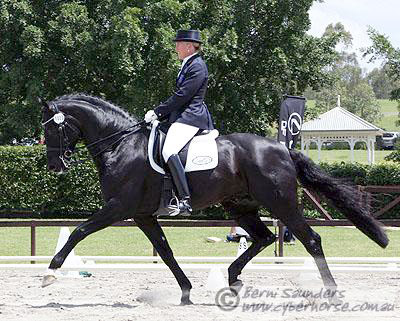 Above and Below: Shiraz Black at the
National Dressage Championships 2009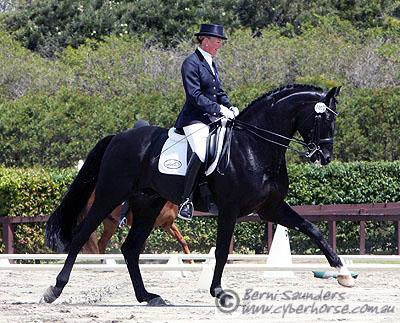 BS: Where to now???

MH: Shiraz is now at the stage of training that I find really interesting and exciting. He can do a little bit of everything and I will continue to work to build his strength and ability in the higher level work - if all goes well, he should have a start at Prix St Georges in 2010.

Mary is proudly sponsored by James and Son in Ballarat, Victoria who are an Australian owned feed company. Shiraz was prepared for the Nationals on Conditioner and Mary said it helped him to cope with the hot conditions and the demands of 5 days away. He seemed to improve as the competition progressed , "Thanks to James' and Conditioner!" Mary added.

Enquiries to Statene Park contact Mary Hanna on 0419 592 744 or email statene@hotkey.net.au