Fundraising with a Difference
Equine Health Products.
Story and Pics Berni Saunders
I recently caught up with Macedon Ranges based Dressage rider, Amanda White from Equine Health Australia and she explained how she became the Australian Distributor for an excellent range of quality New Zealand products - which are sold on-line and now through an innovative way that helps equestrian clubs to raise funds.
"I first started using Equine Health products for my particularly sensitive horse and following a very successful outcome, I tracked down more products in the range. A friend also had fantastic results treating a nasty injury with Equine Health's Equiskin. I was totally convinced but found it difficult to get the products in Australia, so decided to look into becoming a distributor .... nothing like believing in a brand so much, that you want to be part of the company!" Amanda laughed.
Equine Health Products are a competitively priced range of everyday items - especially formulated for horses and manufactured in New Zealand using the highest quality ingredients such as Manuka Honey, Aloe Vera and selected native herbs, blended into non-irritant and mild bases, with horses sensitive skin in mind. The products meet the increasing demand from all over the world for natural care and pure ingredients. It is exciting to see New Zealand and Australian horse people really switched on to this animal friendly trend!" enthused Amanda.
Equine Health products are completely different to supermarket brands (and even some which claim to be specifically for animals) which often contain harsh chemicals - just read the labels - and these ingredients can cause irritations which set up ongoing skin conditions that are difficult to control." Amanda says.
She said, "Like me, most riders and horse enthusiasts are involved in a club and I was tired of the same old fundraising ideas. Raffles, dinners or personal donations and I have even been the club member who was given the job of asking around the local businesses for financial assistance. As the mum of 4, I've supported lots of chocolate drives and trivia nights - it is a difficult job and yet clubs cannot survive without effective fund raising activities in place. So I decided to combine the best of all of these ideas with a "real need" aspect, to ensure ongoing success!
"I felt that I could make a difference in two separate areas ... Horse care ... and club finances."
"We sell our range to all horse people through the Equine Health au web site and now many EH converts can buy the products through their local club - for the same price! This win/win situation is catching on with clubs all over Australia - in every discipline from Adult Riding, Pony Clubs, Dressage, Western Pleasure, Jumping, Eventing, special interest and breed societies. Clubs and 'like minded' groups can take part in our program to boost their member services and to help with the financial well-being of their club."
What a good idea, I thought!
"All horse owners use everyday items in the care of their animals. Consumables like shampoo, conditioners, liniments, rubs, fly repellents and hygiene products ... and replenishing supplies usually mean a trip to the saddlery store - involving time and fuel costs!!"
"Equine Health Australia's fund raising program has been set up so that the club acts as the "middle man" and members buy their supplies for the coming month or so at a monthly rally or meeting. We know of clubs that appoint a member to keep stocks so that they are available at short notice ... and this seems to work well!" Amanda said .
"This is how our fund raising program works ... The full range of Equine Health products are available to clubs for fund raising, with
30% of all sales going to the club. The more members who change their buying habits and/or perhaps also buy for friends, the more benefit to the club. I have several clubs where the members pitch in to buy stock so that the club has adequate supplies to sell at shows and functions - where and when the members gather and other times like leading in to Christmas. This is a great way to ensure an income stream from sales of things that members use - it is nice to see the club spirit working to benefit everyone." Amanda said.
"Riding clubs and special interest groups can carry stocks of these non-perishable items and the profit from sales go to the club - this transaction gives the club an income ... a win/win situation. Some clubs use product to the value of their sales for prizes etc - there are lots of opportunities!" Amanda explained.
If your club is looking for an innovative fundraising idea contact Equine Health Australia for more information.
Equine Health products are available online at
www.equinehealthau.com or e-mail Amanda for more information or to set up your club as an Equine Health Australia outlet.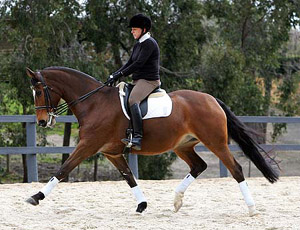 Amanda on her mare Cara Mia -
She understands the passion and the
shared friendship that club membership
involves and has set about to enable
this shared interest to be a fund raiser.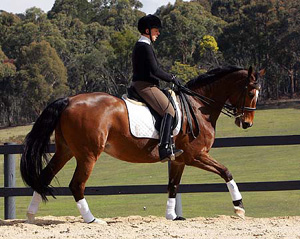 Quality Natural Ingredients ...
HEALTHY HORSES