Peter Horobin Saddlery - Saddlefit 4 Life
Winter Dressage Series 2009 - Final
September 27th at Boneo Park, Boneo.
Pictorial Report Page 1
It is great to see a fantastic new venue here in Victoria - Boneo Park - situated in the seaside resort of the same name near Rye. The centre offers the very best to dressage enthusiasts (see page two for a pictorial tour of the property) and Stage two will see the addition of facilities to bring Boneo Park up to the best international standards.

Principal Fiona McNaught and her lovely mum Judy were the perfect hosts and the competition was very well run and managed to entice those who had already taken part in the first two legs of the three part event, out in the most inclement weather we have experienced in a very long time.

The weather for the entire weekend was absolutely horrible and had already challenged the football fanatics attending the AFL Grand Final on the previous day. Radio reports suggested that the mass of yellow waterproof ponchos made it difficult to differentiate the Geelong and St Kilda supporters as they all looked like excited canaries.
Above - Peter Horobin Saddlery - Saddle Fit 4 Life, was well represented in the signage .

Right - is the magnificent semi transparent representation of the Boneo Park Logo - a great mood theme.
Mornington based Peter Horobin Saddlery got right behind the event and donated a very generous prize purse of $500.00 for each class. Fiona said, "Peter Horobin has been absolutely fantastic and good prize money will see our winter series grow to be a major event on the Victorian calendar! We also had great support from Catago riding wear, Hygain Feeds and Balnarring Stock Feeds, I think everyone knows that we cannot do it without the support of sponsors and I encourage everyone who enjoyed the event to support the people who have supported us."

The spectators gathered in the comfy recreation room with a fire and wonderful catering, there was a nice feeling of friendship and fun. The horses were a little worried by the wind and noise, but most managed a surprisingly good performance - all good experience, it was said!

Alexandra Wright kept the scores coming in a very efficient and timely manner - she has a fantastic program which was written in Germany and manages the biggest events in the world.

Alex has modified it for Aussie events and does a great job with her professional scoring service. (Pictured right - Reiner Kramer and Alexandra Wright)

E-mail Alex <jamesalexwright@bigpond.com> if you are running a Dressage competition.

The Medium test was won by Kate Boyes riding Yarra Valley Tiastrona. Katie is based at Boneo Park and told me how fantastic this is for her and the horses.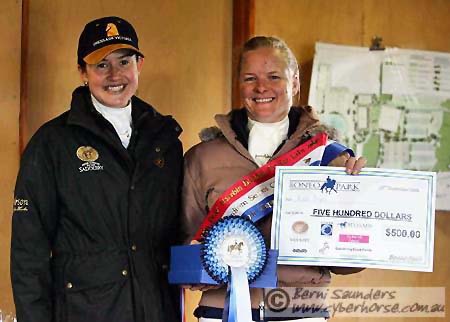 Fiona McNaught congratulates a very happy Kate Boyes
who proudly holds up her $500.00 oversized cheque.
Warwick McLean was a long way from home at Clonbinane (near Broadford) but it was a trip worth making with his two stallions Alessandro and Chiaretto. Warwick won the Advanced Championship on the gorgeous Alessandro and is warmly congratulated by Fiona McNaught and Julia Stewart for his great effort over the three part series.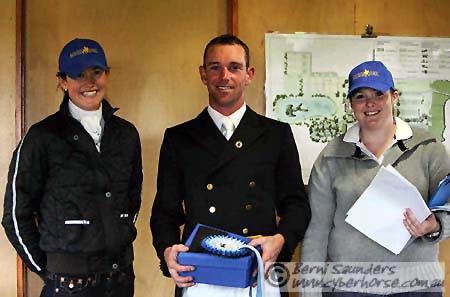 Fiona & Julia congratulate Warwick McLean
Warwick is the son of legendary animal behaviourist Andrew McLean and we were all delighted to hear that despite the "Black Saturday" fires on February 7 skirting all four boundaries of their property the family and their equestrian centre were saved.

The Australian Equine Behaviour Centre miraculously responded to the efforts of family and staff to fight off the flames (see pic above taken a week later).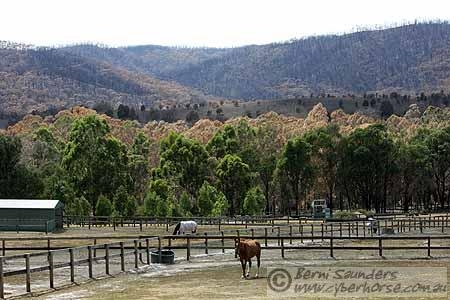 The blackened hills beyond the entrance of the AEBC - this was the
view all around the small patch of ground with the house and indoor
school which was saved by the hard work and determination of all.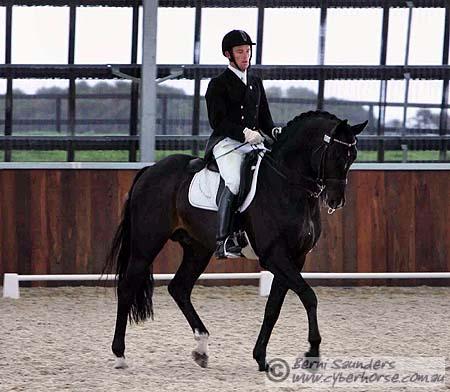 Warwick McLean on the elegant black stallion Alessandro
(by Sandro Hit) has a great Winter Series at Boneo Park.
Winner of the Prix St Georges event today ... and series winner was popular local Reiner Kramer riding the talented, but reactionary mare Anastasia Romanov. She took the weather and win in her stride and Reiner pocketed the prize cheque. Fiona gives the very happy Reiner a congratulatory kiss (right).

This combination made it a double when they went on to take out the Intermediate 1 Championship. Reiner was all smiles and it was voted that the drinks were on him as he was now $1,000 richer. Reiner thanked Peter Horobin for his great support of this event and vowed to be here next year.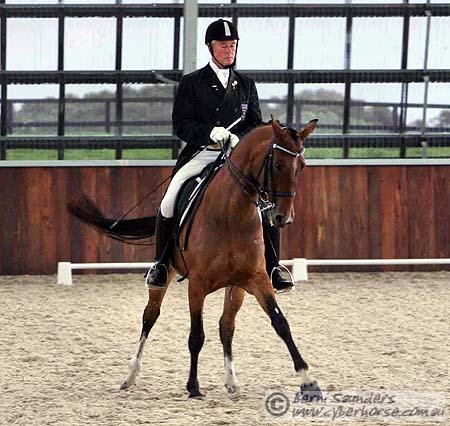 This lovely fluent half pass was a highlight of the Intermediate 1 test
for Reiner Kramer and Anastasia Romanov who made it a series double.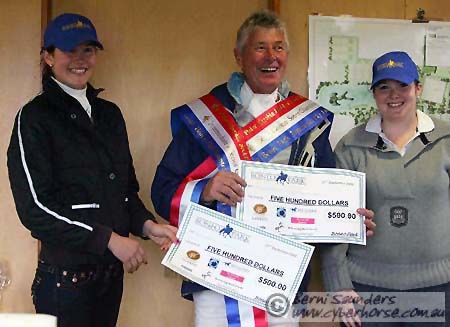 Fiona McNaught (left) and Boneo Park's Event Manager Julia Stewart
congratulate Reiner Kramer on his consistent performance with
Anastasia Romanov over the three competitions of the 2009 Winter Series.
Caroline Wagner was the series Grand Prix winner on WS Nevada. Caro was delighted as her GP test has really improved over the time of the series. She said, "I could not have been more pleased with him today. This is 'Nev's' first season at Grand Prix and as you know Berni, it takes quite a while for the horse to get the strength and confidence to do the work well. He is really on track for the coming season and I am very excited to be right up there with the best in the country. I would like to thank Peter Horobin for his support of this event, it is this sort of competition that gives us the experience to go on to the State and National Championships - this has been a fantastic series!"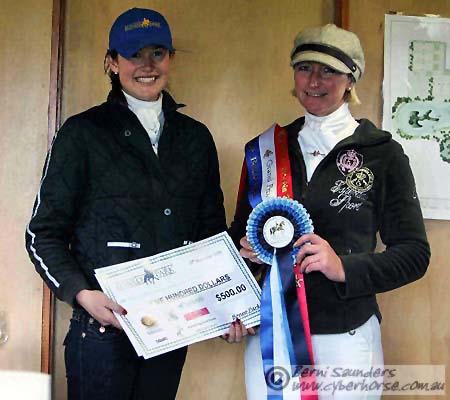 Fiona McNaught congratulates the Grand Prix Series winner
Caroline Wagner - Caro is pictured below on WS Nevada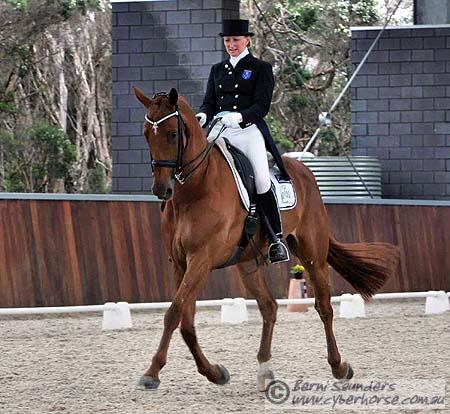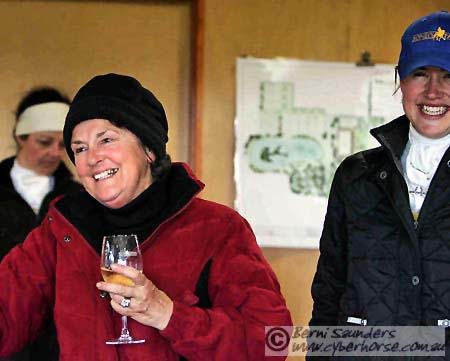 Boneo Park put on a lovely lunch and everyone joined in and enjoyed the food and fire. There was a special part of the day when we all wished Fiona's mum Judy a happy birthday ... and the mud cake was a huge hit!

Fiona told me that Boneo Park is very keen to play a key role in upgrading Victorian Dressage. She said, "We will be added to the existing facilities so that we will be able to run large scale competitions. We are also running clinics with top Australian and European instructors such as Lone Jorgensen from Denmark - who comes to Boneo Park regularly.
Lone Jorgensen is pictured above left, at Dressage and Jumping with the Stars in 2009, when she graciously stepped in to officiate the Masterclass when Monica Theodorescu became ill. The crowd enjoyed her friendly down to earth approach and perfect English.

On the right, Lone is pictured on the elegant and hot) Hardhofs Ludwig at WEG in Aachen in 2006).

In February next year the centre will welcome German, Olympic Bronze Medallist Heike Kemmer (pictured above on Bonaparte) for an Australian Clinic.

So, exciting times ahead for Dressage in Victoria, particularly the many enthusiasts who live south of the city.
Results from Final 27th September, 2009
Medium