Good Health and
Grooming ... Naturally!
Equine Health Australia
Products available online
This story follows a similar theme of the bloke who liked the product so much ... he bought the company!
A similar case was true for Macedon Ranges dressage rider Amanda White, who found the natural horse remedies in the Equine Health range so superior, that she decided to make them available online to all Australian equestrians.
Amanda has had many years experience with horses and worked as a professional groom for Gert and Mary Donvig in the early days of Australian Warmbloods. She has followed her passion for beautiful horses and their care and training. She now competes at Medium level dressage on her Warmblood mare Cara Mia (by the imported stallion Calypso Classic). Amanda has enjoyed mastering the medium level work and has won 3 medium level events at the 2009 Glenbrae winter series with one 68% test. She also took part at the Whittlesea Plenty Valley competition in June 2009 with a 6th place. Amanda said "People like me put a lot of work, time and effort into their competition horses and first class care is part of ensuring that horses can give their best. I can go out with confidence knowing that my horse looks and feels her best and I thank Equine Health products for this reassurance!"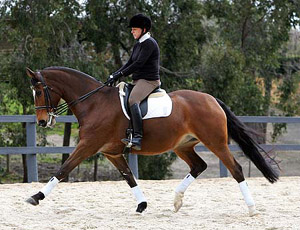 Amanda White on Cara Mia

Amanda said, "A friend of mine had fantastic results treating a nasty injury with Equine Health Equiskin. I learned more about the products and the natural ingredients they contained, so I decided to try some of the other products for my sensitive dressage mare. I was very impressed with the range of equine remedies - all manufactured from New Zealand herbs and natural 'horse friendly' ingredients that can be used regularly without fear of causing allergies or skin reactions. I realized that the growing demand for natural health care products for humans also applies to animal health and as a caring horse person it was good to know that I was using products that have been specially formulated for the care of horses! " says Amanda.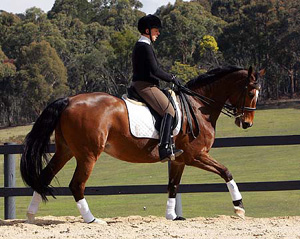 Amanda White on Cara Mia

Equine Health products include Arnica extract, Vitamin E and A, Camphor, Fennel, Rosemary, Avocado oil, Coconut oil and users say they smell delicious. The henna shampoo is a natural dye for dark glossy coats suitable for bays, blacks, and chestnuts with a special combination of herbs to soothe and tone the skin. The Whitening Shampoo brightens coats and leaves mane and shiny and tangle free - perfect for grey horses and white socks which are so hard to get clean.
All of the Australian range have been thoroughly tested on Amanda's dressage horses as well as her children's ponies. It gives her great confidence to have proven the range in the many day to day horse care situations that arise for most owners and grooms. Amanda's children found the fly repellent particularly good - no more cranky ponies!
There are 12 products in the range Amanda has available online, they form the basic 'first aid' kit that is required in the stables and grooming kit - healing and hair regrowth and tendon cooling gels to shampoos, hoof cream and a fantastic grooming tool, the bounce brush.
Amanda says. "Equestrian competitions and showing horses demands the highest standards of grooming and care, the presentation of the horse is often as important as how the horse performs, and I have found the shampoos and coat conditioners in the Equine Health range - second to none. They do not dry the coat and give a deep lustrous shine - without hours of brushing. A healthy coat and skin is a must ... and detergent based products leave horse's with allergies and a dry scurfy coat. Equine Health products are gentle, hydrating and non-allergenic. Comfortable horses are happy horses and happy horses perform better, it is all pretty logical!"


Other "Equine Health" converts ... FROM THE HORSE'S MOUTH
When you've been around horses as long as the Stewart family of Macedon Victoria you know what's best for them.
Sally Holden is a keen horsewoman, show jumping and hunting on her liver chestnut gelding "Danny" Lucy and her pony "Blaze" loves going to pony clubs shows with Sister Hannah and her pony "Pumpkin". Both girls enter display their many blue ribbons for smartest on parade with pride even though it is usually mum who has done the shampooing and grooming.
The Stewart family switched to the natural Equine Health Products when they first became available in Australia earlier this year.
"Washing down after competition is so important. Skin conditions can become risky, particularly when using the same gear on different horses. "The shampoos are fantastic and they smell yummy, you feel like you could use then yourself!" says Sally
"You don't have to use a lot so it lasts and it's a good price. The Whitening Shampoo works exceptionally well on socks or blaze as it brings out the white. The avocado oil works as an emollient and when combined with coconut oil, acts as a glossing and conditioning agent. A special combination of herbs soothes and tones the skin with an anti-inflammatory action.
Sally is also a convert of the Aloe Vera Gel with Arnica and Manuka honey. It treats bruising, burns, cuts, scrapes and acts as an antibacterial agent. The results have been excellent on the hunting horses, with fast results.
The Stewart horses have also had the Equiskin treatment. This helps prevent proud flesh, promotes tissue repair and speeds hair growth. Sally recommends this to achieve fast hair regrowth over cuts and scrapes before showing. The hoof cream, which softens, conditions and promotes growth and aids the healing of cracks has also proved itself but wins points with Sally for its lovely fragrance. Other similar products she's used have always had an unpleasant, strong smell but she says this is a pleasure to apple.
'Danny', can also look forward to the astringent action of Witchazel in the Tendon Cooling Gel when the show jumping season begins. Amanda White says this certainly provided relief for her dressage horses and she expects it to do the same to help Sally's horse recover from the rigors of jumping. It not only gives a cooling effect from the Camphor and Menthol but the Fennel, Arnica and Rosemary provide a stimulating anti-inflammatory action to help reduce bruising.
Other products include the Emu Oil Rub, with antiseptic properties and seaweed extracts and the bounce brush compliments the range of grooming products perfectly.
The Equine Health range can be used on their own or in conjunction with veterinary prescribed medicines.
Equine Health products are available online at www.equinehealthau.com
Or email Amanda on info@equinehealthau.com