Report & Pictures by Berni Saunders - Page 1
The first weekend in June celebrates the Queen's birthday and is the first winter weekend of the season. - great news for snow bunnies, but not so good if you are competing and camping at the Werribee Park Equestrian Centre.
Melbournians were spoiled with two beautifully warm weeks that brought Autumn to an end and the Melbourne 3 DE was hardly the reality check that most wished for. However, the weather man's predictions for rain on cross country day were wrong and conditions were perfect for the comfort of the competitors although the spectator numbers seemed to be negatively affected. (Pictured below Jack and Stephanie Sullivan - long term supporters of the Melbourne 3DE and on the right - the Competition Director, Neil Clinton)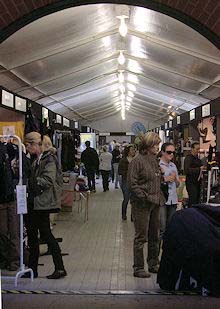 The event was well run and comments very positive about the innovative layout of the undercover trade arcade and entry to the indoor arena. The traders were really made to feel part of the event and business was brisk.
The organising committee do a fantastic job and it is only those who attend for all 4 days who can start to imagine all of the work that goes into making a great event for the riders, their horses, owners, spectators, supporting businesses, sponsors and the traders - it is a huge job and congratulations for a job well done is indeed appropriate.
It was good to see some new innovations- in particular the Palmer Higgs Marketing Development Award which has been put forward to help a young and upcoming rider to enter the professional ranks by providing a marketing package worth $3,000.
| | |
| --- | --- |
| Libby Price, | Anna Sharpley |
The 6 finalists ad to face a panel of interviewers consisting of ABC Radio presenter, Libby Price, Horse Deals journalist, Anna Sharpley and owners of Palmer Higgs, Paul and Debbie Higgs. You can read more by going to the Palmer Higgs web site.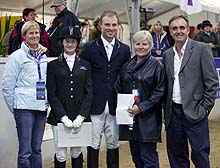 From the results in a number of relevant areas, the judges were able to ascertain a clear winner, Brett Davey. The runner-up was a close call between Emma Scott, Stephanie Bender and Rebecca White with Emma Scott inching ahead thanks to her excellent recent competition results.
Pictured Right - Debbie Higgs, Emma Scott, the award winner Brett Davey (NSW) Libby Price and Paul Higgs.

Megan Jones -
the Golden Girl of
Australian Eventing

Shane Rose - chats
with friends and takes on
the role of helper for
girlfriend - Niki Chapman