Barastoc Horse of the Year Show brings together the stars of the showring and each year the horses seems to be more beautiful, better presented with an improved level of education. Australia has earned a far reaching reputation for producing some of the best show horses in the world ... and the international judges who officiate at Barastoc, confirm that our open class winners would be up to top international standard.
The 2009 Ruby Anniversary gave us a very special Horse of the Year - Consequence, ridden by Tasmanian - Tania Hay. Tania's investment in time, effort and money to be part of the show is much more than most as she must load her car, float and horse onto the "Spirit of Tasmania" and make the overnight boat ride across Bass Straight.
This is a pretty big deal as the vehicles (which include floats and trucks with horses on board) are parked down in the base of the boat and owners and grooms are not permitted to attend the horse during the journey. This means that you must rely on the sensible and accepting nature of the horse to keep it safe. This boat ride adds a great deal to the cost of participating in a mainland show and so only the very best horses from "the apple isle" tend to take part in our top events.
Tania and her beautifully conformed liver chestnut mare Consequence made the trip in 2008 and went home with the beautiful Barastoc Horse of the Year garland - and she defied the odds by doing it again in 2009. I thought it best to ask Tania to tell her story and she explains about her love of showing, the horses and her special partner Consequence.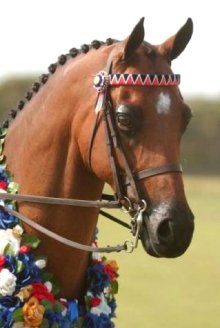 I was born in Tasmania and my involvement with horses started probably before I was even born. One of my grandfathers was a race horse trainer and the other a blacksmith. I really didn't have an option NOT to be involved in some shape or form. I started having lessons when I was six and due to my hyperactivity drove my first instructor mad! I did the usual Pony Club route and went to shows etc where in those days, we did absolutely everything from games to Galloways and back again.
My parents were [and still are] great believers in making me work for what I got. My first horses were less than impressive but they were good kids' horses and I was proud of them, no matter the lumps and bumps and roman noses! I had to work hard at my riding and even harder for better horses and better gear. I look back at those years now and realise just how lucky I was, I am sure the early days got me where I am today.
I live on a property in Orielton which is a tiny rural hamlet in South East Tasmania. It's literally just a dot on the map, no shops or services, just farming land. We stand a riding pony stallion and breed him to TB mares to produce the Galloways and small hacks. I work for Tasmania Police and the shiftwork gives me the freedom to do more with horses. A 9-5 job just wouldn't allow that!
My inspiration has always been my horses. I always strived to produce each horse better than the last one and my riding ability comes from those horses over the years. I tend to ride 'to the horse' and adjust my style to suit them, I ride more sympathetically than most and will change what is considered 'correct' to suit the horse I ride. There's no hard and fast rules with me, each horse is different and reacts differently to aids and situations. No point being the prettiest rider if you cannot be effective. I much prefer effective to pretty.
I went into eventing and showjumping for a while as a teenager and young adult with good success and enjoyed many years with a horse known as Coppers Worth. He is now 29 and still active and being ridden by a family I retired him to.
Being a bit of a perfectionist and type A personality [if it's going to be done it has to be done MY way and has to be RIGHT] I drifted into showing horses and found my niche. The presentation side had me hooked, I love preparing, conditioning and turning a horse out to immaculate standards. The riding side of showing also fits my personality well. It's not all about going around in circles, the show hacks these days DO need to be educated, they need to be quality and they need to stand out above others. All my show horses over the years have been educated up to and beyond medium level dressage, it's a personal goal I have to bring them on from babies and educate them well.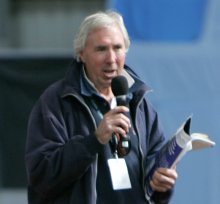 I currently have lessons with Fiona Fehlberg who is fantastic for making me focus on my riding. Over the years I have been a student of Vince Corvi, a true master horseman. He taught me so much about listening to the horse and adjusting to that horse. Brian Cheffers (right) taught me as a young adult and although that was mainly jumping, he too taught me many skills that are still with me today.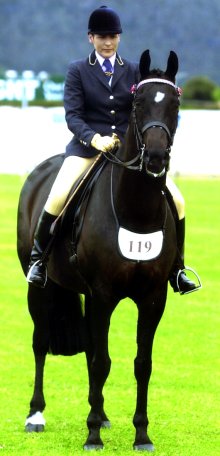 I have been blessed over the years with some exceptional horses. There is a saying that you only get one good horse in your lifetime but I am sure I have had a myriad of them.
Gainsborough ((pictured above right and below) ) was one of my successful hacks, he won and went runner up HOTY many times and took me to the nationals, won many a blue ribbon and champion sash at royal level and gave many kids a chance to shine when they were allowed to use him for turnouts and riding classes.
He is living the life of Riley at home as a toothless 25 year old now.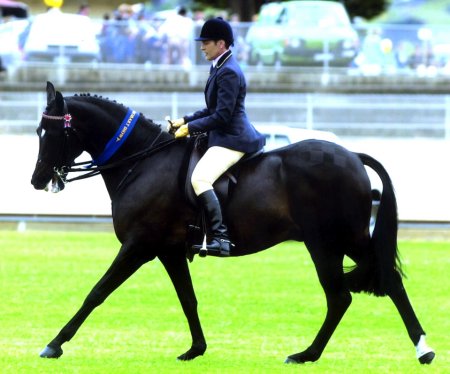 Gainsborough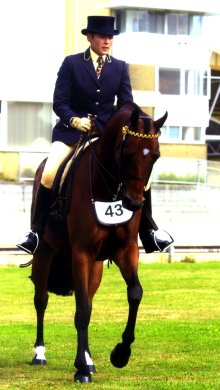 Alinda Park Make Sure (pictured right) a Galloway I bred was probably one of the most difficult horses I have ever had but once I 'had' him he was a most outstanding horse. He took me to the show horse nationals, won at Hobart, Launceston, Canberra, Sydney and Melbourne Royals, won Barastoc Galloway of the year 2005 and again was borrowed by children for their riding events.
I can't name them all but each of my horses over the years has bought something into my life and made me a better rider and trainer for the next one.
Consequence came to me in March 2006. She had raced unsuccessfully in Tasmania as Al Shiraz. She is by Aliocha and out of a USA mare Maglieri who was the same dam line as the Lawries' Salieri. Her career change was about to commence. From Track to Hack was underway. I dubbed her the 'Red Mare'
She won Newcomers in 2006 at SHC HOTY and then won the Open Hack of the Year in a snaffle ... no less. Went reserve hack at Hobart Royal the same year again in a snaffle and has won the Pritchard Spaulding Best Lightweight Hack Exhibit in 2006 and 2007. All this 6 months after she walked into my stables.
Her success continued when she won EFA HOTY in 2007, 2008 and 2009. Alas the first year the show horse nationals was cancelled due to EI and then the mare suffered a sole abscess last year rending her incapable of travel from Tasmania so we missed the event again. She's won Champion hack at both Launceston and Hobart Royals, Ascot Hack of the Year 2007 and 2008 and SHC Hack of the Year 2006 and 2007.
I decided to take her to Barastoc to run her against the 'big guns' in 2007. I thought I had an exceptional horse and everyone TOLD me I did, but needed the mainland competition to prove it and although she had only one season under her belt I thought I'd take the gamble. She vindicated my faith in her by going runner up Barastoc hack in 2007. She qualified for the International Challenge in 2008 by making the top 10 in 2007 so this inspired me to take her across the ditch again for the 2008 event . She came out in the International Challenge and won under English judge Jerome Harforth then backed it up the next day by winning Barastoc Open Hack of the Year 2008 judged by 5 judges. To say I was blown away was an understatement. This mare had more than proved her worth to me.

In 2009 I again decided to make the trip across the great stretch of water for the Barastoc HOTY Ruby Anniversary Show. I wanted to take part in such an auspicious show and had really hoped for a top ten berth for the mare just to 'bring home' from the Ruby.
Red Mare was second to work in International Challenge on the Saturday night and was judged by English judge Tom Barron. She felt amazing, if ever a horse loved working inside close to a crowd and all the hoop-la she is it! She loves the hype and atmosphere inside. When she was called forward as the winner I was beside myself, never did I believe she would manage the win in the International 2 years running.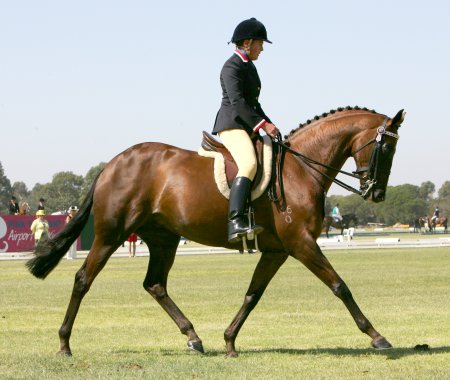 Tania on the 'red mare' Consequence
Out we went to the Open Hack preliminaries the next morning and Red Mare made the final 10 which was all I was hoping for. For the final workout late that afternoon she put in some good work for me and when she was called forward as the winner once again it was like all my dreams had come true borne on the back of a Red Mare.
Consequence is only just 8 years old. She is a lovely mare to work with but I have learnt to be quite 'tactful' and allow her to work. It's not a matter of asking HER to do it, it's HER permitting ME to ask. She can be a bit hot but if you don't nag and allow her to be a bit expressive she soon tires of it. She loves people admiring her and loves the camera even more. I can absolutely say she knows full well when she has won, I am sure she even knows her number for each event and reacts accordingly when it's called out. She certainly is my one in a million horse.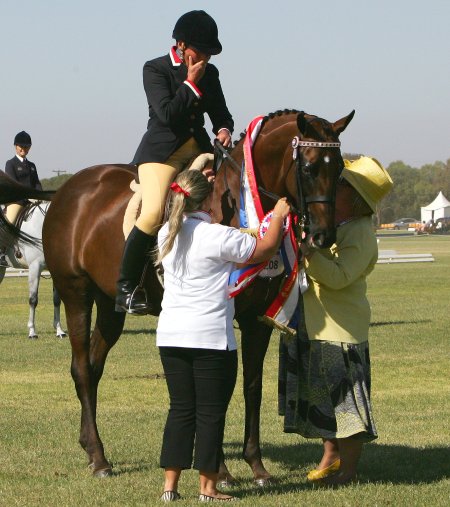 Tania is quite overwhelmed as Ringmaster Fiona Mardling and
Judge Claire Uren sash the 2009 Barastoc Horse of the Year.
To win Barastoc once is an achievement when you come from Tasmania. To win it twice with the same horse and go runner up really is the stuff that dreams with horses are made of. I truly have an inspirational horse and am truly honoured and blessed to own her.