Andreas at the 2008 Olympics
Story and Pictures Berni Saunders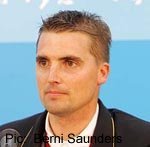 For me, a highlight of the recent Beijing Olympic Games was the chance to talk to Andreas Helgstrand, the champion Danish rider who rose to stardom when he partnered the wonderful 9-year-old mare Blue Hors Matiné at the 2006 World Equestrian Games in Aachen Germany, to take a Silver and Bronze medal back to Denmark.
Andreas also represented Denmark at the 2004 Olympic Games (Athens) and he was part of the Bronze winning Danish team at the 2008 Beijing Olympic Games (Equestrian events were held in Hong Kong)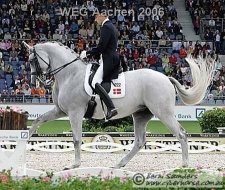 2006 was such a "high" for Andreas and Martine, but the bubble burst the following year as he began the mare's long and careful preparation for Beijing. All dressage enthusiasts were saddened to learn that the dancing mare was a shock late scratching from the 2007 World Cup final in Las Vegas. Martine (pictured right) was withdrawn following the first veterinary inspection and she was not quite right. The grey injured her left front pastern whilst being unloaded from the horse truck upon arrival in the USA. No injuries were immediately observed, but Martine was not quite right at the trot up. The vet found fluid around the joint and rest was recommended as a way to full recovery and a chance to prepare for the 2008 Olympic Games.
Andreas is in the fortunate position to have two No 1 dressage horses currently competing and he was able to focus his attention on the stunning black liver chestnut stallion Don Schufro who stands at the Blue Hors stud in Denmark. Andreas told me that "I have been lucky, when one horse has been out, I have had the other one to go on with. Both horses are highly talented and while the mare has some flashy aspects to her work, the stallion is a very good mover and solid in all of his work - they are both really good horses with the right attitude for competition!"
Andreas trains with Finn Greve an older and wise Danish trainer who has been Andreas' "rock"! As part of the Danish Team, he also trains with the German great, Rudolf Zeilinger (who also helped Australian rider Christine Doan when she was based in Europe and working with Dondolo)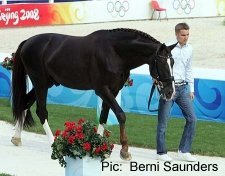 I spoke to Andreas and the members of the Danish Team and they were all very excited to be in Hong Kong and working together to win a Team medal. Andreas said after his individual ride, "We were trying to qualify for a Team medal. We knew we had three riders and three horses who could do about a 70% test." When Andreas was asked about his 68.833% result, he said. "I had hoped to get a bit more, it was an important test for the team and for me. I have never ridden under such pressure and I was very focused." Above - Andreas and Don Schufro run out for the Ground Jury at the pre-event Vet Inspection (trot-up)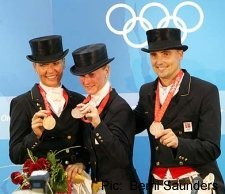 It was a jubilant Danish trio that attended the press conference following their history making achievement. The Danish Team riders were Andreas Helgstrand, Anne van Olst (left) who rode the magnificent Clearwater and Nathalie Zu-Sayn Wittgenstein (centre) - Princess Nathalie - niece of Queen Margrethe II. Natalie accepted the medal which was presented by her uncle, King Constantine of Greece. She also posted the highest team score on her elegant black horse Digby - 70.417.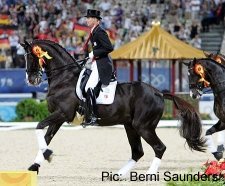 Andreas said that Team Bronze was a great achievement for Denmark. He responded to the question - "Is this the first medal for a Danish equestrian?" Andreas thought for a while and said, "no ... I think This is the first Olympic medal for a Danish equestrian Team, but we have had individual medals from Anne-Grethe Jensen (now Tornblad. Anne-Grethe is married to Olympic Dressage judge Leif Tornblad). She took silver in the 1984 Los Angeles games riding Marzog ... and ... way back, we had Liz Hartel, but that was way before my time!" laughed Andreas. (above Andreas and Don Schufro enjoy their lap of honour in Hong Kong)
(Note: In the 1952 Olympic Games in Helsinki,. Danish rider Liz Hartel became an inspiration to millions of people, when she won the Dressage individual Silver medal . She decided to compete in spite of being severely paralysed by Polio. Her achievements pioneered the concept that horses and riding could provide great therapeutic benefits and this helped the medical profession embrace the early adoption of programs such as RDA and the Paralympics as a way to give quality of life ... and the rehabilitative effect of horse riding to their patients.)
I asked Andreas about his trip to Australia in November (20-23rd) this year and he said, "I was so looking forward to coming down there last year, but you had that horse flu outbreak and I could not come. I am now very excited about the trip later this year and will be giving some clinics and talks about the way we train our horses and how Dressage works in Denmark. We have good horses and I follow the classic principles of training. This is important if the horse is to reach it's full potential. My two Grand Prix horses are proof of this system and I now have a younger horse Romanoff, he is by Rohdiamont and so far he has been pleasing."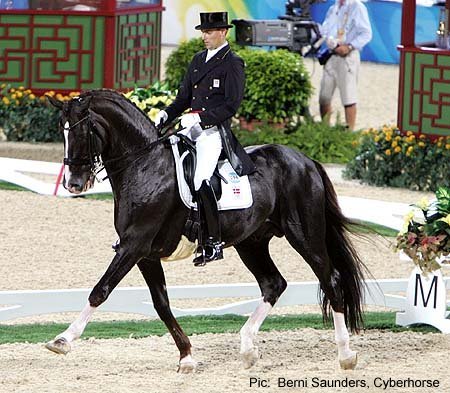 Andreas Helgstrand and Don Schufro in Hong Kong August, 2008


Proudly sponsored by ANKY Australia
I am hoping to see something of Australia and meet Australian horse lovers. The venue sounds fantastic, I am looking forward to it and will see you there!"

Click Here to go to the Equitana Web Site
© Cyberhorse 2008 Berni Saunders