Hong Kong 14th August
Germany is leading the team dressage after the first day of competition.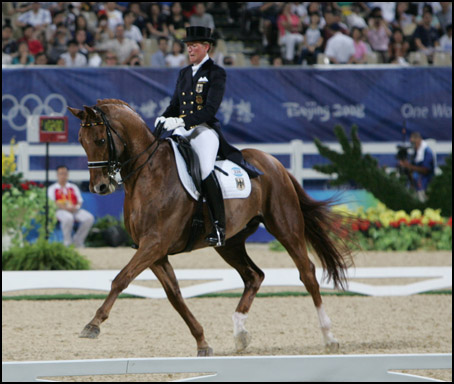 Heike Kemmer riding Bonaparte scored an impressive 72.25 to lead the competition on day one of the teams competition.
Heike was a member of the Gold Medal German dressage team in Athens in 2004 so she is no stranger to Olympic success.
Knowing that the first round has gone to the Germans, Heike Kemmer said "That was a good start for me", "Bonnie gave everything he had".
Bonapart was in fighting form and really wanted to show off his wonderful piaffe and passage, which pleased Hieke Kemmer as she knows that it is hard to be in the first round of competitors. She said "It is a disadvantage because points might be lower, but I am not nervous and can handle this quite well. I have had to this often already and mostly it has been a good luck charm for the team".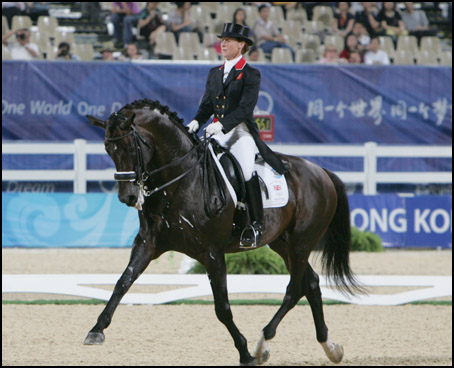 In second place after the first day is Emma Hindle and Lancet from Great Britain, who scored a very good 71.25.
Imke Schellekens-Bartels from the Netherlands riding Sunrise was disappointed with her performance saying "My horse got a bit tense when she went into the ring. She was a little less strong than she normally can be. I think it is because the heat is coming down on her.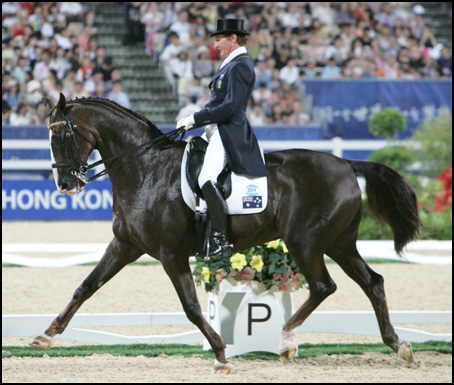 Riding in the first dressage team to qualify for Olympic competition Heath Ryan scored 62.541 on Greenoaks Dundee. "My wife Rozzie said I needed to be more elastic. I was pleased with my horse. He didn't miss a beat, but I did not take that step up to the next level", admitted Heath Ryan.
"It is the first time Australia has qualified a team for the dressage competition. Now we have to take the next step and be competitive ", he said.
Twenty four riders competed in the first session. The remaining 22 riders will compete later this evening (Thursday).
© Cyberhorse 2008 Toni-Anne Collins