Hong Kong 10th August
When a horse is withdrawn from a competition as large as the Olympics it is just so disappointing for the rider.
All the hard work that has been required to get any horse rider combination to the Olympics is a dedicated commitment that not many riders are prepared to undertake. The goal of riding in the games can be shattered in an instant through injury or soundness problems.
In the Equestrian events of the Olympic Games, riders compete in teams and these teams are generally established weeks before the event. There is no opportunity to substitute a combination at the last minute. There is nothing to do but forfeit the team. Riders can still ride as individuals, which is what Juan Manuel and Jordi Domingo of Spain will be doing in the Beijing Olympic Dressage competition.
Both Spanish riders are first time Olympic competitors and would have been relying heavily on their seasoned team mate Ferrer-Salat who won the Silver Medal in the Dressage Team and Bronze in the Dressage Individual at the Athens Olympics.
Ferrer-Salate pulled out of the Olympic Dressage here in Beijing because her horse Faberge is injured.
The French Eventing Team, although not forfeiting, will be struggling with lack of experience after the shock withdrawal of Nicolas Touzaint and his mount Galan de Sauvagere
Galan de Sauvagere was injured in his box yesterday and has damaged his right hind fetlock.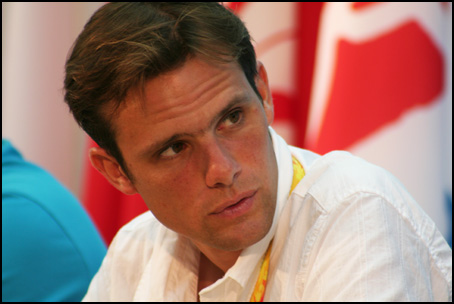 The French eventing team had already lost rider Jean Teulere after his horse, Espoir de La Mare, was injured.
The French team now consists of three riders, Jean-Renaud Adde, Didier Dhennin and Eric Vigeanel.Touzaint won the Badminton title this year, one of the major events in three-day eventing.
Touzaint had recently regained the European Champion title from Zara Philips and was Frances best hope for a medal. Nicolas has been brought up in an Eventing family with both his father, Jean Yves, and uncle Thierry Touzaint being very successful.
Thierry, the French eventing team's trainer was obviously shocked and disappointed at the withdrawal of his nephew's mount.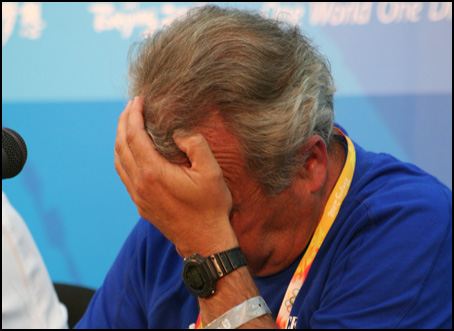 © Cyberhorse 2008 Toni-Anne Collins