Hong Kong - 7th August
Weather conditions here in Hong Kong are what the locals expect at this time of the year - hot, wet and humid - so today's cross country walk for the press inspired some fashion statements in raincoats and various versions of wellington boots and other wet weather gear. Cyberhorse's Toni-anne Collins joined the international media crew to do the walk over the Beas River course which was designed by Great Britain's Mike Etherington-Smith.
The 4,560 metre course is a short but technical track which will challenge the riders with 39 obstacles over hilly terrain. The heavy overnight rain has continued today is sure to present some difficulties if the ground does not get a chance to dry out a little before the first horse goes on to the course in a few days time. The forecasts are promising a let up, so here is hoping!
The first Horse Inspection (Trot Up) will take place today at 4PM Hong Kong time. The Australian team looks to regain the Olympic Gold Medal that they could not defend in Athens in 2004.
The Aussie Chef d'Equipe Rob Hanna was confident in the team and said, "We have prepared for every scenario and are hoping for good conditions .... we are ready to get on with it!"
The Australian team is made up of riders who are based in both the Southern and Northern Hemispheres. British based riders Clayton and Lucinda Fredericks along with three from our home land, Megan Jones, Shane Rose and Sonja Johnson carry the hopes and dreams of us all in their top pocket.
There is a 'buzz' in the media room which suggests that the Aussies are the 'Gold medal fancy' of many. I believe that this positive vibe is felt by those who have done their research and have looked at the form of our combinations as they come into this event.
Husband and wife team Clayton and Lucinda Fredericks have been going from strength in the past year and at the final selection event at Barbury Castle, UK, last month the Fredericks were victorious with Lucinda the overall winner and Clayton third. Great Britain's William Fox-Pitt was second.
Clayton and Ben Along Time were a close second to Zara Phillips in the individual World Championships at Aachen in 2006 and then won the 2007 4 Star event in Kentucky. Clayton was asked about the weather conditions in Hong Kong and he said "I have ridden in the rain and I have ridden in the heat!" so it is clear that he does not feel that weather conditions are an issue for him or his horse.
Lucinda has notched up some impressive wins in the past 12 months and stated that her 2007 Badminton title is the one she has chased since childhood.
On the other side of the world the Australian based riders have been impressive and consistent with Western Australian farmer Sonja Johnson winning the Sydney 3 Star event to ensure herself and Ringwould Jaguar a spot on this team.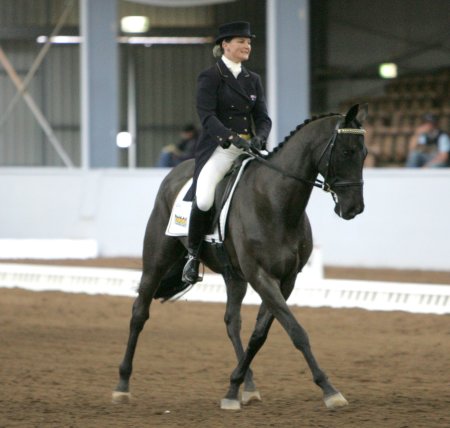 Sonja Johnson and Ringwould Jaguar will aim to return
Olympic Gold medals to Australia.
Megan Jones makes her debut as an Olympic rider but can draw on her experience as Gold medallist, Wendy Schaeffer's groom at the 1996 Olympic Games in Atlanta. Megan came second to Sonja at the Sydney 3 Star in April and won the Melbourne 3 Day Event in Melbourne in June, to make 2008 her chance at Olympic glory.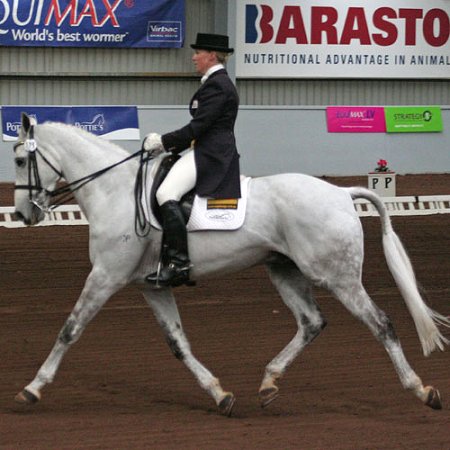 Victors at the Melbourne Three Day Event in June, 2008
Megan Jones and Irish Jester.
Shane Rose riding All Luck ensures that every time he goes out - he is in a position to make the ride 'all luck'! He has impressed his fans and the Australian Selectors with his international appearance and 3rd place Burghley in 2006. More recently Shane cemented his place on this team with a splendid ride and the runner up position at the Melbourne 3 Day event at Werribee Park in June 2008.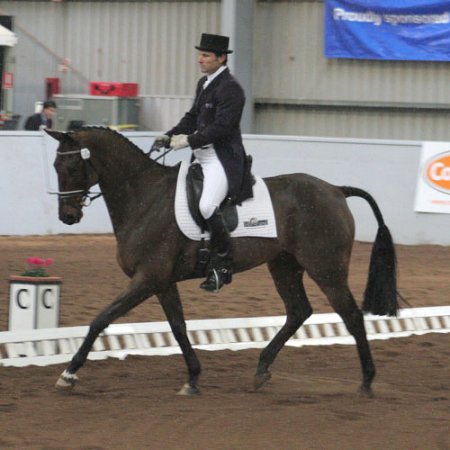 Shane Rose and All Luck pictured in June 2008.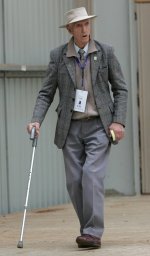 Eventing is the equestrian discipline that has seen the Aussies earn high regard. With 10 Gold medals to our credit, is no wonder the eyes of the world and hopes of Australia will be upon them as they endeavour to bring the Individual and Team Gold medals back home in 2008.
The Australian tradition was summed up by a wonderful ambassador for the sport, Bill Roycroft won an Olympic Gold Medal in 1956. He said, "We don't just call on yesterday, we call on years of work and we compete as a team - in harmony!" Bill is 94 years of age and is pictured here at the Melbourne Three Day event in June 2008 at age 94.
With less than a day to go the commencement of Day 1of the Eventing Dressage marks the first day of competition here at the Sha Tin Racecourse facility. I am sure that we send our hero mails and best wishes to the Australian riders and their wonderful horses ... Go Aussies!
See Cyberhorse's Aussie Eventing rider biographies
© Cyberhorse 2008 Berni Saunders