Hong Kong - 7th August
Story and Pictures Berni Saunders
The Australian selectors have named the following 5 people as our representatives in Eventing. Hong Kong's typhoon season has made weather conditions for transporting horses by air quite treacherous and the arrival of many horses has been delayed by unscheduled stopovers to wait for the weather to ease. It is with relief that the final horses (including some from Australia) landed safely, earlier today and the trot up for the Eventing horses will take place at 4 PM on Thursday 8th August and the Eventing Dressage will commence at 6.30 AM on Saturday the 9th August. The Aussie Eventers are -
Clayton Fredericks.
Clayton was born on the17th November 1967. Clayton calls Moora in Western Australia his Aussie home but he and his wife (and fellow Australian Eventing Team Member at Beijing) Lucinda are based at Rosegarth in England. You can go to the "Team Fredericks" site for more.
Clayton has been a lover of horses since about age 8 has been a keen horse rider and show enthusiast, winning the prestigious WA Show Rider of the Year award for 10 consecutive years. Clayton first represented Australia in 1995 at the European Championships in France riding Bundaberg and he had hoped that this campaign would allow him to earn a place at the Atlanta Olympics, but injuries robbed him of the chance to be part of Australia's Gold Medal Team. Bundaberg was retired and returned to Australia to see out his days. Clayton was delighted when his dreams of another top horse were realised in the talented chestnut, Boundalong. It seemed that this horse would take Clayton all the way, however the dreams of all of Boundalong's fans were shattered when the horse was killed in a road accident. The loss hit hard but Claytons drive and determination kept his spirit alive until his current ride and Beijing partner Ben Along Time came into his life and the two began their winning streak. After just a few years the pair claimed the inaugural World Cup for Eventing and cemented their names in the international rankings.
Clayton has enjoyed success all over the world and a career highlight was his excellent showing at the 2006 World Equestrian Games in Aachen Germany where he took off an individual silver and team bronze medal when he kept his cool under pressure to post a fault three round in the showjumping phase. Clayton credits his coach Harry Boldt with his recent success.
Some of Clayton's career highlights have been:
1st - 2008 Chatsworth CIC3* (GBR)
2nd - 2007 Deauville CIC3* (FRA)
6th - 2007 Burghley CCI4* (GBR)
1st - Lexington Kentucky Rolex CCI4* (USA)
2nd - 2006 World Equestrian Championships CH4*
Clayton is now a happy family man and says that his wife Lucinda is his inspiration (that is unless she is ahead of him on the leader board). His proudest moment was the birth of his daughter Ellie and he also likes snow skiing and singing. Clayton will ride Ben Along Time in August 2008 and all of Australia will be behind him.

Lucinda Fredericks
Lucinda Fredericks was born in Born Malawi and underwent her secondary education at St Mary's Convent Boarding School, Dorrest, England. From childhood it has been Lucinda's dream to work with horses and to win Badminton. Lucinda began riding horses because she loved speed. She also enjoyed the challenge of competing well at three disciplines in the same sport. She was a member of Britain's Junior and Young Rider Teams, taking the titles at Windsor and Blair two-star events and also at Blenheim three-star events.
In 2005 Lucinda finished 5th in the Boekelo CCI 3*. The following year Lucinda and her horse Bally Leck Boy made a victorious comeback at Somerely Park CCI2* and in under three months completed Luhmuhlen CCI4*. She also won the Burghley CCI 4*. Last year, Lucinda won the 2007 Badminton CCI 4*, one of her proudest moments. She also finished 2nd at Fontainebleau CIC 3*.
In 2008 Lucinda finished 4th at the Chatsworth CIC 3* in Great Britain. It was the proudest moment of her life to win the 2007 Badminton CCI4* event and sit at the Press Conference with her daughter Ellie on her lap sharing her moment of glory. Lucinda is married to her Aussie team mate Clayton and says, "When I am not training and competing I am on the end of a camera filming 'Team Fredericks" activities or helping her daughter Ellie with her pony. Lucinda's notable career highlights have been.
1st - 2007 Badminton CCI4* (GBR)
4th - 2008 Chatsworth CIC3* (GBR)
2nd - 2007 Fontainebleau Horse Trials CIC 3* (FRA)
3rd - 2006 Luhmühlen CCI 4* (GER)
2nd - 2006 Chatsworth Horse Trials (Chatsworth, England)
Lucinda will be riding Headley Britannia at the Beijing Olympic Games and will have all Australian enthusiasts cheering her along
Megan Jones
Megan was born on the 6th November, 1976 and resides in the beautiful Adelaide Hills district of Hahndorf. She completed her Secondary Education at Marbury School in South Australia. She began riding at 5 years of age and had her first start at junior eventing when she was 8. A life changing moment occurred when Megan was 10 and attended the World Equestrian Games in Gawler South Australia, with her mum. She recalls running around on the cross country course and asking, "When can I do this?" and mum answered, "One day, if you keep trying and working hard!" At this stage, Megan was riding a pony and 6 short years later, she was taking part in her first advanced horse trials. Megan has been an inspiration to many young riders and says that her proudest moment was in Aachen 2006 at the World Equestrian Games, where she and her team mates were third overall and earned a Bronze medal, "it was an unforgettable moment!"
Megan is also very proud of her horses as she has bred most of them and says that it is 'doubly rewarding' to be successful when you have known the horse from birth. Her personal philosophy is to - always do her best ... and to have fun. Megan loves to relax with her partner Stephen and says that shopping for bargains is a favourite pastime. She currently trains with Megan is presently training with Jamie Coman and Harry Boldt.
Some of Megan's career highlights include:
1st - 2008 Melbourne CCI 3* (Melbourne, Australia)
2nd - 2008 Sydney CCI 3* (Sydney, Australia)
1st - 2007 Lakes and Craters CCI 3* (Australia)
3rd (3 Day Event) - 2006 World Championships CCI4* (Aachen, Germany)
While Megan makes her debut as an Olympic competitor, she had first Olympic Games experience at the 1996 Games as a groom for Australian Gold Medallist, Wendy Schaeffer. She will ride Kirby Park Irish Jester a grey who has given Megan many wonderful moments and he was the Australian Event Horse of the Year in 2006.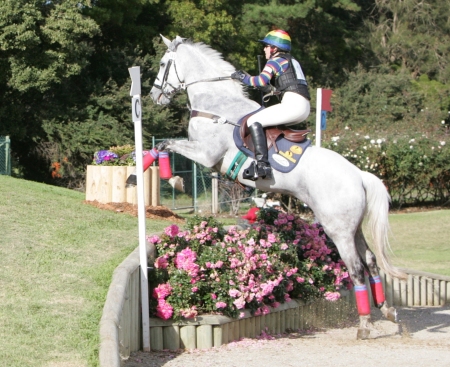 Sonja Johnson
Sonja born on the14th December 1967 and resides in Albany Western Australia. She attended the Albany Senior High School and has followed the family interest in farming. Sonja grew up on the farm in the and began riding at aged three, because it was the only way to get around and muster the cattle on our farm. Sonja notes an early milestone as a second in the Pony Club State Championships when she I was 13 years old. From this early age, it has been hard training and hard work that has given Sonja some of her career highlights and these include:
1st - 2008 Sydney CCI 3* (AUS)
4th - 2008 Melbourne CCI 3* (AUS)
1st - 2007 Taupo CCI 3* (New Zealand)
1st - 2006 Melbourne CCI 3* (AUS)
3rd - 2006 World Equestrian Games Team Eventing (Aachen, Germany)
Sonja has had to face long periods away from home in order to take part in the qualifying events which are mostly held in the Eastern States. This has meant time away from loved ones, friends and her farming duties. She makes her Olympic debut at the Beijing Olympic Games riding her brown gelding Ringwould Jaguar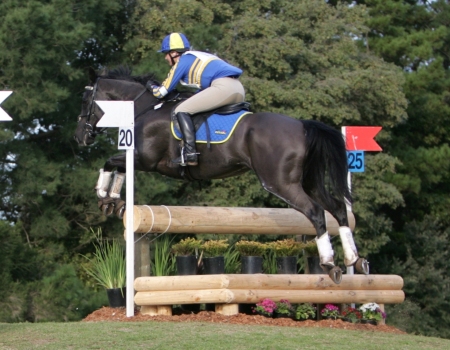 Shane Rose
Shane was born on the 24th April 1973 and currently lives in Werombi in NSW. He received his secondary education at Pittwater House, in New South Wales and went on to do a Horse Management course at Glebe TAFE. He always had a passion for sport but rather fancied that he would grow up and play for the "Wallabies". Shane also follows cricket and likes to support the Australian Cricket Team and has high respect for Steve Waugh as an all round great sportsman. When not in the saddle Shane likes to play golf and aims to improve his handicap.
Shane is a popular inclusion on the Eventing team as he has a never say never approach to his riding and has overcome the adversity and pain of some serious injuries including a kick in the head by a horse at home and some worrying times for his family as he was in a coma for 1 week, and remained in the intensive care ward for 2 weeks. He had more time out of the saddle following broken bones in his left leg as a result of an accident on the cross country course at Camden. Shane is a popular person in the sport and has won the Anna Savage Medal for the Best and Fairest Event Rider on three separate occasions.
In 2006, Shane was a representative at World Equestrian Games in Aachen, Germany and he finished third at the Burghley CCI 4*, second at the Melbourne CCI 3* and first at the Warwick CIC 3*. He notes his best recent performances as:
2nd - 2008 Melbourne CCI 3* (AUS)
1st - 2006 Warwick CIC 3*-W (CAN)
3rd - 2006 Burghley CCI 4* (GBR)
2nd - 2006 Melbourne CCI 3* (AUS)
Shane trains with Wayne Roycroft and will be making his debut at the Games in Beijing in August 2008 and will ride All Luck.
We wish all of our team the best of luck and look forward to confirming the final selection soon.
© Cyberhorse 2008 Berni Saunders