EQUITANA Asia Pacific 2008
The Way of The Horse
- Australian Horsemanship Challenge -
event overview by Berni Saunders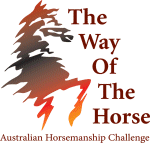 The Way of the Horse - Australian Horsemanship Challenge - was introduced into the EQUITANA's programme in 2005. The concept was highly successful and horse lovers from all horse industries and equestrian disciplines, found it fascinating.
The Way of the Horse was introduced as an event matching the horsemen's skills ... and was a crowd favourite in 2005. The outcomes were nothing short of amazing.
In 2008, The Way of the Horse will return with a whole new format and a more of an educational theme rather than a demonstration of showmanship. The three participants will demonstrate their methods of connecting with an unbroken horse over two days. The popularity of the inaugural segment meant that for Equitana 2008 this event has been organised to be bigger and better with the addition of an expert to provide a running commentary so that even a less experienced horse person will be able to follow and understand what the "Challenge" participants are looking to achieve in each phase of their handling and gentling process, making this a wonderful learning experience for all.
The theme of this special Equitana feature is to show what 3 very experienced horseman - from different fields of expertise - can do with their young unbroken horses, in a two day period. The main goal of this event is the education of the spectators and is not so much about competition - these guys have already proven their skills!
The outcome objective for The Australian Horsemanship Challenge is to establish a basic education and allow each horse to understand the handler's requirements so that he is confident and ready to receive further education.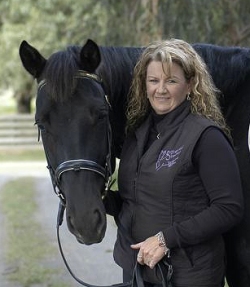 Well respected Victorian horsewoman Sandi Simons (pictured right) will act as the "Master of Ceremonies (or "mistress" as is the case here) and she will keep the audience informed about the reactions and responses that each handler experiences during the sessions.
Sandi and her husband
David
are professionals involved in the education of horses and people ... they both conduct clinics from their property in Drysdale in Victoria, as well as other venues all over Australia. Sandi says "I pay particular attention to
safety and control
and my lessons progress to the development of sound basics and a good relationship between the horse and rider ... from this, confidence grows. People can only enjoy their horse if they are confident about handling horses and riding them!"
Sandi Simons will be joined by Equitana's 'roving announcer' Hamish McLachlan, who will keep the crowd entertained and informed. Sandi told me that she was looking forward to working with Hamish, "He is a lot of fun and has a sound background with horses - he will add greatly to the new format!"
Sandi said "In this Australian Horsemanship Challenge, the three horses are all stockhorses with similar bloodlines and characteristics ... and all have received the same early care. The 3 year old horses were bred and raised at
Moorooluck Stud
- an accredited Australian Stock Horse Society (A.S.H.S) stud. Moorooluck was established in 1985 by John and Barbara Barry, and is located on the beautiful and fertile Mornington Peninsula at Moorooduc in Victoria.
Moorooluck horses are known to be are calm, intelligent, responsive, athletic and with good temperaments and the right attitude for training, so will make the ideal choice of horse to give all three horseman the best chance to show their skills. The three young stock horses will be randomly drawn for each handler and they will represent a 'blank canvas' for the 2008 participants to perform their 'art'.
Sandi Simons added. "The methods that the public will see over the two days will be representative of a solid platform in early horse handling - no matter what field or discipline the young horse will eventually specialise in - "good basics" is what this is all about!"
Each of the three participants have come from a different background with horses and their daily work sees them handling and gentling young horses which are destined for very different riding careers. The common thread for success is "good basic training" which allows the horse to work things out with a minimum of stress and fear. You will experience the love that shines through in this demonstration, which celebrates the strong bond between humans and equines!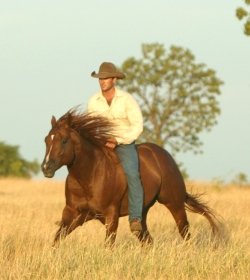 Dan James
Dan is currently based at Liveringa Station in the Kimberley`s of Western Australia. He grew up on small cattle farms in Queensland and started breaking in horses when he was 14 years old, he competed in campdrafting, working horse challenges and participated in eventing competitions at state level. The demonstrations and tricks that Dan performs with the horses started out for entertaining the guests that came to the station but have now grown out to more professional performances. Dan has recently acted in The Spirit of the Horse, a two and half hour choreographed horse show with special effects. When not working with horses at the station, he works in the stock camp, mustering, driving the road train and bull buggy.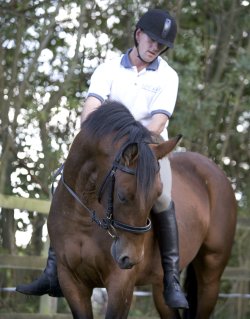 Warwick McLean
Warwick McLean is the senior resident rider at the Australian Equine Behaviour Centre (AEBC). He specialises in foundation training and behaviour modification of problem horses. All his work, both in-hand and under-saddle, produces relaxed and obedient horses. In 2000, Warwick was contracted to assist with the breaking-in of 20 thoroughbred two-year-olds for the Hong Kong Jockey Club. Warwick spent four months in Europe last year, receiving tuition from Finnish trainer Kyra Kyrklund. In exchange, he broke-in Kyra's young two- to three-year-old stock with typically positive results. He also returned in 2007 to continue training with Kyra's young horses. In Denmark, Warwick broke-in and trained many horses at the Søborggård Heste Center in Seeland and also spent time with Susan Kjægaärd in Jutland. Susan is ranked in the top 100 in showjumping and has reported amazing success with young horses since Warwick's visit.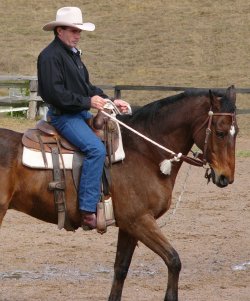 Shane Ransley
Shane's passion for horses was sparked later in life when he realized that he had a natural talent for seeing patterns in the behaviour of horses. From wild bush horses to Brumbies, from horses with serious riding issues to a straight up first ride, Shane has started or restarted them all with one consistent outcome…..a calm, confident horse, willing to continue his career as a ridden partner of man. Seeing the need to create a learnable horsemanship program, led Shane and his wife Meredith to develop Quantum Savvy - a programme that is achievable, repeatable, accessible and easy to learn. Shane believes that all horse owners can and should have access to quality horsemanship to help them live their dreams with horses.
The 2008 Horsemanship Challenge is not to be missed by any
horse over as we watch and learn from these ...
Masters of Horsemanship!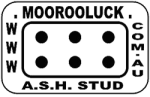 Click Here to go to the Equitana Web Site

Plan your Equitana Experience well ahead a
s there is almost TOO much to see!
© Cyberhorse 2008 Berni Saunders