EQUITANA Asia Pacific 2008
Pat & Linda Parelli
The Challenging Horse Demystified
Grand Pavilion
Friday 21 November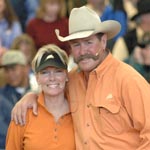 Witness the magical relationship Linda and Pat Parelli have with their own horse and learn to understand what the true partnership between horses and humans looks like.
The Parelli's take two challenging performance horses and solve problems using the principles they've become famous for. Reading the horse, revealing the Horsenality, and developing trust on the ground first.
These are transformations you don't want to miss!