Young Dressage Horse Championships
The Final three in each age group &
Champion of Champions - Final overview
Story & Pictures by Berni Saunders
This competition has touched the soul of most dressage lovers in Australia and enthusiasts from all over, have made the annual pilgrimage to the Werribee Park National Equestrian Centre to witness the 'gala event' that has been carefully planned over the past twelve months, to provide an end of year extravaganza that will keep us all going until tis time next year!

I intend to do a detailed report which will feature a picture and the breeding of all horses and the individual marks in each round - but as you can imagine, this is a huge job and will take a few days. In the meantime here is some information about the top three in each age group.

Before covering the wonderful horses and the inspirational interaction with Martina Hanover and Ulf Mueller from PSI. I must say what a splendid job the organising Committee did to stage the event. The Event Director Sicca Dijkstra now has a well earned reputation for her unique skill in putting a big event such as this together, and she was the cement that bonded the team together and enabled Australia to present a wonderful picture to the many visiting judges from Germany, South Africa, New Zealand and other far away places. They all expressed genuine delight at being part of our prestige young horse event, and seem to feel that we are making positive in-roads to success in the international scene.

Uwe Mechlem, Martina Hanover and Uwe Spenlen from Germany
were wonderful judges of Young Horse and Dressage Classes
and we all valued their insightful comments and expertise.
It was a wonderful experience to see such beautiful and talented young horses gathered together in two disciplines - Dressage and Showjumping. Many of the events ran concurrently, so it was impossible to cover both in the same detail.

The Champion of Champions was the outstanding gelding Rhodes who was the winner of the Primeval 6 YO class. The huge chestnut gelding is owned by Dr and Jenny Rapson and Matthew Dowsley from NSW. and was imported as a stallion and was gelded two years ago. He was beautifully ridden by Matthew, who has been very successful at this show over the years. Matthew's clever riding and talent complimented the movement and quality of this horse and they were well deserved Champions. The runner up in the 6 YO class was Samantha Bartlett's chestnut stallion Weltwunder E and the third placegetter was Rodney Martin & Diana De Silva's lovely black gelding Rothbury Park Emporio who gave Rodney some very challenging moments at the presentation ceremony. Rodney stuck out some 'air borne' manoeuvres and settled his talented horse well.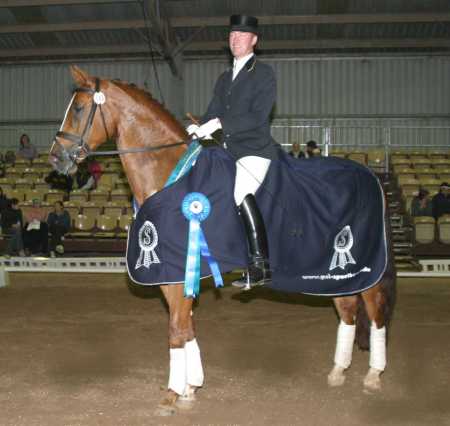 Matthew Dowsley on Rhodes
2004 Champion of Champions - well done to all connections.
The Nature Vet 5 YO class was won by Mary & Rob Hanna's imported Jazz gelding Tango V. He was ridden by Mary Hanna and improved as the show went on. Tango was quite lucky to have the opportunity to go on after the first round as he finished in 10th place after Friday's first qualifier. He won the second round quite convincingly and it was clear that Martina enjoyed the elastic and swinging movement that Tango displayed for her. The very consistent and well ridden Jaybee Amelia ridden by talented Dutchman Tor Van Der Berge was 2nd in all three rounds on the soft and supple bay mare. Bev & John Edwards must be congratulated as they have made an impact at each and every Dressage with the Stars event. They bred the winner of the inaugural 3 & 4 YO class back in 1999 and their exciting stallion Jaybee Alabaster was the 2003 Champion of Champions.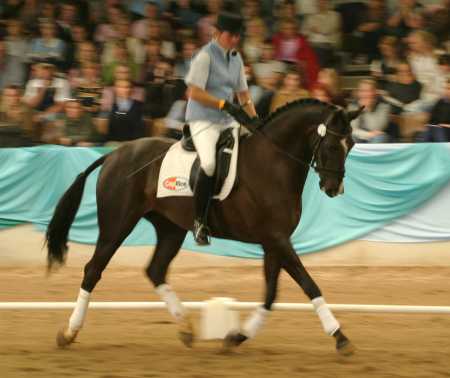 Martina Hanover enjoys riding her 5 YO winner -
Mary & Rob Hanna's wonderful Jazz gelding Tango V
Third horse in the 5 YO class was the gorgeous bay mare Let's Imagine, ridden by Lizzie Wilson-Fellows. Martina felt that the mare did not show enough definition between working and lengthened paces - and at 5 years of age, she expected to see this. We all agreed that this delightful mare has a huge future as her paces were lovely.

It was a disappointing finish for Maree Tomkinson on her lovely chestnut Stallion Rodrigo ll - again by the 'frozen semen' sire, Rotspon. Although Australian breeding times see the flashy youngster as officially 5 - he is in fact only 4 1/2 (he was foaled in May). He worked beautifully in the first round with two friends to keep him company in the big atmosphere of the indoor arena. However, the 'aloneness' of the second round invited tension which spoilt his walk. The judges were very harsh ... and from a walk mark of 7.5 in round 1 - it went down to 4.5 for the second round and this put an end to the chance of taking part in the top three ride off on Saturday evening. Maree will no doubt address these issues for a chance to make amends in 2005. Good luck ...

The Saturday evening presentation for the 5 year olds was 'very exciting' in fact, better described as utter chaos! Tango got things going with a reluctance to step forward and have his rug and sash fitted - the other young horses decided that they 'would have what he was having' as it looked like fun! Before too long we had all three horses setting each other off in what became a rather dangerous 'fear/flight' reaction of the worst kind. Mary wisely dismounted and led her excitable young boy forward to graciously accept his prizes.

The 4 YO event was largely devoted to the talents of NSW professional rider, Brett Parbury, who took out first place on the delightfully feminine Rostpon filly PPH Racqel. He was also runner up on the Weltmeyer youngster Welton Fyne FF. Well done Brett. South Australian Dressage rider, Lindy Wright took out third place on another of Rotspon's (by Rubenstein) lovely offspring - Heathmont Inferno. Lindy rode him very well as Martina found him to be a little different into the contact on each rein. She felt that Lindy would resolve this, but took it into account in making her decision today.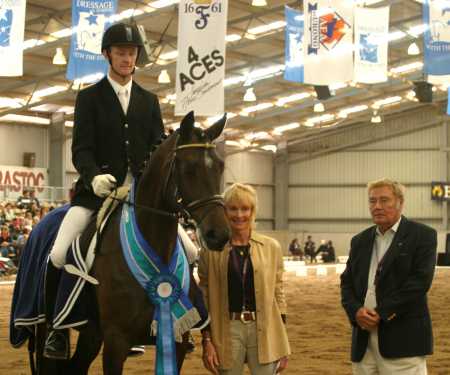 Brett Parbury on PPH Racqel the winner of the Hayes & Associates
4 YO Young Dressage Horse Championship Anthea & Roger Hayes
(Frankston 9783 7777) have a great deal of interest in horses and expert legal specialise in advice for horse owners and related businesses.
At the 2004 Young Dressage Horse Championships we saw a large number of the top performers in each class being mares - this is not often see and was noted by Martina, who made it her business to ask if it was a boy or girl before she rode her final three. I value the idea of riding nice mares and would love to have Racqel in my stable.

A notable 4 YO filly was HOCS JEM Valentino ridden by Murray Lamperd. She reversed Mary Hanna's 5 YO performance by coming 10th after the first round and winning the second round. Unfortunately in this order, the placing did not get him through to the final round - many felt this was a great pity. Never mind, with a four year old and twelve months to practise - perhaps Murray will have the 5 YO winner in 2005.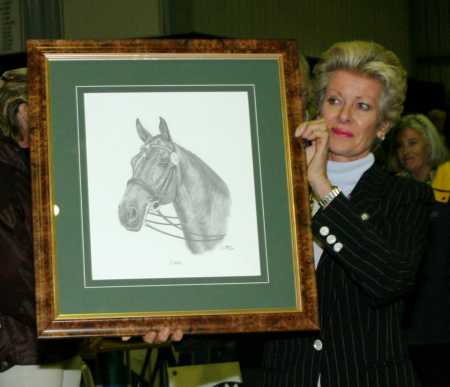 Susie Houvenaars made a presentation to Mary Hanna from the EFA Vic. Dressage Sub-Committee on behalf of all Victorians who
were touched by the tragic loss of Mary's wonderful partner Limbo. After their great performance at the Athens Olympics, Limbo lost his battle with serious illness which arose from complications associated with travelling. Tragically he did not recover from the set backs which occurred while he was in quarantine in England. It was the second tribute to Limbo which was made at this competition (I will give details of the National EFA's lovely plaque later) I do not believe there was a 'dry eye' at Werribee - and at this time of celebrating the wonderful prospects of the future it was very sad to be reminded of the loss of this wonderful horse who has been flying the flag for us for the past 6 years. Perhaps Tango will go on to fill Limbo's large shoes and will also wear the flag on his saddle cloth?
Go to Dressage Results
All photos Copyright
© Cyberhorse 2004 Berni Saunders