Ludger Beerbaum on Goldfever are the last riders for Germany and this strong combination make it look easy. The German team gold is looking pretty safe with Ludger recording a clear round. He gets a huge cuddle from wife Meredith as he leaves the ring. He is swamped by many well wishes who gather around to congratulate the German team who now have now secured the team gold medal at the 2004 Olympic Games. This achievement will be the highlight of the four rider's careers and their excitement is contagious.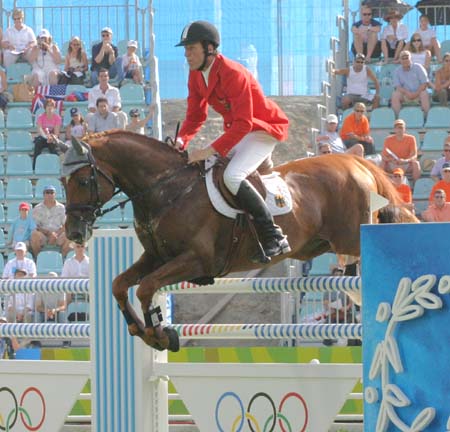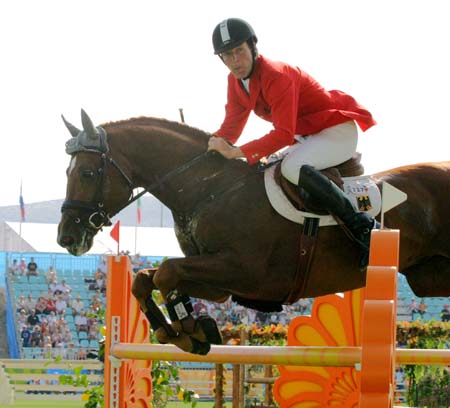 A few minutes break and then the riders return for the jump off to split the difference between the two teams that finished on 20 points, Sweden and the USA.
Peter Eriksson and Cardento are back in the ring for Sweden. Peter does it in fine style no jumping faults and record a time of 45.31
Peter Wylde and Fein Cera for the United States. Imagine the pressure he is under. One fault could give the bronze medal to Sweden. Peter also does a superb clear round in a great time of 45.66
Next is Peder Fredericson and another magic clear with a time of 48.05
McLain Ward for the USA is next out on Sapphire. They also have a clear round and the time was 42.49. This ride was to be pivotal in the outcome as it gave the USA a significant time advantage, could Sweden better this?
Malin Bayard and Butterfly Flip are the third to go and with the great time set by McLain for the US she will be looking for a clear but speedy ride. No jumping faults and 45.12 is her time, and the pressure is really on.
Chris Kappler and Royal Kaliber are out for the USA. What an atmosphere you can feel the tension from up here in the stand. Chris is also clear with a fantastic time of 42.94 and this cements the outcome.
Rolf-Goran Bentsson and MacKinley prepare for the last ride for Sweden and he stands ready to prepare for a round that would be unlikely to change the outcome. With the United States so many points ahead it is mission impossible for Sweden.
The Swedes wisely decided not to take risks that were unlikely to change the outcome ... and they conceded the silver to the USA and settled for the bronze.
The three top scores from each country's representative were carried forward to make the totals, the top 10 placings are as follows
| | | | |
| --- | --- | --- | --- |
| Country | Round 1 | Round 2 | Final Score |
| Germany | 4 | 4 | 8 |
| USA | 8 | 12 | 20 |
| Sweden | 12 | 8 | 20 |
| The Netherlands | 8 | 16 | 24 |
| Switzerland | 12 | 14 | 26 |
| Belgium | 12 | 16 | 28 |
| Ireland | 22 | 14 | 36 |
| Italy | 19 | 25 | 44 |
| Korea | 30 | 21 | 51 |
| Brazil | 16 | 37 | 53 |
| | | | |