It was a weekend of contrasting weather at St Gregory's Horse Trials event. Saturday was extremely hot. The large field of 460 horses and rider plus the officials and spectators were very grateful for the water supplied by the Campbelltown Bushfire Brigade. However, on the Sunday when the higher levels of competitors were scheduled to do their cross country phase, the weather was cool with misty rain. This was ideal for horse and rider and some keen competition was seen.

The Open class, sponsored by Derks Produce of Thirlmere, had 31 competitors. The winner was Katherine Eycamp of Branxton riding Isabella Rossellini (pictured below). She jumped clear to beat Jessica Irvine-Brown of Scone and John Cooper of Somersby who had rails down in the show jumping phase. Isabella Rossellini has had her share of problems, including a serious eye injury. She is a most talented horse and her rider was thrilled that all the patience and training had produced a a win the prestigious event, not to mention the $1,000 first prize.
| | | |
| --- | --- | --- |
| | Kadi Eykamp on | Isabella Rosselini |
Olympic hopefuls, Judy Clarke of Werombi and Karen Owen, gave their top horses, Smart Enough and Antigua, starts in the Pre-Novice class. These horses are being prepared for the last Olympic selection trials. Although the horses were unable to be officially placed, they looked well and keen for the year ahead.
Number 78 Geraint Forbes and Blue Margerite just could not 'hang in'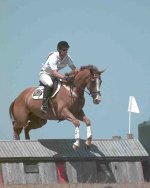 Naomi Wilson of Camden won an Introductory class with Hula Legend on the lowest score of the weekend. Naomi's father, Maurie, is one of the hard working committee members of Cumberland Horse Trials that run the St Gregory's event.
Event organiser, Rod Hoare, said that the committee was very pleased with the weekend. "The committee built a number of new jumps and all worked well (preliminary house - pic left). The comments from competitors were universally positive. This was one of the biggest One Day Events ever held in Australia. We finished ahead of schedule and with no major problems for horses or their riders."
| | |
| --- | --- |
| Ditch Palissade | |
The Organisers and everyone who enjoyed their weekend at St. Gregorys, would like to sincerely thank the sponsors whose support made the event not only possible, but a wonderful success.
Derks Produce at Thirlmere, International Animal Health Products, Charltons Horseland, Event Digital Imaging, Cool FuelŪ Copra, ARI Plastanks, Ulladulla Saddlery, Parklea Horse Centre, Menangle Store Saddlery, Kirkham Estate Wines and Camden Lions.