SELF-POLISHING CLEANSER, CLEANS, SOFTENS AND SHINES ALL LEATHER LIKE NEW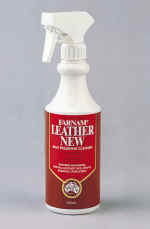 FARNAM® LEATHER NEW™ combines the cleaning, oiling and polishing of leather into one easy process, removing dirt and grime and imparting a brilliant shine. FARNAM® LEATHER NEW™ won't stain jodhpurs, gloves or horses' coats.
Natural animal oils penetrate to restore condition and suppleness to saddles, bridles and other tack, boots, upholstery or any other leather item needing restoration.
PACK SIZES: 500 ml Spray Pack.
™ LEATHER NEW is a trade mark of International Animal Health Products Pty Ltd.
® FARNAM is a registered trade mark. Not for sale in the USA.
© COPYRIGHT 1995-2001, All Rights Reserved.