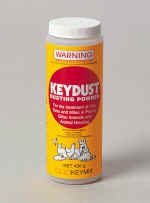 INSECTICIDAL DUSTING POWDER

To control fleas, lice, mites and ticks which can invade stables and infest bedding, KEYDUST™ should always be on hand.
The convenient shaker pack allows you to apply KEYDUST™ directly and to lightly dust around the stable area. For best results repeat every 1-2 weeks for insect control and to prevent re-infestation.


PRESENTATION: Ready for use powder for dusting of Birds, Animals and Housing.

ACTIVE CONSTITUENTS: Each kilogram contains:
CARBARYL 40g
MALDISON 10g


PROPERTIES:
Organophospate insecticide frequently effective where resistance to other insecticides has developed or is suspected.

DIRECTIONS FOR USE:
PEST
RATE OF USE AND METHOD OF APPLICATION
Poultry Lice, Ticks, Mites
2Kg per 100
Square Meters
Dust through muslin bag or by powder or hand duster evenly over litter, nest boxes, under perches or on birds direct.
Black Beetle
(Alphitobius)
25K bag will
cover an average
100x15 meters
Cast the dust against the walls, allowing the excess to fall to the floor. Pay particular attention to the base of walls, and in any broiler shed, of uprights from the floor.
Lice, fleas, ticks
on dogs, cats,
birds, rabbits,
guinea pigs, mice
Lightly dust the animal and rub into the coat, feathers or fur. Animals which consistently lick themselves should be treated by applying around the neck where they cannot lick the dust. Dust lightly around the animal housing and sleeping places to prevent re-infestation. Repeat every 1-2 weeks for control and to prevent re-infestation.
WITHHOLDING PERIOD: NIL
SAFETY DIRECTIONS: Avoid contact with eyes and skin. Do not inhale dust. Wash hands after use.
FIRST AID: If poisoning occurs, contact a Doctor or Poisons Information Centre. If swallowed, and if more than 15 minutes from a hospital, induce vomiting, preferably using Ipecac Syrup APF.
CAUTION: Not to be used for any purpose, or in any manner, contrary to label unless authorised under appropriate legislation.
POISONS SCHEDULE: S6
REGULATORY STATUS: NATIONAL REGISTRATION AUTHORITY.
PACK SIZES: 450g Shaker Pack. 25Kg.
™ KEYDUST is a trade mark of International Animal Health Products Pty Ltd.
© COPYRIGHT 1995-2001, All Rights Reserved.