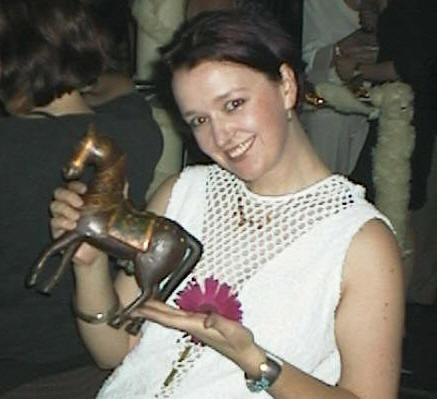 Melissa Alexander
Editor - Horse Health
TVS Membership Co-ordinator
Melissa Alexander (nee Dey) is described by her family, friends and "patient, non-horsey" husband, as being "obsessed" with horses. She eats, breathes, talks and sleeps horses! Melissa believes that there is life outside the horse world - but has forgotten that it exists apart from the occasional coffee on Brunswick Street, Fitzroy!
Melissa grew up in the Yarra Valley region of Victoria and was put on her first horse before she could stand. Lucky to come from a horsey family, she travelled extensively around Australia with her parents following the rodeo competition circuit. Defecting to English competitions, Melissa joined Eltham Pony Club at the age of ten - her father has finally forgiven her for crossing to the other side.
Taking her parent's advice she went to University and gained a degree in Clinical Biochemistry & Pharmacology. After working in the medical industry, she decided that life is too short to do things that you don't enjoy and returned to horses full time.
Melissa joined Cyberhorse in January 2002 and works closely with the many advertisers and businesses who choose wisely to promote using Cyberhorse. She has a keen interest in Horse Health and is very excited to be part of the joint project between Cyberhorse and Goulburn Valley Equine Hospital.
During her study years she traveled extensively throughout the USA, Europe & Asia and worked in a number of large performance yards in the UK and Germany. She considers herself lucky to have worked with several top trainers and alongside many talented horse people during her life. Her riding interests include dressage & jumping.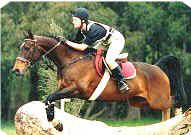 Melissa is a qualified NCAS Level 1 coach & teaches part-time at Box Hill Institute where she is currently taking a group of students through VCE Horse Studies.
Melissa riding Dabyminga Coromandel at
Wandin Horse Trials (right)
She currently has two horses in work - Tudor Park Leningrad (Lennie), a rising five year old thoroughbred gelding by Polish Laughter. Melissa describes Lennie as a red-haired teenage boy! He received a double dose of personality gene, but is always a willing and adorable partner.
And her new horse, Northern Capitan I (Herman) - her dressage professor. Herman is a very distinguished gentleman who patiently puts up with her whilst she is learning his buttons and the movements involved in riding a highly trained dressage horse.
If you would like to discuss any aspect of Horse Health or Cyberhorse, Melissa can be contacted by email melissa@cyberhorse.com.au